First in Europe
06/05/2020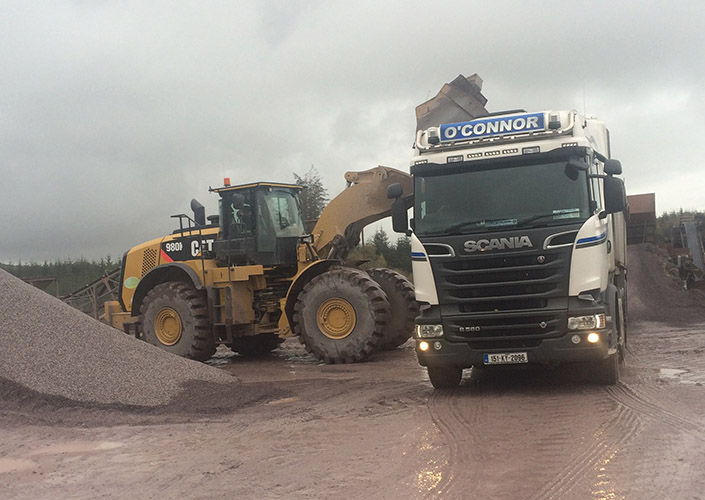 O'Connor Kerry Haulage Ltd in Tralee recently took delivery of a stunning new Scania G500 5-axle tipper truck which is the first of its kind in Europe. Paudie O'Connor explains more about the latest addition to his fleet and the tipper services he provides.
Offering tipper services to a wide range of customers in the Munster region, O'Connor Kerry Haulage Ltd collected the new rigid from T Nolans Scania in Castleisland at the end of November which will be going on the road January 2020 hauling sand, gravel, stone and tarmac. The new Scania G-series trucks are a great all-rounder; the cab is aerodynamically superior to the one it replaces, lowering fuel use and reducing wind-noise entering the cabin, while the truck is highly adaptable with great driveability and visibility.
What makes Paudie O'Connor's new unit different is its rear axle configuration with lift and steer axle in front of the two drive axles. It comes with a 500hp Euro 6 engine, sleeper cab, leather seats, retarder and Scania red interior lighting, fridge, air conditioning as well as a beautiful tar body fitted by Hegarty's Vehicle Works Ltd in Killarney, Co. Kerry
"It's a nicely spec'd truck which is perfectly suited to our needs. We have an all-Scania fleet and have always dealt with Nolan's who provide a great back-up service. We can rely on them 7 days a week. This new purchase represents a major investment which will enable us to provide an even better service to our customers."
O'Connor Kerry Haulage Ltd boasts an outstanding track record in delivering construction materials such as sand, gravel, stone and tarmac. Ted O'Connor set up the business as a sole trader in 1982 before handing over the reins to his son Paudie in 2004 when it became a limited company. The family-run business, which is a waste permit holder, employs three staff and runs a small fleet of Scania rigid and articulated trucks as well as six tar, rock, bulk and flat trailers.
Maintenance, servicing and repairs are carried out inhouse and by main dealer T Nolans Scania, Irish Truck & Trailer Co in Tralee, Brendan Daly Commercial and Plant Repairs in Killorglin and John Fenton Carraigtwohill.
The company works primarily for McSweeney Bros, Michael F Quirkes & Sons, Roadstone, Lagan Materials, Ardfert Quarry, Kerry County Council just to name a few. "Tipper work is what we're all about, be it stone, tarmac, rock or muck-shifting,"
"We enjoy an excellent working relationship with these companies. We do our utmost to provide them with a top-class, reliable and price-competitive service, and would like to take this opportunity to thank them for their loyalty and support down through the years.
"All work carried out by us is to the highest standard by an experienced team of drivers. We're here to help our customers to achieve their business objectives. We put our customers first at all times."
Here's to the next 15 years of O'Connor Kerry Haulage Ltd.
O'Connor Kerry Haulage Ltd
Tralee,
Co. Kerry.
Telephone: 087 6386937
Email: [email protected]
Published in Irish Trucker & Light Commercials magazine, Jan/Feb 2020, Vol 23 No 1