TBF Thompson apprentice David setting the standards
29/04/2020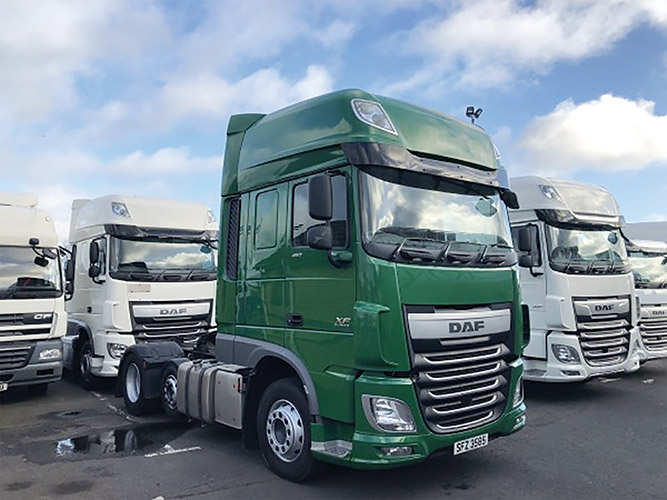 In September, David Dunlop of TBF Thompson in Garvagh was named as Apprentice of the Year at the Export & Freight Transport & Logistics Awards 2019. To mark this wonderful achievement, we spoke to David and Service Manager Barry Mullan.
With both TBF Thompson and DAF fully dedicated to implementing the best apprenticeship programmes, it was fitting that David Dunlop of TBF Thompson, Garvagh won the prestigious Apprentice of the Year award at the annual Export & Freight Transport & Logistics Awards.
Undertaking a practical test, knowledge test and interview, David came out on top against five other finalists. His superb ability, technical knowledge and communication skills impressed the judges, who commended his "excellent understanding and methodical approach to the practical tasks set before him". Thus, the future TBF Thompson technician was the toast of a packed room at The Crown Plaza Hotel on Thursday night, September 12th!
"I was very happy to win this award," confirms David, who has been part of the TBF Thompson team in Garvagh since September, 2015. Indeed, awards are nothing new to this industry-leading apprentice, who has displayed an uncanny winning streak over the past four years, collecting the DAF Apprentice of the Year UK Award on successive years in 2016 and 2017, before finishing runner-up in 2018.
Fair to say he's on a bit of a roll! "An awful lot of credit for that has to go to both TBF Thompson and to DAF, who have put so much work and expertise into instilling these skills in me," David notes. "DAF have an excellent training system up and running in Bristol and the facility they have there - and the technical knowledge – is simply second to none.
"I wouldn't be able to compete at these awards without this training and I'm also deeply indebted to the management and technicians at TBF Thompson for the time and expertise they have invested in me and the wonderful career opportunity they have given me."
Apprentices are the future of TBF Thompson and the DAF dealer network. With DAF being firmly established as one of the most prestigious truck brands in Europe, the DAF Trucks National Dealer Apprentice Programme affords apprentices the chance to work on some of the most modern, sophisticated trucks on the road. And it's not just a job … it's the first step in a career that gives them the opportunity to advance, succeed and fulfil their ambitions in the motor industry.
DAF apprentices are employed with a DAF dealership where they work alongside qualified technicians. Regular visits are made by the programme assessor to ensure that training is effective, progress is satisfactory and that the apprentice is actually enjoying the work. DAF apprentices will be permanently employed by their dealers with recognised terms and conditions of employment.
Practical skills and hands-on experience are gained in a fully-equipped dealer workshop, whilst the training and knowledge needed to support them are accumulated through the DAF Trucks Centre of Learning at City of Bristol College. Upon course completion, apprentices are recognised with an Advanced Apprenticeship in Motor Vehicle Maintenance and Repair which will include VCQ Level 3 in Heavy Vehicle Maintenance and Repair. Thereafter, as DAF technicians, they are part of a highly-skilled workforce that is wholly committed to quality.
Next year will mark the 25th anniversary of TBF Thompson being appointed as a main DAF Truck dealer, distributer and aftersales partner. With branches in Garvagh, Mallusk, Portadown and Dublin, TBF Thompson is widely recognised as the home of truck and plant sales, service and parts in Ireland.
They have been involved in the automotive and plant industries throughout the island of Ireland for over 50 years. During this time, TBF Thompson have acquired franchises for many well-known names as well as DAF, including Hitachi, Bomag, Thwaites, Palfinger and many more. Their aftersales service is the envy of the competitors and they use state-of-the-art IT systems to increase efficiency and provide customers with the best back-up in the business.
Customers of TBF Thompson can rest assured that they are getting both the best products and the best service in the business. Their industry-leading apprenticeship programmes and training programmes are central to this as all TBF Thompson technicians are the very best in their field.
"Our people are trained above and beyond industry standards and that's what gives us the edge," states Service Manager Barry Mullan. "We try to take on at least one apprentice in our depot every year; sometimes two if we can. We took on one this year and last year, for example, and they are both progressing very well. That's a credit to both DAF and ourselves. It's a great programme and it gives young lads every opportunity to excel.
"Young lads who come through that programme and who get to work in the DAF network are getting better skills and a better start to their careers. They are getting to work on the latest DAF vehicles in our workshop and they are very lucky to have that opportunity.
"To be fair, it really is taking things to the next level. Some of them are learning more in their first year than we might have learned in three of four years. All the latest software, tools and equipment are here and our apprentices here in Garvagh get to learn from the best. We have two DAF Master Technicians here in Stephen Paul and David Harrison, which is fairly rare.
"The teams in the workshop, service department and parts department are outstanding and it's a great place to work, where everybody is highly skilled, experienced and motivated. John Purdy is the aftersales director; he's based in Mallusk and oversees all the depots from there.
"The technical support provided by DAF is second to none. There is a system in place where we can liaise live with them either online or by phone if we need to."
Since teaming up with DAF close to 25 years ago, TBF Thompson have gone from strength to strength. "DAF is a quality truck and they are more than holding their own," says Barry. "The dealership has been steady for years. The workshop is always busy and we have a lot of excellent customers who keep coming back, although Brexit isn't helping, obviously."
From their directors and technicians through to their award-winning apprentices, TBF Thompson pride themselves on the quality of their people. "You are only as good as the people around you and if you don't have good people then you have nothing," Barry concludes. "You need a good team who are all working together and pulling in the same direction. We have a good system going here and hats off to our team. Of course, there will be issues from time to time but we can always iron them out by working as a team.
"We upskill our people all the time as there is always new technology being introduced in trucks. We hold toolbox talks and you can literally learn something new every day. DAF also have an excellent voluntary training scheme online, called eCampus, where you can go in and learn more about their systems. David and all of our lads avail of that … it's another brilliant tool.
"At the end of the day, when you are running a workshop, your goal is to have the skills and knowledge and people to get each truck back out onto the road as quickly as possible, serviced and repaired to the very highest standards. We pride ourselves on our ability to do this, every time."
TBF Thompson,
6-10 Killyvalley Road,
Garvagh,
Coleraine,
BT51 5JZ.
​Tel: +44 (0) 28 2955 8353
Email: [email protected]
Web: www.tbfthompson.com
Published in Irish Trucker & Light Commercials magazine, Jan/Feb 2020, Vol 23 No 1