Competitive rates and excellent customer service guaranteed with OMS
14/02/2020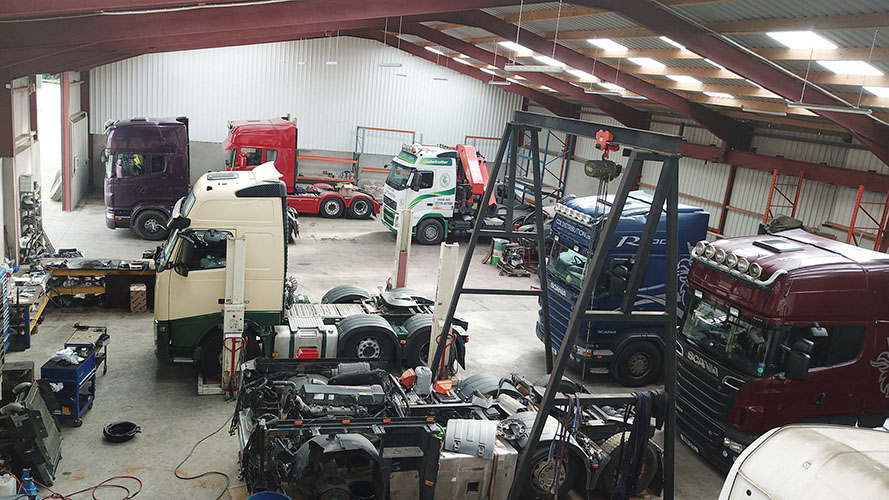 O'Rawe Mechanical Services (OMS) is a heavy diesel maintenance workshop based in Middletown Co, Armagh. Managing Director Kevin O'Rawe outlined the services they offer their valued clients and why honesty is always the best policy.
Ensuring vehicles are reliable, roadworthy and safe is the primary responsibility of fleet operators. A preventative maintenance programme, which includes ongoing vehicle maintenance and safety inspections, can provide peace of mind.
That's where Kevin O'Rawe and OMS can help by regularly carrying out full vehicle maintenance and safety checks on your behalf.
Ideally located for customers both north and south of the border, Kevin and his team specialise in advanced diagnostics engine and transmission repairs as well as all service and maintenance work carried out and service plans implemented for fleets of all sizes. Welding and fabrication are carried out on site.
With 18 years of experience as an HGV mechanic to fall back on, Kevin O'Rawe established OMS in June, 2017 and today is joined in the day-to-day running of the progressive business by three full-time employees, including his sister Niamh who oversees the administration side of things.
"I've been working as a HGV mechanic since I left school," Kevin said in conversation with Irish Trucker & Light Commercials.
"From the get go I wanted to provide small to medium sized hauliers with service and six to 12-week inspections on trucks and trailers. We provide a maintenance schedule as well as the full range of diagnostics on trucks and trailers as well as engine and transmission rebuilds and parts.
"We deal a lot with electronics and computer programming as well as general mechanics and we operate out of a large workshop that can facilitate eight trucks at once while we also have a bay exclusively for trailers.
To facilitate their customers' demands to cover all aspects of vehicle maintenance and body repairs, they have invested in the latest diagnostic equipment to assist in all truck management systems. They pride themselves on their competitive rates and excellent customer service.
Honesty is the best policy as far as Kevin is concerned. In all his dealings with his valued customers, he outlines the importance of keeping vehicles and trailers in a roadworthy condition all the time - not just when getting them ready for tests
"Some hauliers, particularly the smaller ones, tend to stay away from garages as much as possible thinking it will save them a fortune. We provide a six-week inspection initially and if a core fault is detected early in a truck or trailer it actually saves fleet operators a fortune in the long run.
"We try to explain that it's only when a problem gets bad that it gets quite expensive to get fixed. If they come in regularly it can be quite economical at that early point.
"Clarity is the biggest thing. We explain what's wrong, what needs to be done and how much it will cost. Customers are afraid of being taken advantage of so we are always up front and transparent about the work we are carrying out and why it is being carried out."
Another string to OMS' bow is their tools and workshop supply store. They are stockists of Milwaukee, DeWALT, SEALEY Tools, Exide Batteries, Petronas Lubricants, Fabrication consumable products, High quality bulbs for Trucks, Vans and Cars, Bosch Wipers, Hydraulic oils and much more.
If you are looking for specific tools or workshop items that they do not stock, Kevin & Co. will endeavour to find that item for you at a competitive price. Car parts are available on request while all Items ordered before 3pm will be dispatched that same day. Customers can purchase direct from their online retail store which can be found at: www.toolsandsupplies.co.uk.
"We stock an extensive range of work shop consumables, basically anything you need in the automotive industry. That side of the business has gone pretty good from the get go and in the future I'd be planning to put a van out on the road to enable us to deliver direct to workshops."
And are there future expansion plans for O'Rawe Mechanical Services? "We are continually growing and expanding the business to suit our customers needs and requirements.
"As the transport industry is growing and changing rapidly we are investing in the latest tools and equipment to provide our customers with the best service possible.
"My ultimate goal for O'Rawe Mechancial Services is that we will be a one stop shop for all aspects of Truck and Trailer maintenance."
O'Rawe Mechanical Services
19 Mullanary Road
Middletown
Armagh
BT60 4HW
Call +44 7541 341369
Or [0044] 2837537356
Website: www.toolsandsupplies.co.uk
Taken from Irish Trucker & Light Commercials magazine, Nov/Dec 2019, Vol 22 No 7