Generations of excellence from Hudson Haulage
07/02/2020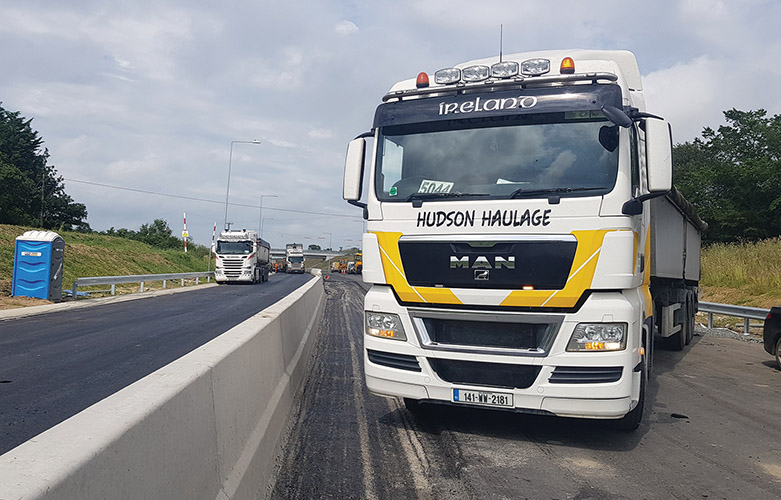 Located in Arklow, County Wicklow, Hudson Haulage is one of Ireland's longest-established family-run haulage businesses, with a tradition for excellence that goes back more than a century. Irish Trucker met up with director John Hudson to find out more about this timeless, industry-leading operation.
As family businesses go, very few can lay claim to a tradition, history or track record for excellence to rival that of Hudson Haulage. Operating out of Arklow in County Wicklow, the genesis of this exceptional family-run transportation company – which operates an eye-catching fleet of magnificent MAN trucks – can be traced back more than 100 years.
Many ups and downs have been experienced down through the decades but, as a direct consequence of providing service levels that cannot be beaten, Hudson Haulage has weathered many's an economic storm to survive the test of time and stand proud as a viable, fully-sustainable concern.
Indeed, going back to the formative years of the business, we're talking about a time which even pre-dated the horse and cart! "We've been at it so long that my great grandfather, Jack Hudson, actually started out with bulls and carts, believe it or not," reveals John Hudson, the fourth generation of the family to provide customers with high-quality haulage solutions across the Garden County and beyond, following in the footsteps of the aforementioned Jack, his grandfather Matt and father Jackie.
With eight trucks on the road, Hudson Haulage are synonymous with the highest levels of service and customer care, which has earned them a loyal local customer base comprising Custom Compost in Gorey as well as Roadstone, Smurfit Kappa Packaging Solutions, Hudson Concrete (run by John's cousin, Matthew) and Holfeld Plastics, all in Arklow.
A trucker through and through, John has been involved in haulage all his life and he knows the business inside-out. His experience and appreciation of customer care results in services that are second to none, invariably delivered professionally and promptly.
"I grew up in haulage and have been around trucks since I was seven or eight," the personable Wicklow man confirms. "Jackie, my dad, used to do the continent and I used to go out with him during my summer holidays. He only had one truck back then but in 1992 he added a second and gave up the continent, opting instead to work with IFI in Arklow.
"The fleet grew to seven doing tipper and curtainsider work with IFI but in 2002 the Government closed the fertiliser plant down, which was a massive blow to the business as 90% of our work was based around them at that stage, travelling to Cork, Limerick and Belfast and back. We had modernised the fleet because the work was steady and then – all of a sudden – bang!"
The closure of the IFI plant and resultant loss of so much work presented Hudson Haulage with a massive headache, but they rose to the challenge by securing new contracts and essentially re-inventing their business: "We went back to four trucks and it was do or die for the business at that time," John continues. "We were working for McNally Crane Hire in Monaghan and Irish Cement and that work kept our heads above water. We then got in with Roadstone, as they had a quarry in Arklow and also in Dublin.
"We went back to two trucks during the recession, and worked on the Gorey Bypass. In 2007, we started with Custom Compost in Gorey and we've been with them ever since. We've now built up a diverse customer base and our eggs are no longer in one basket as we're not dependent on one customer anymore."
With a fleet of seven artics plus one 7.5 tonne rigid curtainsider for local deliveries, Hudson Haulage generates direct full-time employment for five as well as a number of relief drivers.
John has been at the helm of the family business for a decade, having started off washing and maintaining the trucks. "That was an invaluable learning experience. I know the truck and machinery side, while my wife, Lilian, helps look after the business side of it," he says. "While I look after the drivers and the customers, Lilian looks after the documentation in her spare time. Her role is vital in the running of the business as there is so much paperwork, documentation and regulations to keep on top of these days."
Hudson Haulage purchased their first MAN on April 16th, 1988 and have operated a predominantly MAN fleet ever since. "That first one, when it was two years old, we were out in Germany and the engine blew. MAN had a replacement over to us within five hours and they fixed the original one. We found that they gave exceptional service, so we've stayed with them ever since. We now deal with M&S Commercials in New Ross, which was set up in 1991, and the newest truck we've purchased is a 142-reg."
All the lorries are maintained in tip-top condition at all times, both mechanically and aesthetically. "Jackie oversees all the maintenance, along with myself, still to this day and is still there to do any runs that may pop up - his guidance and knowledge have made the whole set-up run so smoothly. My father-in-law, Seamus O'Brien, who has retired from Glanbia, is very meticulous in looking after the fleet," John notes. "He touches them up with the spray gun regularly and keeps them looking nice. A truck that looks nice is obviously more presentable and gives a better reflection of the business. It's important to stay on top of things. If you have one thing wrong and leave it, next thing you know there will be two or three of four things wrong, so you have to try to be proactive rather than reactive."
Going back four generations, the Hudsons have been known far and wide for their inherent dependability and reliability. "It all comes down to being dependable. When a customer asks you deliver a consignment at a certain time, you have to be good to your word and get it done – every time.
"Some of the work we do is last-minute but, when you have regular customers and you get that phone call then you have to be ready to spring into action. We know we are doing something right when a customer of the calibre of Smurfits has gone on the record as saying that one thing we can't be beaten on is the quality of our service. All our customers would agree with that sentiment. We go out of our way to look after them all and leave no stone unturned in the pursuit of complete customer satisfaction.
"In haulage, you have to constantly strive to do things as best as you can, as professionally as possible and you aim to improve yourself all the time. Everything has to be above board – that's how I was brought up, with total respect for compliance, and I continue with that policy. At the end of the day, either you can do it or you can't and if it's not worth doing then there's no point doing it.
"You need good customers, too, and we certainly can have no complaints in that regard," John concludes. "We're always paid on time and we always make sure we do likewise for our suppliers, for parts, fuel, etc.
"Haulage isn't an easy game. There are a lot of overheads and stress and late nights and you can never switch your phone off; you're always thinking about the business, wondering how the drivers are getting on and keeping in touch with them to make sure everything is running smoothly."
For some, like the Hudson family, it's a vocation that has endured through the generations.
Hudson Haulage,
Dock Rd,
Tinahask Lower,
Arklow,
County Wicklow.
Tel: 087 9886385
Email: [email protected]
Taken from Irish Trucker & Light Commercials magazine, Nov/Dec 2019, Vol 22 No 7