RS Carmichael Haulage in pole position with new Scania
03/02/2020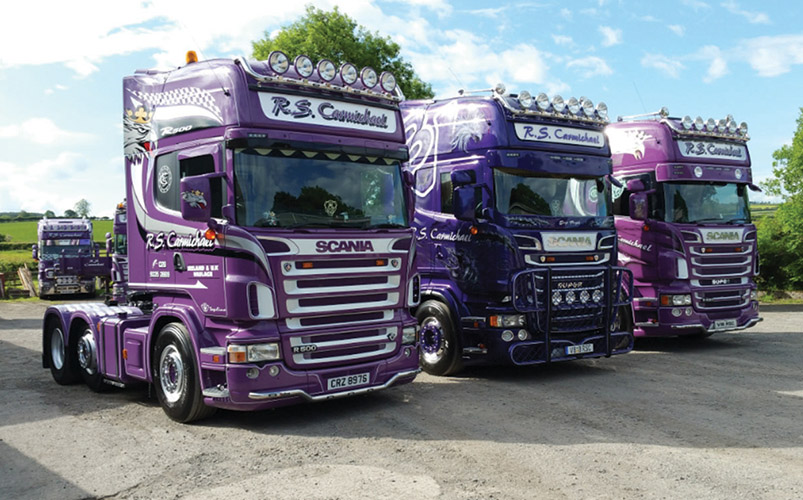 Co. Antrim-based container transport specialist RS Carmichael Haulage Ltd took delivery of a stunning Next Generation Scania S730A6X2NB truck to mark its 30th anniversary. Featuring an airbrush painting of local motorcycle racer Jonathan Rea MBE on the back of the cab, the new truck is a real head-turner.
Purchased from Road Trucks Ltd in Larne, it's the latest addition to RS Carmichael Haulage's predominantly Scania V8 fleet and is finished to a very high standard with many extras, including Highway Bullbar, windscreen top and bottom deep visors as well as rear perimeter lighting. However, the image of Jonathan Rea in full flight, above two chequered flags, is what really makes it stand out.
Rea is an icon of his sport, having won a four-in-a-row of Superbike World Championships in 2015, '16, '17 and '18. He also holds the highest number of race wins in the Superbike Word Championship and won the Suzuka 8 Hours in 2012 and '19. In addition, he was named Irish Motorcyclist of the Year in 2007, '08, '11 and '16, and was runner-up for the 2017 BBC Sports Personality of the Year Award.
As a motorcycle race enthusiast, the painting was Robbie Carmichael's way of paying tribute to one of the all-time greats of the sport.
"We're based in Ballyclare and Jonathan hails from the nearby village of Ballynure. He's a legend in these parts and everyone is very proud of him and what he has achieved in motorcycle racing," the affable haulier says.
"RS Carmichael Haulage is celebrating 30 years in business this year and that's one of the reasons why we decided to splash out on the new S730. Before taking delivery of the truck, Noel Kane spray-painted it in our customary purple colours before Andy Scott in Barnsley added the Jonathan Rea image. Our livery was inspired by the purple containers of Bell Line, who we used to pull for in Belfast and Waterford."
Andy Scott was also responsible for the impressive artwork on Robbie's two Scania R620s which bear the brand's famous griffin logo on their sides. Meanwhile, Robbie's Scania 4 Series 580 features the late, great motorcyclist Joey Dunlop OBE whose achievements included three hat-tricks at the Isle of Man TT meeting where he won a record 26 races in total.
"The Joey Dunlop one, which was spray-painted in 2004 by Gary O'Neill from Toomebridge, won four times at Truckfest Peterborough. We also had one of the R620s down at this year's Full of the Pipe in Punchestown. It's always nice when your trucks get noticed," he proudly states.
Robbie runs 10 Scania and two Volvo trucks along with 35 trailers. The Scanias are made up of the new S730, two R620s, two 500s, one 450, one 440, one 420, one 580 and one 480. The Volvos are an FM and FH, while the trailers are a mixture of Dennison, SDC and Montracon Skellys. Robbie is joined in the company by his wife and office manager Angela and a team of eight drivers, who are experienced, professional and reliable.
"We'd be nothing without drivers," stresses Robbie, who is very hands-on and spends much of his time behind the wheel. "They're top-class at what they do and are always willing to go the extra mile for the customer."
While the majority of maintenance and repairs are carried out at the company's own workshop in Ballyclare, the services of Road Trucks and Thomas McCrea & Co are also utilised from time to time.
Specialising in container work up to 44 tonnes, RS Carmichael Haulage also undertakes general haulage across Ireland the UK and takes prides in tailoring its service to suit the needs of the customer. The exceptional family-run business provides a reliable, efficient and cost-effective road transport service which is sure to enhance the performance and reputation of any business.
RS Carmichael Haulage enjoys a close and excellent working relationship with its many valued customers, who include Mediterranean Shipping Co (MSC) in Belfast and Expeditors in Mallusk and Dublin. MSC is a world-leader in global container shipping and a company offering global service with local knowledge. It also provides integrated network of road, rail and sea transport which extends worldwide.
Expeditors is a Fortune 500 service-based logistics company which has its headquarters in Seattle, USA. The company generates highly optimised and customised supply chain solutions for its clients with unified technology systems integrated through a global network of 322 locations in 103 countries across the world.
Robbie was an amateur jockey before deciding to change careers and become a truck driver. He drove for both WS McConnell in Ballyclare and container transport specialists James Smyth & Sons before setting up his own business in 1989.
RS Carmichael Haulage has come a long way since then and Robbie would like to take this opportunity to thank his clients for continued support.
Here's to the next 30 years of this successful operation!
RS Carmichael Haulage Ltd
142 Templepatrick Road,
Ballyclare,
Co. Antrim BT39 9RW
Telephone: 028 9335 2869
Mobile: 0777 620 4875
Email: [email protected]
Taken from Irish Trucker & Light Commercials magazine, Nov/Dec 2019, Vol 22 No 7