Global Cargo Solutions - trustworthy, dedicated and quality transport services
22/01/2020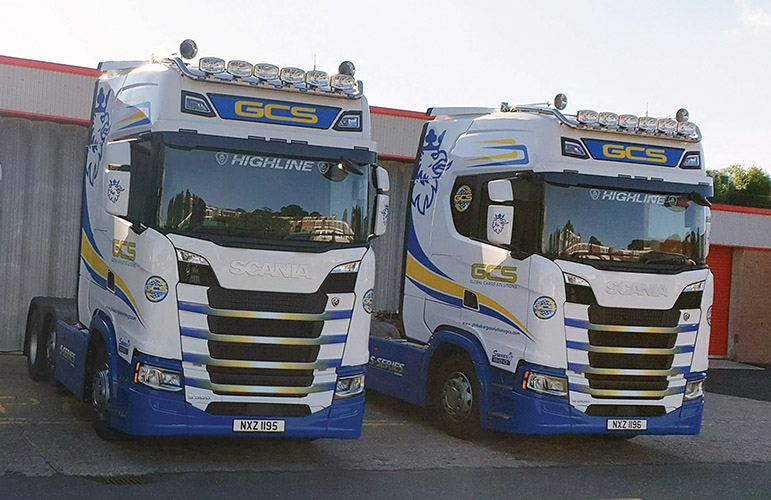 Having grown up in the transport industry, Daughters of Andrew James Woolsey, Jemma Woolsey and Andrea Woolsey know the attention to detail that's required when providing transport services.
As a result, both daughters ever-burgeoning company, Armagh-based Global Cargo Solutions, honour your transport and warehousing needs to the best possible standard and offer a personal, unmatched level of service and dedication to the customer.
Prospective clients might also be interested to know that they also offer the best competitive rates in the market!
By choosing Global Cargo Solutions (GCS), you can rest assured that you are choosing trustworthy, dedicated and quality transport services. They promise to continuously better themselves as much as they can to always be one step ahead of the game for you.
Involved in transport since 2007, the Woolsey's have developed major customer relationships. From food stuff customers to building, construction customers, they can literally put their hand to anything.
Providing haulage for major business and one pallet customers, their services includes Tautliner Freight, Chilled / Frozen Distribution, Container Shipments, Warehousing & Storage, Shipping and Flat Bed / Low Loader Work.
"We started the company in 2016 and it has grown from strength to strength, due to team work from all of our much-appreciated staff from drivers to office staff," Jemma Woolsey said in conversation with Irish Trucker & Light Commercials.
"In GCS we have great pride and respect for the drivers, simply because without them we don't have a business, they are the core. All our staff work as a team and muck in where needed to get any job done, including our sub-contractors who have stood by us from day 1.
"We recently put our drivers through GDP/ADR courses and hope to soon be doing a First Aid class for all drivers and office staff. We want to invest in our drivers to get the best from them - we feel like investing in people is the way forward."
Jemma added: "Business has been brilliant and we're getting busier and busier. We started with two trucks and now have 15 and still growing. We're surprised by how well it has gone in the past three years but if you put in the hard work it will show.
"We pride ourselves on our service levels and our commitment to those service levels. Our clients are guaranteed a personal approach. They are not just numbers to us, everyone is looked after on a personal basis."
The Woolsey sisters Andrea & Jemma learned the tricks of the trade from her father Andrew who ran a successful transport company for years.
"I manage the compliance, insurance, service, planning, and the day to day running of the business with much needed and appreciated guidance from my father who I would be lost without.
"I am still learning new things each day, and in doing so, it keeps GCS fresh. We are willing to learn and try anything, to supply a service.
"We have a great office team also, Martina is our head of accounts and without this lady we would be lost. Maura puts her hand to anything in accounts also while Gary, who works alongside me, planning, and taking on many customer account main contacts, gives a very personal level of contact and service. Dad, as I said, has a massive role to play, out on the road checking in with customers and gathering work."
Their state-of-the-art fleet includes 15 trucks (mostly Scania) and 70 odd trailers. They recently took delivery of two Scania S500s from Nigel Rafferty of NR Trucks and they have ambitious plans for further expansion. "We hope to add another two S500s next April," Jemma revealed.
"Our trucks are kept up to date servicing and washed regularly as our fleet is very important also. If we can't keep a trailer clean and serviced, I don't know how we would manage to organize any load!"
It really is annoying for anyone, not knowing what is happening, no matter if its transport, or simply plans for the weekend! So, to GCS, keeping you updated on the whereabouts and every move of your freight, is just as important as the transport itself.
From collection to delivery, you will be updated in the format that best suits you. With simple email hourly updates, to am updates or hourly spreadsheet updates, they want you to know the status at all times.
All of their trucks and trailers are fitted with the most up to date tracking systems and cameras to give them 24 hour information whenever they need it. With a company focused on communication, it is important to them to have the best systems in place for their clients.
"We don't say no to anything, everything is taken on and serviced to the best, with communication from collection to delivery done quite personal as I don't think anything can quite beat the friendly, family feel in a business, especially working in such a close unique market in this industry."
Jemma concluded: "We just like to say a massive thank you to our team and all of our customers for their continued support and loyalty."
Global Cargo Solutions (GCS)
GCS – Global Cargo Solutions
Armagh Business Park
Suite 37 & 38 Dean Swift Building
50 Hamiltonsbawn Road
Armagh
BT60 1HW
028 3883 0890
Jemma - Traffic
Tel: 07885 433090
Martina - Accounts
Tel: 07902 847118
GCS Team
Website: www.globalcargosolutionsgcs.com
Taken from Irish Trucker & Light Commercials magazine, Nov/Dec 2019, Vol 22 No 7