30 years a-growing
18/12/2019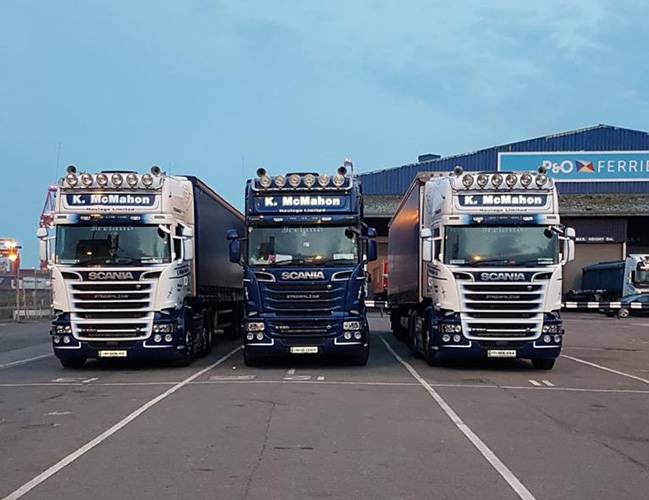 Coming up on 30 years in business, Kieran McMahon Haulage Ltd is a leading haulage provider based in Tyholland, Co. Monaghan.
Boasting a modern fleet of 19 trucks and 50 trailers, the family-run business transports everything from timber frame homes and precast panels to steel products for a number of locally-based customers throughout Ireland and the UK. The company also specialises in refrigerated transport, though this only makes up a small part of its business nowadays.
"We pride ourselves on our professional, reliable and cost-effective service. We have a wealth of experience in the transport sector and always put the customer first," managing director Kieran McMahon says.
"General haulage is what we're into, but we also do a small bit of refrigerated transport. However, it's something we have scaled back on in the last few years and it's become more seasonal work. With the construction industry going well at the moment, we're very busy, but we're not taking anything for granted, especially with Brexit, and the impact it might have, continuing to loom large."
All of Kieran's main customers are located within a 25-mile radius of him. By far the biggest is the Monaghan Town-based Kingspan Century who are Ireland's leading providers and innovators of modern methods of off-site construction. Benefitting from state-of-the-art construction technology and their unique expertise, Kingspan Century's timber frame systems offer high performance solutions to the residential sectors for a broad range of projects.
"We transport timber frame systems all over Ireland for Kingspan Century. That's the biggest end of our business," Kieran explains.
Spanwright in Carrickmacross is another good customer who Kieran hauls precast concrete flooring, precast concrete stairs, precast concrete landing slabs and customised concrete wall panels for, mainly to the UK. He also provides a heavy haulage service to Leonard Engineering in Monaghan and MACFAB in Magheracloone. Leonard Engineering specialises in high quality structural steel detail, manufacture and erection, while MACFAB manufactures a wide range of vertical balers, horizontal balers, small waste compactors and crushers which can reduce waste volume by up to 90%, reducing clutter and making for a cleaner, safe work environment. They also work for Carna Transport, Keady, Co. Armagh and MM Freight Ltd, Craigavon, Co. Armagh.
Coming up to Christmas every year, Kieran McMahon Haulage diversifies to fridge work for Grove Turkeys in Smithboro. Trading as Grove Farm, Grove Turkeys is one of the largest producers and suppliers of turkey and poultry added value products to the retail and foodservice markets in Ireland and the UK. The business has established a tradition over many years with lead customers in these markets for consistent delivery of efficiency, quality and customer service. Vertical integration allows for optimum efficiency, quality and food safety together with full traceability from farm to fork.
From humble beginnings in 1990, when he started out with a Scania 113, Kieran has grown the business and now runs a fleet of 15 Scania, three Volvo and one DAF. The latest addition is a Scania R580 which he bought new from McElvaney Motors earlier this year. He also purchased a new R580 in 2017 from the Monaghan-based Scania dealer.
"We have a very good relationship with McElvaney's going back many years," Kieran continues.
"They look after most of the maintenance and repairs for us and we also insist on buying genuine parts from them. We brought five of the Scanias – a 620, two 580s, an R500 and a 143, which are two of our oldest models – to the Full of the Pipe Truck Show in Punchestown last June and they went down a treat. My son James, who drives for us and is involved in administration, takes great pride in the appearance of the trucks and had them gleaming for the occasion.
"All of our trucks are fitted with satellite tracking systems, while we have also had them fitted with dash and sidecams in a bid to reduce insurance claims which have been on the rise in recent years."
The trailers are a mix of flatbeds (SDC and Dennison), Euroliners, curtainsiders (SDC and Krone) and refrigerated (Schmitz and Chereau). Kieran McMahon Haulage Ltd operates from a spacious premises in Tyholland which consists of a workshop, yard and office.
Kieran is joined in the business by his wife Wilma, who is the accounts and office manager, his aforementioned son James and 18 staff.
"We wouldn't be where we are without our drivers who are highly-trained, reliable, experienced and enjoy a great rapport with our customers. They're the backbone of this business," he stresses.
"As everyone in the transport industry knows, good drivers are very hard to come by and we're fortunate to have some of the best, including lads who have been with us for 10 years or more. A shortage of good drivers along with rising insurance and fuel costs are the three biggest challenges facing the industry at present."
Kieran owns another company, Kieran McMahon Tyres Ltd, which he set up in 1982. Based in Swan Park, Monaghan Town, and run by his nephew Gerard McMahon, the company has the perfect tyres to suit the budget and requirements of any business. Whether your fleet features trucks, trailers or other commercial transportation, you can trust Kieran McMahon Tyres Ltd to deliver quality tyres at affordable prices. The state-of-the-art premises incorporates two car bays, two truck bays, a wheel alignment bay and also features a customer waiting area as well as a car / truck wash facility.
Kieran would like to take this opportunity to thank all customers of Kieran McMahon Haulage Ltd for their continued support and business.
Kieran McMahon Haulage Ltd
Skinnagin
Tyholland,
Co. Monaghan.
H18X934
Telephone: 047 72442
Email: [email protected]
Taken from Irish Trucker & Light Commercials magazine, October 2019, Vol 22 No 6