McAuliffe trucking co makes a splash with new scania
06/12/2019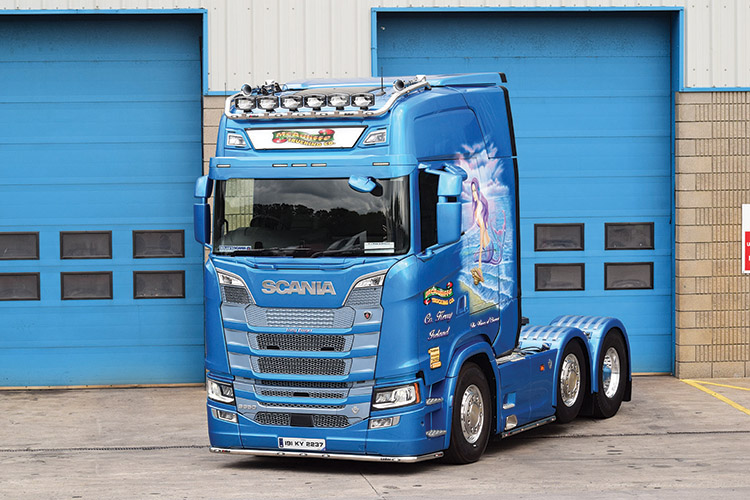 Coming up on 50 years in business, McAuliffe Trucking Co Ltd in Castleisland, Co. Kerry recently took delivery of a stunning new fully loaded Scania S650 Highline complete with an image of a mermaid on its side.
Lady Freya' has been turning heads since she took to the road in July and even made an appearance at the 2019 Truckstar Festival in Assen, Holland where she was entered into the 'Special Paint' category. McAuliffe Trucking Co are rightly proud of the latest addition to their 17-strong fleet, with Orla McAuliffe noting how the mermaid theme – which she designed herself – was inspired by the family's coat of arms.
"It has got a lot of attention," she smiles.
"It was actually the first airbrushed truck to come out of T Nolan's Scania, who we purchased it from. Up until now, our fleet has been all DAF, but Nolan's are here beside us in Castleisland and we felt it was time to try something different. The artwork, which blends into our trademark blue livery, was completed over two weeks by Sean Egan in Wexford.
"The new truck was very well received at the Truckstar Festival which we entered because Lorcan Regan, who drives it, is in the general area every week so it suited as he had a load out tipping close to the show and his usual backload home was from the same area. It was an added bonus for me to have it there as I was going over to the show anyway. The truck is named 'Lady Freya' after Lorcan's two-year-old niece."
Many of the other trucks in the McAuliffe fleet also boast impressive artwork. They are usually animal themes, but one lorry – a DAF 152 – has an image of Orla's late grandfather and company founder, Jack McAuliffe, airbrushed onto its side. "It's a tribute to him and the old Bedford truck that he started out with," she says.
Specialising in livestock transport, liquid transport, refrigerated and bulk transport, McAuliffe Trucking Co runs 17 trucks and 30 trailers. All of the trucks are DAF except for the new Scania, while the trailers are a mix of tankers, bulk trailers, livestock trailers, refrigerated units and one low loader. The McAuliffe's also own a vintage Kenworth artic which they brought in from Spain in 2006 and is a regular at truck shows around the country.
The company is closely aligned to the family's pig farming business. Orla's father Mike owns four piggeries in the Castleisland area and is involved with the Truly Irish brand which was created a few years ago by a group of pig farmers who decided to bring their own brand of pork to the market to improve the quality of Irish pork products, while her older brother Shane works for Easyfix.
Thirty staff are employed between the two enterprises.
"My grandfather had a pig farm before branching into haulage in 1970," Orla explains.
"He started drawing whey from Kerry Co-Op (Kerry Group) in Listowel with a Bedford truck and tank to his own pig farm. The business grew from there and he bought two new Hino articulated trucks on the same day in 1975. We had a 100% DAF fleet from 2000 up until this year when we purchased the Scania. Prior to 2000, we had a few Hinos, Mercedes, Scanias and a Volvo in the fleet along with the DAFs.
"We still draw whey from Kerry Co-Op's creamery in Newmarket and continue to enjoy an excellent working relationship with them after all these years. We also collect milk from dairy farms in the North Kerry and West Limerick areas for Limerick Liquid Milk and North Cork Co-Op and have two DAF CF 530s, which were purchased new at the beginning of the year, dedicated to this service."
Jack McAuliffe sadly passed away in 1992, leaving his son Mike to take up the reins at just 28 years of age. McAuliffe Trucking Co has continued to go from strength to strength and its trucks have become a familiar sight throughout Ireland and Europe. "We transport hanging sows to Germany every week and send pigs to Rosderra Meats in Roscrea and Staunton's Foods in Timoleague, West Cork every day. We also send pigs to Kepak in Cavan and are involved in beef farming in Castleisland and have a cereal farm in Offaly."
With almost 50 years' experience in haulage and distribution, McAuliffe Transport Co prides itself on its ability to execute its customers' shipments in a safe and timely fashion. The Kerry firm's experienced and professional management and staff have the knowledge and capabilities to provide the highest level of transportation services. Using modern GPS technology, its trucks and trailers can be tracked from anywhere in the world.
"We'd be nothing without our drivers," stresses Orla, who returned to work in the family business alongside transport manager Declan Mangan in February 2018 after spending a year at Kerry Motor Works.
"We are very lucky to have a team of 18 drivers between full-time and relief drivers who are reliable, courteous and will go out of their way to look after the customer. We also have excellent staff in the office and in our state-of-the-art workshop. We have two mechanics maintaining our own fleet, while Declan (Mangan) is also a qualified mechanic and helps out when needed. He's very hands-on."
The 24-year-old caught the trucking bug at an early age and worked in the office during school holidays and after she finished college. She always saw her future in the family business and holds rigid and articulated licences, having obtained both before the age of 22. Orla studied Business with Marketing in college and also obtained her Transport Management certificate from the Chartered Institute of Logistics and Transport last year.
"It's handy to have the licences as I'm able to go out and relieve some of the drivers when the need arises. If they're 'out of hours' and only up the road, I can bring the truck the rest of the way. It's also nice to be able to get out of the office every once in a while."
So what does Orla's job entail? She replies: "I'm basically Declan Mangan's right-hand woman, co-transport manager if you like. He's been with the company for many years and I'm learning so much from him. I monitor the tachograph regulations as well as organising the CVRT testing and maintenance of the fleet.
"I also look after a lot of the transport management which allows Declan to devote more of his time to other areas, including the running of the mill in one of our piggeries. It's a state-of-the-art mill which produces ration solely for our own piggeries. We draw between 10 and 12 loads of bulk into the mill every week from Foynes and Ringaskiddy Ports. We then deliver the milled ration to our piggeries six days-a-week."
Orla welcomes the fact that more women are now involved in the transport industry than ever before.
"It's refreshing to see more women involved in driving and transport management. While it remains a male-dominated industry, I have never once been looked down upon because I'm female. I'd like to see more women becoming HGV mechanics. They are very thin on the ground.
"Trucking is in my blood and I hope to play my part in keeping the family tradition alive for many more years to come," she concludes.
McAuliffe Trucking Co Ltd
Fahaduff,
Castleisland,
Co. Kerry.
Telephone: 066 7141933
Mobile: 087 2509508 (Declan), 087 9256446 (Orla) or 087 2566364 (Mike)
Fax: 066 7143006
Email: [email protected]
Web: www.mcauliffetrucking.com
Taken from Irish Trucker & Light Commercials magazine, October 2019, Vol 22 No 6