Cunningham's are the 'Auto' choice
04/12/2019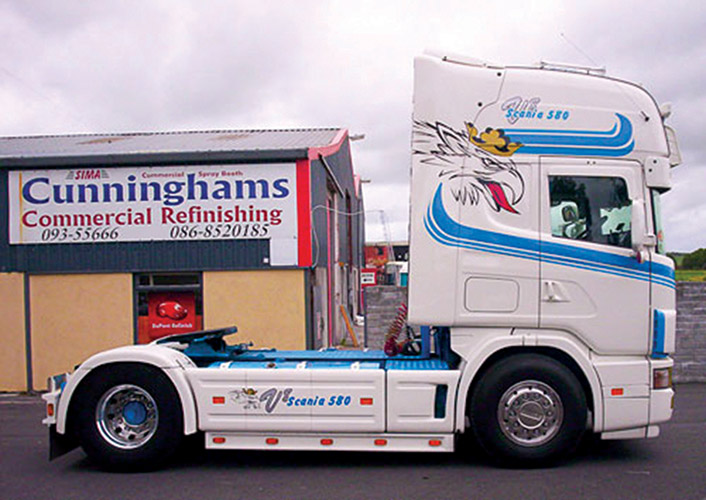 Cunningham's Auto Refinishing has been leading the way in its field of expertise in the west of Ireland for over 30 years now. Managing Director Micheál Cunningham explained to Irish Trucker why he feels the business has been so successful over that period.
Attention to detail and the ability to customise are the hallmarks of a company, which has gone from strength to strength down through the years.
Initially specialised in panel beating and spray painting before expanding, the company's range of services which now include repaints, crash repairs, vehicle sign writing, vehicle graphics and design.
Work is carried out not only on cars, light and heavy commercials, but marine painting is another specialised area added to the company's portfolio.
"We are able to diversify into any area of spray painting and no matter what the job is, big or too small; we will endeavour to do it to the highest standard possible. Our ability to offer a quality service and expert workmanship ensures that customer satisfaction is always guaranteed," said Micheál.
Through the years, the customer base has grown dramatically and Micheál pointed out that the fact that the customers keep coming back speaks for itself.
"The quality of our work can be gauged from the amount of repeat business we get. Our customer list is growing all the time with the majority of them coming from the West, Mid-West and Midland regions. Whatever they are looking for, we can do it for them.
"We do a large amount of crash repairs, but we mainly specialise in refinishing work and with a highly-skilled and experienced team, and high-tech equipment at our disposal, we can guarantee a top-class finish," he added.
Micheál revealed that there is a lot of legislation to be adhered too in the industry and he stressed that Cunningham's Auto Refinishing did everything by the letter of the law, unlike some businesses in the same game.
Such is Cunningham's standard of work that they were one of the auto first refinishers in the country to achieve compliance under new EU environmental regulations, while the company is fully registered with Galway County Council under Organic Solvent Regulations. The company is VOC regulated.
"We are fully compliant with all the legislation that is there whether it be for the council, Department of Environment or the Environmental Protection Agency, we are fully certified.
"We invested a lot of money into upgrading the facilities and meet all the required standards needed. We were actually the first company in Ireland to be registered to use non-solvent paints after we invested heavily in two commercial spraying booth to achieve this."
Micheál feels aggrieved that the legislation is not properly implemented, which leads to many rogue operators being able to offer a cheaper service, but one that lacks the quality provided by Micheál and his team.
"You pay for quality and the customer is guaranteed to get that with us."
Despite this Micheál stated that they were busy all year round as their customers know what they are going to get when they bring their vehicle to the premises in Belcare, Tuam, Co Galway.
"Yeah thankfully, we have been very busy. We offer a wide range of services, so that allows us to cater for many vehicles," he said
"A lot of our work would come about through word of mouth as someone would say the quality work that we have done and take it from there."
Cunningham's repair and re-spray all the leading commercial brands, including Volvo, Scania , DAF, Mercedes, Mitsubishi, Ford, Renault, Iveco and Isuzu as well as trailers, tankers, horseboxes, rigids and artics.
The last two years have seen Michéal investing in a purpose built facility with a car repair booth, with plenty of his company's work being carried out for different insurance companies on practically a daily basis.
Cunningham's can count the following reputable companies among their list of customers: Clada Group (Ballinfoyle, Galway city), Bus Eireann (Galway), Westward Scania (Strokestown, Co Roscommon), Go Bus (Galway), Murphy Commercials, Volvo (Claregalway), Kenny's Galway (Volvo, Citroen Garage), Road Maintenance Service (RMS, Oranmore, Galway), Mortimer's Quarry (Tuam), Supermacs, McGrath's Waste (Castlebar), Burkes Buses (Tuam), Nicholas O'Brien (Claregalway), Oil Direct (Headford) and T& M McCormack Transport (Longford).
With so many haulage companies operating throughout Ireland, it is important for each to stand out and be noticed and this is where Cunningham's can help. Offering on-site colour matching using the most modern technology, they can really make vehicles stand out through their quality paintwork.
The company prides itself on being able to invest in the latest technology which ensures that a vehicle is quickly and efficiently worked on.
"The majority of trucks, trailers or tankers that we carry out work on are brand new and as many customers have their own colours and livery, we consult with them and carefully spray to their requirements."
Cunningham's have invested in a new system where they have car and truck alignment equipment where they can mount the vehicles on jigs which allows them to carry out the procedure.
They employ three qualified spray painters whom are all highly-skilled, as well as five body repair men on the panel-beating end of the business and one man for valeting and detailing.
Micheál, whose sons Donal, Darragh and Colin have all taken a keen interest in the business, admitted that despite being busy, this was a very competitive industry and the experience he has obtained over the years has helped him adapt to the ever changing economic climate.
"It takes a lot of hard work to get any business established, but it is particularly hard in this industry," he stated.
"There have been a few lads that left here over the years to go their own way, but they didn't last long. It takes a huge effort to do well in this business and certainly to do it to the standard we have set ourselves."
Cunningham's Auto Refinishing
Biggera,
Belcare,
Tuam,
Co. Galway
Phone: + 353 (0)93 55666
Mobile: (086) 250 4630
E-mail: [email protected]
Taken from Irish Trucker & Light Commercials magazine, October 2019, Vol 22 No 6