TechPlus: the award-winning tyre and workshop equipment supplier
29/11/2019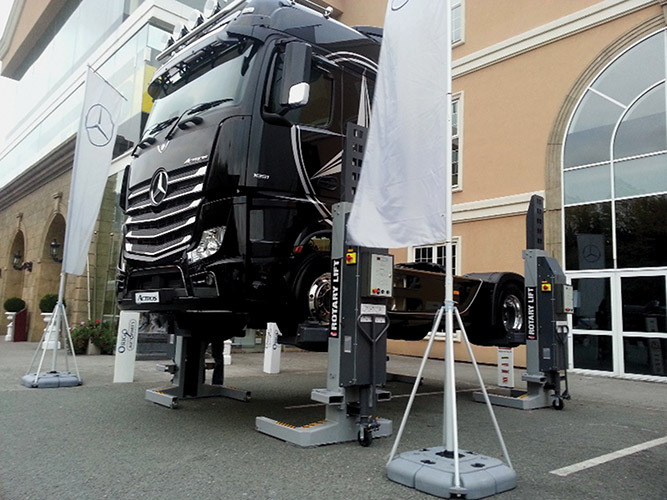 Perennial winners at the annual Irish Auto Trade Awards, TechPlus have been supplying industry-leading equipment to garages and workshops nationwide for more than a quarter of a century. Irish Trucker interrupted managing director Hugh Brady's busy schedule to get an update on the business, which is synonymous with quality, expertise, service and support.
TechPlus got there before the Dubs! While Jim Gavin's men were only turning their attention to the historic 'Drive for Five', the Tallaght-based workshop equipment supplier already had five successive All-Ireland titles in the bag, having been named as Tyreshop Tools & Equipment Supplier of the Year at the Irish Auto Trade Awards for 2015, 2016, 2017, 2018 and 2019.
The five-in-a-row was an amazing achievement and, in mid-October, TechPlus will be in the running for a sixth consecutive IATA award. "We're very happy to have picked up the award five times and we're looking for a sixth now," notes hands-on proprietor and MD Hugh Brady. "We're on the shortlist again and we're hoping to win the award again on October 17th – that's the next aim."
Regularly coming out on top at such a prestigious awards ceremony underlines TechPlus' hard-earned status at the forefront of the tyre and workshop equipment supplies market. "We've built the business on reputation and quality," Hugh confirms. "All our products are OEM-approved and made in Europe, with a strong emphasis on quality.
"Everything comes down to quality products, back-up and service and this is what we strive to consistently deliver. We try to stay away from cheaper Asian equipment and stick with renowned, established, high-quality brands that can be depended upon to perform. We've always put quality first and foremost. It has paid off and our customers trust us.
"From Rotary lifts to John Bean and Hofmann tyre changing, wheel alignment and balancing equipment … these are market-leading, proven products and we've stocked them for more than 20 years, bringing out customers the best equipment that money can buy. Even during the recession, we stuck with the best products and were never tempted to try to sell cheaper alternatives."
Of course, quality products are pretty useless without quality service and back-up. As their multi-award-winning exploits suggest, this is an area where TechPlus come into their own: "They're good products and they all get the back-up they deserve," says Hugh. "We have experienced, dedicated personnel fully trained in this equipment and they provide high-quality back-up service."
Some of TechPlus' best-selling products include the aforementioned Rotary column truck lifts; Mercedes-Benz-approved Haweka truck wheel alignment equipment; BrakeSafe portable brake testers; Mondolfo truck tyre changers and wheel balancers; Compac hydraulic air and trolley jacks; Pasquin jacks; Ahcon truck safety inflation cages (including the recently-launched Alcatraz cage); Abco commercial pit jacks; FINI industrial screw air compressors. TechPlus is the sole distributor in Ireland for many of these.
"The common link between all of these products is quality," Hugh reiterates. "They're all high quality products made in Europe and we have the men on the ground to provide excellent back-up service."
Including the owner, direct gainful employment is generated for a team of twelve at present. "A company is only as good as its staff," he continues. "The management, sales team and internal staff all make a huge contribution to the success of the business. They have all been here a long time and have given tremendous service. Some of them have been here 20 years and the newest member of staff is here seven years already. They have great experience and knowhow; they represent the company well and are an integral part of our success."
A fleet of seven vans covers the nation's truck workshops, tyre workshops and CVRT test centres; expert, experienced service engineers providing an unbeatable aftersales and parts service. Indeed, TechPlus – the first in Ireland to be named a certified member of the Garage Equipment Association (guaranteeing customers the correct and optimal fitting of lifts and equipment) - offer full aftersales service to include calibration, equipment servicing and workshop layout design.
Promoting Health & Safety and proper workshop procedures at all times, TechPlus are also members of SIMI and the Irish Tyre Industry Association (ITIA). Hugh, who serves on the national executive committee of the ITIA, is delighted to report that the long-established, industry-leading, award-winning tyre and workshop equipment supplier is going from strength to strength:
"Business is good and we're booked out for three or four weeks in advance," he concludes. "We are always looking out for new products that will make life easier and safer for those who work on trucks, coaches and light commercial vehicles in workshops and tyre shops. The market is moving quickly and we are keeping abreast of these changes to continue bringing our customers the best-quality equipment."
TechPlus,
Unit E9,
South City Business Park,
Tallaght,
Dublin 24,
D24 XT61.
Tel: 01 404 9060
Fax: 01 404 9061
Email: [email protected]
Web: www.techplus.ie
Taken from Irish Trucker & Light Commercials magazine, October 2019, Vol 22 No 6