Hooray for Harold Engineering
08/11/2019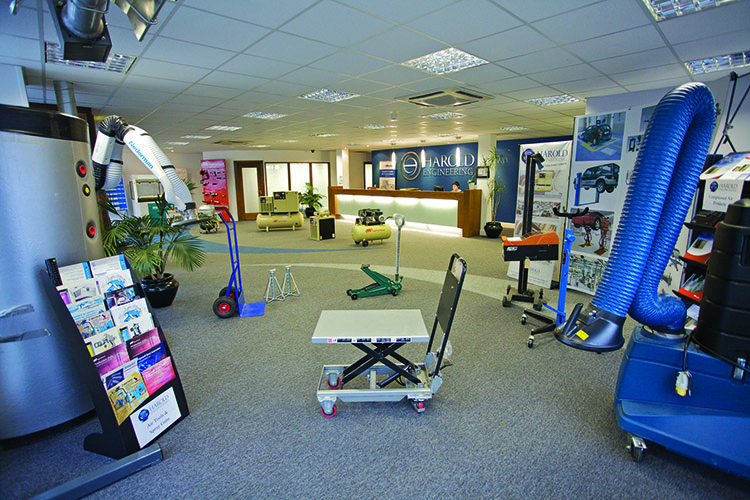 Harold Engineering Ltd has been in business for 56 years and for 40 of those years, sales director of the garage equipment division, Michael Dillon, has been a key member of the team.
Specialists in garage and industrial equipment, the company has come a long way since Michael joined in 1979. There have been plenty of bumps in the road, most notably the recession which the country has only emerged from in recent times, but Harold Engineering has always managed to weather the storm by providing the best service around.
"We've gone through thick and thin over the last 40 years," he reflects. "It was a huge achievement to come through the last recession which was the worst I've ever seen. Were it not for the loyalty and diversity of our customers, the quality of our products and brands, and the high level of service our staff provide, we may not have survived. But we did and are now, thankfully, going from strength to strength once again.
"We have upgraded our fleet of vans over the past three years and have increased our sales staff by three. We've grown our staff to 46 and continue to recruit. We pride ourselves on being a wholly Irish-owned company offering an exceptional nationwide service. As the industry runs 24/7, so do we.
"It has been a pleasure to work for this company and alongside many great people – some of whom have been here almost as long as me – and hopefully there will be many more years to come."
Founded in 1963 in Harold's Cross by Seamus Whelan, Harold Engineering Ltd has since established itself as a market leader in air compressors, garage equipment, gas heating, dust / fume extraction and vacuum pumps. The company was acquired by Mark and Louise Young, who are CEO and financial director respectively, in 2007 and relocated to Aerodrome Business Park, Rathcoole the following year.
Strategically located beside the M7 and five minutes from the M50, the 18,000ft2 building includes a 10-metre high racked warehouse and fully-fitted workshop. This location, allied to its Galway premises in Oranmore, gives Harold Engineering a nationwide reach.
The strategic focus for the business is to continuously improve and develop the products offered to its extensive customer-base as well as seeking 'bolt-on' opportunities to introduce new complimentary products.
Harold Engineering operates across all market sectors with particular experience in the garage, medical / pharmaceutical, food and industrial sectors. Due to the diversity of products offered by the company, it is segmented across four product divisions: air compressors, air distribution products and air tools; dust and fume extraction; commercial and industrial heating; and garage equipment, including vehicle wash equipment. Other products offered include environmental spill control brands.
The garage division offers a full range of equipment, including lifts, tyre changers and wheel balancers, in addition to design, sales and service. The company has a specialised sales and service team covering the entire country.
Harold Engineering has installed numerous vehicle wash solutions around the country, from drive-through vehicle washes to automated three-brush roll-over vehicle washing machines, and including full water recycling systems. The company provides a full turnkey service when it comes to not only the selection and installation of car, bus and truck washing systems, but also with regard to the ongoing maintenance and repair of the equipment in use.
Harold Engineering's superior national coverage, excellent customer service record and technical experience has enabled it to secure key distributorship agreements with best-in-class product manufacturers such as Ingersoll Rand, Combat Heating systems, Ravaglioli Garage Equipment, SAMOA and Graco lubrication equipment, Werther and OMA Garage Equipment, Parker, Renner, Nederman, Geovent and Movex Exhaust and welding fume extraction equipment, Dirt Driver and Smith Bros & Webb Bus Truck wash systems and others.
"We've been dealing with the same brands for over 40 years, while our own branded equipment is also top quality," explains Michael, who oversees the day-to-day running of the garage division, is responsible for sales and ordering equipment and also negotiates with suppliers of different brands throughout Europe and further afield.
The company's extensive product portfolio means it can offer customers a wider range of product solutions than any of its competition. An installation would often include air compressors and air management system, heating, fume extraction systems as well as process equipment e.g. garage.
Harold Engineering also differentiates itself from its competition in offering a one-stop shop incorporating design, project management, installation, commissioning and ongoing maintenance. The company has established a very extensive and loyal customer-base over the years, spanning across all sectors, including construction, manufacturing, pharmaceutical, hi-tech, retail, entertainment, leisure and transport.
Michael concludes by saying: "On behalf of Harold Engineering, I would like to take this opportunity to thank our customers for their support and outstanding loyalty. We are also fortunate to have great suppliers and staff who are renowned for their exceptional service. Business is good at the moment and we're looking to the future with renewed optimism."
Harold Engineering Ltd
(Dublin Office)
Unit B2,
Aerodrome Business Park,
Rathcoole,
Dublin 24.
Telephone: +353 1 25 75 100
Harold Engineering Ltd (Galway Office)
Unit 12,
West Link Business Park,
Oranmore,
Co. Galway.
Telephone: +353 (0)91 795 900
Fax: +353 (0)91 795 904
Email: [email protected]
Web: www.haroldeng.ie
Taken from Irish Trucker & Light Commercials magazine, September 2019, Vol 22 No 5