Delivering top class construction solutions
05/11/2019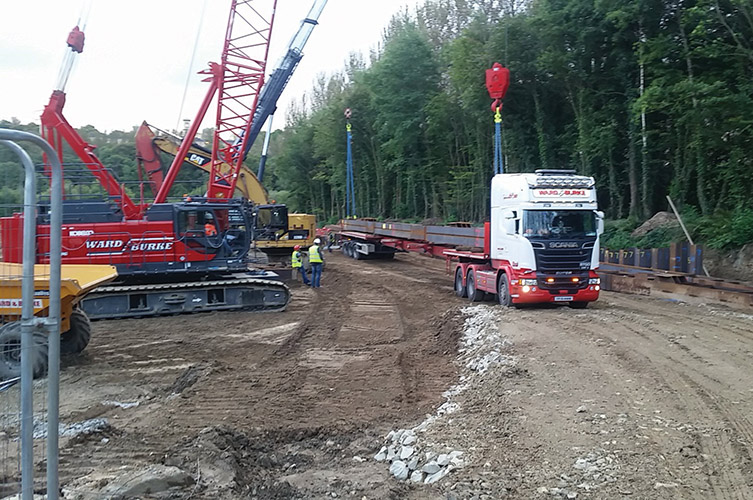 Ward & Burke is one of Ireland's leading Civil & MEICA Engineering Contractors, delivering class leading, reliable and cost effective construction solutions. Irish Trucker learned more from company veteran Kevin Cunniffe recently.
Set-up in 2001, Ward & Burke specialises in the design, manufacture, supply, installation, commissioning, operation and maintenance of water and wastewater infrastructure with all associated mechanical & electrical, civil, and, environmental, activities in Ireland and the UK.
The company has offices in both Canada and the US and focuses on the design and construction of microtunnelling (up to 3000mm diameter), shafts and caissons, for the utilities sector.
Ward & Burke's portfolio also encompasses bridge and road infrastructure projects incorporating construction and rehabilitation works.
Kevin Cunniffe has been with Ward & Burke for 12 years now and took some time recently to explain to Irish Trucker what the business is all about.
The head office is in Kilcolgan, Co Galway and the company run lorries out of the Creggs village (Co Galway).
They're running six lorries in Ireland and one in the UK constantly at the base in Bourne End, Buckinghamshire.
Elsewhere on the machinery front, Ward & Burke uses Faymonville trailers from Ashbourne Truck Centre and well-known machinery brands such as Caterpillar, Kobelco and JCB.
Further afield, Ward & Burke's Canadian office is situated in Mississauga, Ontario while the US office is in Columbus, Ohio. They also have several regional offices, in addition to plant yards, in each jurisdiction which facilitates the ability to service a widespread area.
The company was set-up by brothers Michael and Robert Ward and their business partner Padraig Burke 18 years ago and in that time it has grown into an award-winning firm, which has stretched across two continents.
Ward & Burke is certified to OHSAS ISO18001:2007 for Safety Management, ISO9001:2015 for Quality Management and ISO14001:2015 for Environmental Management.
The company has always had an excellent record when it comes to Health & Safety and continues to put a huge emphasis on its procedures year in, year out.
Another major focus for the company is, of course, Microtunnelling - a digging technique used to construct small tunnels.
Indeed the main game at Ward & Burke is microtunnelling, as much of the work would be in treatment plants and a lot of them would be non-driver friendly.
They fabricate all of their own steel for tanks and much of what Kevin himself does is transporting steel to those jobs.
The company could be bringing 32-metre long beams down to Enniscorthy and, at the moment, they're running six trucks; three four-axles, two five-axles and a six-axle which is used for moving crawler cranes. They've added a new Scania S650 this year.
Castlebar native Enda Hopkins is the company's Transport Manager and, having started in 2002, both he and Kevin have a good understanding with one another.
Most of the trailers run in the Ward & Burke fleet are of the Nooteboom brand, while the precast used by the company is from Tracey Concrete.
At the moment, the majority of those trucks and trailers are back and forth to the capital with much of the company's work concentrated on the Blanchardstown Regional Drainage Scheme.
Business is good at the moment and the company is carrying out a lot of work for Irish Water in Blanchardstown.
While microtunnelling remains Ward & Burke's most popular service on a daily basis, the company provides the full range of temporary / permanent works and construction engineering services across multiple sectors.
They focus on the development of safe, considered and innovative solutions to the most challenging problems encountered in the construction of projects.
The team at Ward & Burke pride themselves on working seamlessly with all project stakeholders, ensuring no solution is developed in isolation and without consideration of the potential implications on other areas of the project.
This, combined with an extensive and wholly owned plant division, ensures direct control, greater flexibility, and above all improved quality and safety of construction projects.
Whatever the project undertaken, they apply their insight, innovation, professionalism and personal hands-on attention to every aspect of the project – from its inception to its successful completion.
Last year, the company was selected as the Contractor of the Year at the 10th annual Ground Engineering Awards.
It was just another bit of recognition for a firm which has made enormous strides over the past 18 years.
Innovative ideas and solutions, along with the experience to perform turnkey operations, have always been the principles of Ward & Burke.
The success of Ward & Burke lies in its ability to provide a complete in-house solution to civil and MEICA engineering construction endeavours.
The company brings a unique and innovative approach to construction which they feel sets them apart from other engineering contractors.
Details of past projects can be viewed on the company's website (www.wardandburke.com) and for general enquires be sure to e-mail [email protected]
So if you're looking for delivery of class leading, reliable and cost effective construction solutions, with specialising in bespoke design and quality construction of water and wastewater infrastructure, look no further that Ward & Burke in Kilcolgan, Co Galway.
Ward & Burke Construction Limited,
Stradbally East,
Kilcolgan,
Co. Galway,
H91 W279
PH: +353 91 776 827
Email: [email protected]
Web: www.wardandburke.com
Taken from Irish Trucker & Light Commercials magazine, September 2019, Vol 22 No 5