Doing the country proud
05/11/2019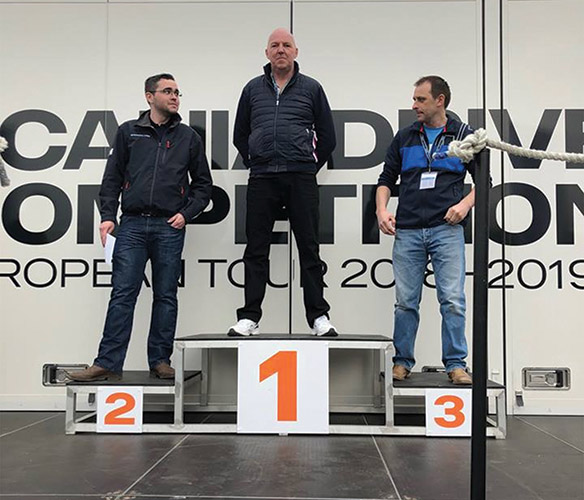 For a small nation, we have always supported our own and that is what the haulage industry done in the last week of May when Niall Cashin represented Ireland in the Scania Driver Competition.
Niall represented the country having won the Irish Scania Driver competition, which was hosted by Westward Scania and this meant that he went forward to the European finals in Sweden at the end of May.
With Ireland boasting a former winner and runner-up on past occasions, interest here was high as the Scania Driver Competition returned after a few years' absence. The prestigious and challenging competition welcomed truck drivers of all ages to compete and show their skills against fellow drivers in in the contest.
Niall was honoured to represent his country in such a prestigious competition. "I was delighted to win the Irish Scania Driver competition. There was a lot of great drivers there and to come out on top was brilliant," said Niall.
"There are a lot of very good truck drivers in Ireland and it is a very close community and I had great support from the lads heading over to Sweden."
For Scania, the driver is the single most important asset for road safety and transport economy. Focus areas for the Scania Driver Competition are the environment, safety and fuel economy, as well as attracting the next generation of drivers.
"The focus is on eco-driving and you have to navigate your way around an obstacle course. For the Irish competition, you have to fill out a questionnaire comprising of 30 questions."
This year, the previous age limit, which limited drivers up to 35 years old, has been removed. What is also new is that drivers now have the opportunity to qualify for the competitions through driver performance over time, as monitored by the Scania Fleet Management Services (FMS). Participants will be required to demonstrate their skills in defensive driving, fuel-efficient driving, check before driving, cargo securing, as well as fire and rescue. They also need to show their ability through various exercises, including the boardwalk, knock the king, reverse z/super z and the new water challenge.
"It was a great experience and one that will live long in the memory. To meet so many great people and drivers over there was something special."
On Saturday 25 May 2019, Europe's best driver was crowned in the Scania Driver Competitions. The winner of the grand prize, 100,000 euros to spend on a new truck, was Andreas Nordsjø from Norway, but Niall did himself, his family and his country very proud indeed.
The competition started as a response to a 2003 European Commission directive on driver training, which aimed to minimise the environmental impact of truck driving by increasing road-safety awareness and improving fuel consumption. Since then, more than 350,000 truck drivers in nearly 50 countries have participated in Scania Driver Competitions. The European Commission has endorsed the event ever since.
"I've been driving for the past 20 years and there have been many changes over the past two decades, all for the benefit of the driver and the trucks themselves.
For the past three years, Niall has been driving for Roscommon based Midwest Groupage & Logistics/Tand Transport who offer wide range of transport services to an ever-increasing customer base.
Their delivery services include house and site deliveries as well as all retail and wholesale facilities. They also provide a collection service within the same geographical areas.
"We provide a next day delivery service to the following counties; Mayo, Galway, Sligo, Leitrim, Roscommon, Longford, Westmeath, Offaly. I would cover most of the Leinster counties."
Midwest tend to specialise in the handling of white and brown goods as they have the experience and expertise to ensure the safety of such valuable produce. In recent years though they have gone for a broader mix of goods and groupage work.
Midwest Groupage offer complete job tracking and tracing systems which ensure that queries from customers are dealt with in a timely and competent manner. PODs can be emailed directly to customers. Customers can also access their PODs directly, through their secure website.
The facilities also incorporate an invoicing system whereby only jobs which are complete can be invoiced and the invoices generated are such as to give a line by line cost detailing customers and their own reference numbers on all jobs. Thus any queries can be resolved expeditiously.
"Midwest are a very professional company to work for. Technology has become a massive part of the industry and they have embraced any changes needed."
Midwest Groupage & Logistics
Farnbeg,
Strokestown,
Co Roscommon
Tel: +353 71 9633899
e-mail: [email protected]
Mon - Fri: 07:00 - 18:00
Taken from Irish Trucker & Light Commercials magazine, September 2019, Vol 22 No 5