Moving people for 40 years
25/10/2019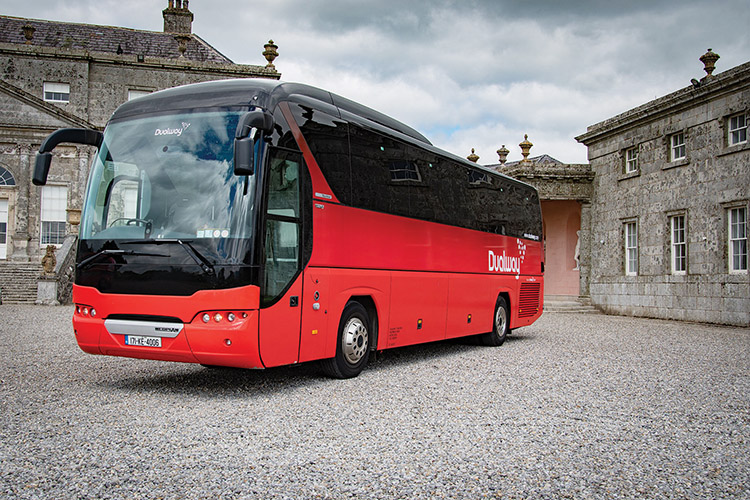 Celebrating 40 years in business, The Dualway Group has grown to become one of the largest privately-owned companies in the Irish transportation and tourism sector.
Comprising Dualway Transport, Airport Hopper, Dublin Visitor Centre and Gray Line, Dualway operates private coach hire, scheduled services and a wide range of day tours in Ireland. The Dualway Group has won numerous prestigious awards down through the years and was shortlisted in three different categories – Passenger Transport SME Company of the Year, Safety Award and Innovation in Technology & Systems – at the 2019 Irish Transport & Logistics Awards which were held in the Clayton Hotel, Dublin on June 7 last, and recognise and celebrate excellence within Ireland's logistics and transport industry. Group CEO Trish McConn acknowledges that the awards are great recognition for the business which her father Anthony McConn founded as a one-man operation in 1979.
"We've won awards for service excellence, best safety practices, excellence in HR and everything in between. These accolades reflect very well on us and show that we are doing things right. We are constantly making improvements to the way we do business," Trish says of the Rathcoole-headquartered operator which also has a large depot in Bluebell.
Having initially operated as a passenger transport company, Dualway expanded into tourism with its Dublin sightseeing tour in 1994. In 2000, the family-run business became a founding member of City Sightseeing, the now global hop-on, hop-off sightseeing red bus tour brand. Dualway sold City Sightseeing, which consisted of 25 open top vehicles, to British tour operator Big Bus Tours last year. The deal also saw David McConn – Trish's brother – leave his role as Dualway CEO to join Big Bus Tours as Managing Director of their Dublin operation.
In 2002, Dualway became Gray Line Tours licensee for Ireland, catering for the American and Australasian markets. Dublin Visitor Centre, which is an independent tourist office concept with five retails shops and providing sightseeing tours and day trips, was introduced in 2013.
A resounding success since its inception in 2012, Airport Hopper runs premium quality hourly services from both Tallaght (Route 777) and Maynooth (Route 767) to Dublin Airport.
"We carried 125,000 passengers on our Airport Hopper service last year and are aiming to increase that figure to 170,000 this year. This service has experienced consistent growth over the last seven years," explains Trish, whose sister Linda McConn is also involved in the family business as Director of Business Development & Strategy.
At the time of writing, The Dualway Group was preparing to launch Dublin's newest attraction, the Gin and Tonic Experience, which has already proved a success in London. On this unique tour of Dublin, one will be able to capture the heart of the city's culture, landmarks and history on Dualway's Vintage Routemaster bus, whilst visiting areas such as The Phoenix Park, Grafton Street, St James' Street, Thomas Street, Temple Bar and Merrion Square, all while sipping on some of the finest gins in the world.
The Dualway Group currently employs 109 people, including 45 bus drivers, 32 retail staff, eight technicians as well as tour guides. The Group operates a 35-strong fleet, ranging from 19-seater mini coaches to 80-seater double deckers. With professional, friendly and immaculately groomed drivers and a highly experienced operations and logistics team, Dualway's ground handling and destination management experience ensures optimal service levels from booking right through to delivery of service. This makes them number one in Dublin for business travel, coach hire, corporate events, custom tours, sightseeing tours, airport transfers and outings for schools or colleges.
As well as maintaining its own fleet of vehicles, Dualway also looks after the maintenance and service needs of other fleets, including that of Big Bus Tours, which its technicians are very familiar with. In addition, Dualway runs a driver training school for all in-house drivers and for external drivers.
It was no surprise to see Dualway on the Irish Transport & Logistics Awards Innovation in Technology & Systems shortlist following the successful implementation of GreenRoad fleet safety software on all of its buses. This innovative software transforms driver behaviour to reduce costs and optimises fleet operations. GreenRoad's in-cab display gives fleet drivers objective and real-time feedback whenever a risky driving event occurs. Simple audio and visual feedback help drivers to quickly self-correct without being distracted from the road. And at the end of every trip, an automatic summary displays the trip safety level and other stats. The software's patented algorithm analyses and corrects more than 150 manoeuvres and compounds events across five categories – acceleration, braking, lane handling, cornering and speeding.
"It's a massive piece of technology which not only changes drivers' habits, but also reduces accidents, wear and tear on the vehicle and improves fuel efficiency," Trish enthuses.
"We are only one of two Irish companies using this software. We heard about it through Big Bus Tours, who use it on their fleet worldwide, so we introduced it last March and it has already proved its worth."
Dualway's commitment to best safety practice is reflected in its nomination for a Safety Award at the Irish Transport & Logistics Awards. The Group works smart – onboard, on the roads and in its properties – and ensures that it is familiar with all safety policies and procedures developing. Dualway reviews its Health & Safety policies in line with its commitment to continuous improvement, with its Health & Safety team meeting monthly to oversee these commitments. Dualway's Health & Safety Officer monitors, evaluates and provides training support as part of this commitment.
The Dualway Group continues to go from strength to strength by continually investing in its fleet and staff, and by providing an unrivalled service to its ever-growing passenger numbers. Clients include Bord Bia, DCU, Luas, Iarnrod Eireann, RPA, Family Business Ireland, ESB, Belvedere College and ITT.
Here's to the next 40 years of this successful family business!
The Dualway Group
Keatings Park,
Rathcoole,
Co. Dublin.
Telephone: +353 (0)1 531 1411
Email: [email protected]
Web: www.dualway.com
Taken from Irish Trucker & Light Commercials magazine, September 2019, Vol 22 No 5