Generation after generation
16/10/2019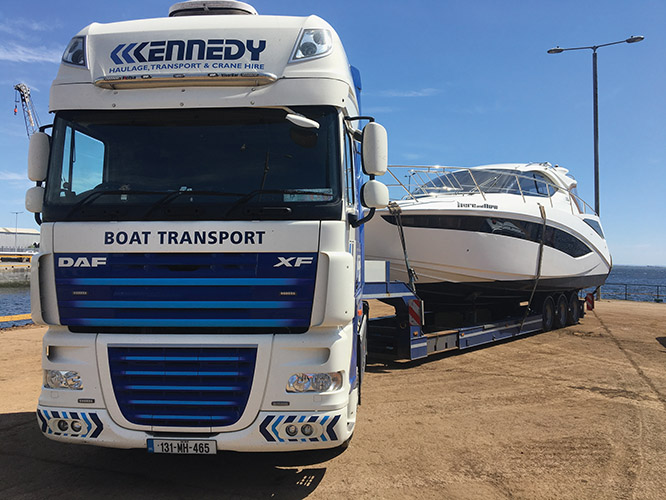 When it comes to the haulage industry, more often than not businesses are handed down from generation to generation. They say to be a haulier, it has to be in the blood as there are many trials and tribulations to be met daily.
We profile a third-generation haulier as we speak to Jonathan Kennedy who owns and operates Kennedy Haulage, Transport & Crane Hire.
For the past 23 years, the business has been run by Jonathan, but it dates back a lot further as both his grandfather Thomas and father Thomas Jnr drove the business forward.
"My grandfather started off doing some tipper work hauling sand and gravel and then my father would have done some general haulage work, which was what I started off doing," said Jonathan.
From their base in Kilternan, Co Dublin, Kennedy Haulage now offers a wide range of services and are specialists in safe lifting and transportation of a range of equipment, machinery, vehicles, boats & heavy materials including: boat transport, Engineering Machinery transport, Generator transport, Pump Equipment transport, Shipping Container transport, Aviation equipment and many others.
The haulage vehicles are operated by fully qualified drivers, each with vast experience within the haulage, boat transport, and general transport industry. The trucks are all fitted with HIAB cranes for self-loading and unloading.
The transport of boats is a service that Jonathan revealed he got into after a customer asked him to do a one-off boat move and he liked how he carried out the job.
"An original customer came to me and asked would I be able to move a boat for him and I did. From there one job led to another and we do a lot of that type of work now throughout Ireland, the U.K, and Europe."
Offering a crane hire services ties in with many of the work that Jonathan and his team do with safety being of the utmost paramount on all jobs.
"Safety is essential on all jobs with traffic management and safety vehicles being used on all wide loads that we transport. We have specialists who look after the permits for us so we can focus on the job at hand. Michael Lynch is the guy that looks Irish permits and a second escort vehicle for us and he does a good job in ensuring we have all our paperwork right. We then have a UK company who provides permits and escorts over there.
"Route planning is essential ahead of any job and fortunately with the experience that we have picked up over the years, we are confident that we can transport any product in a safe environment."
A qualified mechanic, Jonathan stated that he would do a lot of the maintenance work on his fleet of three trucks, which comprise of a DAF and two Volvo rigids.
"I would do a good bit of the maintenance work myself, it is just finding the time that is the problem, so when it is a bigger job, we would use Rathcoole Motors who I find to be very reliable and efficient.
"The fleet would be upgraded every few years, while we carry out preventive maintenance to avoid any unnecessary breakdowns which may occur."
Their location close to the M50, M1 and Port Tunnel has seen Kennedy Haulage attracting plenty of customers down through the years, many of who have been calling on their services for years.
"I would be doing business with some of the customers since I first started and we would have an awful lot of repeat custom. The aim is to make sure they are happy with the work that we do and once we do that I think we will be ok."
Of course, as we earlier mentioned, there are many issues to deal with in the haulage industry and Jonathan like many of his contemporaries stressed that insurance costs were crippling the industry.
"We have trouble getting insurance for the type of work that we do s insurance companies don't want to insure that type of work. So there is only one or two insurance companies that will quote us, and they can charge what they want.
"For marine work as in moving boats, you need a separate insurance policy as the normal haulage insurance will not cover it, so that is extra costs.
Jonathan added that some haulage operators are willing to do the work without the proper insurance, but Kennedy Haulage is not about to go down that route.
"I rather do the work properly and have the proper insurance than do it cheaper and be uninsured, it is not worth it in the long run, simple as that."
Aside from the insurance issue, Jonathan is happy to report he is busy at the moment but is always happy to welcome new customers.
"We are busy at the moment. There are loads of work and with the customer base that we have, we are happy just to continue what we are doing."
Unfortunately, Jonathan suffered a bereavement at the time of this interview as his sister Maria passed away. Maria played an integral role in the business.
"She ran the business while I did the easy part in driving the trucks," said John of his beloved sister.
Contact Details:
Kennedy Haulage
Glencullen Bridge, Kilternan,
Dublin 18, Ireland
T: 087 2674024
Taken from Irish Trucker & Light Commercials magazine, September 2019, Vol 22 No 5