Great services every time for O.N. Ruane Haulage Ltd.
14/10/2019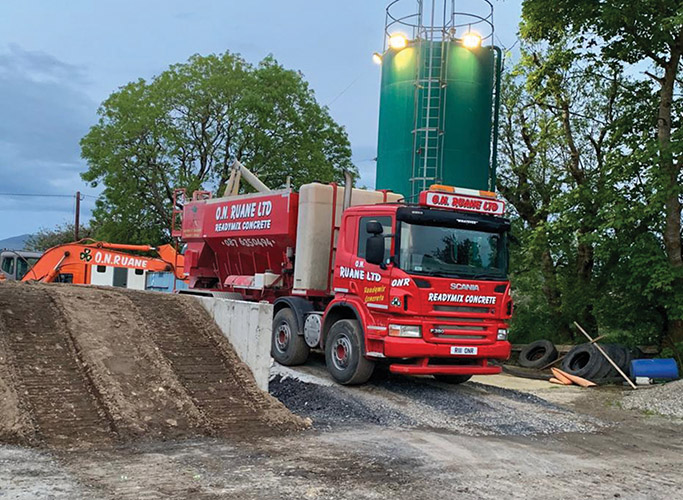 Operating a magnificent volumetric mixer, O.N. Ruane Haulage Ltd. provides customers in the Sligo / Mayo area with convenient and cost-effective ready mix concrete / floor screed solutions. We went west and caught up with owner Orrie Ruane to find out more about this trail-blazing operation and the full range of services provided.
On the face of it, the O.N. Ruane Haulage business plan is a pretty simple one: give customers what they need and they will come back and do business again.
To this end, the Castleconnor, County Sligo based operation has found a perfect niche in the market by bringing ready mix concrete and floor screed on site via a state-of-the-art volumetric mixer, ensuring that there is no waste or unnecessary expenditure whatsoever as customers receive the exact amount of concrete they need for each specific project.
With the mobile mixer providing accurate measures and prompt, professional delivery for commercial, domestic and agricultural projects alike, O.N. Ruane Haulage pairs modern, immaculately-maintained machinery – manned by experienced personnel – with the highest-quality materials to mix and measure fresh concrete to the perfect strength, grade and quantity, guaranteeing a high-quality and cost-effective solution on every job.
EN206 certified and with a total of four fresh, stunning Scanias at his disposal, all decked out in the company's striking red livery and kept in perfect running order at all times, O.N. Ruane Haulage Ltd. complements its ready mix concrete and floor screed services by also supplying crushed stone, sand & gravel, drainage stone, top soil and decorative stone as well as providing keen site clearance, muck-away, concrete-away, tipper hire and digger hire services.
No job is too big or too small and Orrie always listens carefully to the needs of his customers before delivering a service that precisely fits their requirements and preferences, planning and executing the delivery carefully to guarantee no waste and therefore the best possible price.
By keeping customers' overheads down and providing prompt and professional delivery of high-quality materials, O.N. Ruane Haulage's services are in big demand in counties Sligo and Mayo, the company's popularity increasing organically year upon year on the back of repeat business and positive referrals. When it comes to promoting any services construction- or haulage-related, nothing beats word of mouth!
And by consistently delivering services and materials of the very highest standard pertaining to industry – in a convenient and value-for-money manner - O.N. Ruane Haulage enjoys an unrivalled reputation as one of Ireland's leading suppliers of ready mix concrete and floor screed.
Needless to say, a dependable fleet is a prerequisite to success in this line of work and O.N. Ruane Haulage certainly won't be found wanting in this respect. Orrie constantly upgrades and replenishes his trucks, mixers and tipper trailers, with recent additions including a new tipper shortly before Christmas and a demountable in April of this year.
Pride of place goes to the volumetric mixer, which was sourced through Bay-Lynx Manufacturing and is very much at the heart of the business: "There aren't too many mobile batching plants in Ireland and it means we can provide a unique service that is precise and saves customers money," the amiable Sligo man notes.
"It's versatile, too, as we can mix anything from two wheelbarrows of concrete to 20 metres on site. When you mix it fresh on site, there is no waste or anything like that. Customers don't have to pay for more concrete than they need and they don't have to pay for a part load to have the excess returned, so it's an ideal solution and having the volumetric mixer certainly gives us a big advantage over the competition.
"Anything that's not mixed, you don't have to pay for it. Customers really like the fact that thy aren't paying extra, which would often be the case if you bring mixed concrete to site.
Orrie established O.N. Ruane Haulage in 2015 and the business has gone from strength to strength during the intervening four years. He emigrated when he was 18 and spent a number of years working as an owner driver in the UK before returning home. "I started out with the one tipper and built it up from there," he reflects.
Materials are sourced through Killala Rock Quarry, which is owned by Orrie's uncle Brendan Mitchell, as well as a sand and gravel pit in Ballycastle. Insisting on the highest quality, Orrie buys his cement from Irish Cement.
In terms of the fleet, everything is maintained and serviced in house, Scania parts secured locally through main dealer Cawley Commercials as and when required. "We keep it all in good condition and stay on top of it," he confirms.
Directly, the business generates employment for five men in total. "It's going well and I can't complain," Orrie continues. "It's steady and that's all you can ask for."
Going forward, consolidation is the plan, although Orrie will expand his fleet if there is a viable opportunity to do so. "We'll see how it goes. I'm happy enough as things are," he concludes. "But if the demand is there, we will grow the business in response to that demand."
O.N. Ruane Haulage Ltd.,
Castleconnor,
County Sligo.
Tel: 087 6350494
Email: [email protected]
Taken from Irish Trucker & Light Commercials magazine, September 2019, Vol 22 No 5