Branching out to Blanch
26/09/2019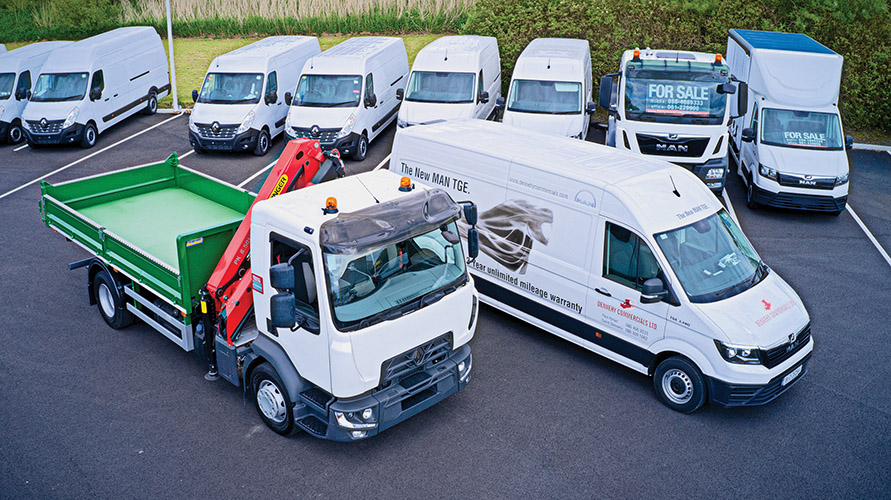 For more than 30 years now, Dennehy Commercials Ltd has prided itself on the strength of its products and the dedicated experience of its staff. Irish Trucker caught up with Director, David Dennehy to learn more about the company and its decision to open a new base in Blanchardstown, Co Dublin.
Headquartered in Co Limerick, Dennehy Commercials Ltd has been providing its customers with the products and services they need for over three decades now.
The company employs 32 staff at present and supplies a range of different services which includes Truck and Van Sales, Truck and Van Hire, DOE/CVRT Testing, Service and Parts, Truck Breakdown Assistance, Promotions and Finance.
In 2018, Dennehy Commercials Ltd opened 'Dennehy Truck and Van Rental' in Blanchardstown and the expansion to the capital has been going well since.
As David Dennehy himself explained, the company first got "their foot in the door" in Dublin four years ago and since that time opening up an additional base there has been on the cards.
"We opened it in Blanchardstown about eight months ago," he outlined. "We already had part of the fleet up there so we opened up there and we also opened a new van centre there as well. We've also just opened a Renault Van Franchise this past May called Dennehy Pro Plus.
"Business has been going well since we opened there. We're really concentrating on our contract hire fleet at the moment.
"The MAN TGE Van a very popular vehicle for us with regards to contract hire. We started selling it in August of last year and it has gone very well for us."
Along with excellent vehicles for hire, Dennehy Commercials Ltd possess a staff team which has a wealth of experience in every aspect of service within the commercial vehicle industry, giving their customers long term peace of mind in the form of exceptional after-sales support.
The company's success is based on its ability to orient their products and services to the needs of customers.
It is their aim to increase profitability for their customers through innovative and reliable vehicles with low operating costs and efficient service and to optimise driver safety and comfort.
Dennehy Commercials has recently upgraded its computer system incorporating the best operating systems in the industry. This enables the company to meet the challenges ahead as regulations become more stringent and the industry becomes more demanding.
They view these changes and demands as a challenge and look forward to serving their wide customer base in the years ahead by becoming the customer's number one business partner with the best transport solutions.
And 'the best' is what Dennehy Commercials Ltd has always aimed for and is part of the reason why they took the decision to branch out into Blanchardstown last year.
The company continues to be main agents for MAN trucks and Renault trucks, having started with MAN since the early years of its inception.
Full services for MAN trucks include – Full Inspection, Replacement of Air, Oil and All Fuel filters. Castrol Low Saps engine oil replaced and all levels topped up, Environmental Waste Charge and Greasing.
Any other defects found during inspection will be advised to customer. Any additional repair work must be authorised by the customer before being carried out.
As for the DOE and CRVT testing which takes place at the base at the Riverside Business Park, Dennehy Commercials carry out both LCV (light commercial vehicle) and HCV (heavy commercial vehicle) tests to include vans, trucks, trailers, camper-vans, buses, ambulances.
They also offer Tachograph Installation/Calibration, Speed Limiter Installation/Calibration and Weight Plate Fitting.
The DOE test is carried out on behalf of the Road Safety Authority (RSA) and is an annual test which ensures all commercial vehicles are maintained to a safe and roadworthy standard.
The testing equipment used is compliant with all relevant regulations and legislation and all tests are carried out by the company's professional, certified and experienced technicians, with a facility to also carry out LGV and HGV tests.
While customers wait for their vehicle they are able to relax in in the comfortable customer waiting room; with Tea/Coffee, Vending Machine, Satellite TV and Wi-fi.
It's all a far cry from when the company was first started up by Dennis Dennehy an even four decades ago.
Denis – father of current directors David and Rory – got his business off the ground from Carrigtwohill in Co Cork before opening up along the Dock Road in Co Limerick.
Now Dennehy Commercials has an operation in Dublin and is still very much a family business, according to David.
"We've been in business a long time now," he stated. "It's a family business and we've had a good name around the Munster area going back to as far as my grandfather.
"The Dennehy name has been in the motor industry a long time and we're now well-known for being a one-stop shop with all different kinds of services."
The CVRT Centre remains one of the most popular in the country as well, with David outlining:
"We'd be testing over 600 vehicles a month and we've four full-time testers working here and three testing lanes in Riverside Park," he said.
"We do a half-day on a Saturday and test late into the evening during the week as well and testing for us has been growing year on year for us for a while now.
"We've ISO 9001 certification – we signed up for that last year – and, as of June, we will be 1C TACO compliant."
The service and parts department at Dennehy Commercials provides a full range of services to keep the customer's commercial vehicle running safely and efficiently on the road.
The experienced technicians are fully qualified in all aspects of commercial vehicle maintenance and the total care philosophy at Dennehy Commercials means that we they provide a versatile maintenance package to suit a customer's individual requirements.
Operators can select the exact level of maintenance package they require, paying only for those elements best suited to their individual operation's needs.
Dennehy Commercials Ltd also authorised to service repair centres for MAN, ISUZU and IVECO; as well as providing specialist service for all other makes of commercial vehicles.
So if you're in the Munster region, or ever further afield, why look elsewhere?
Dennehy Commercials Ltd
Riverside Park,
Dock Road,
Co Limerick
Phone: 061 229 900
Dublin base:
Dennehy Truck and Van Rental
Unit 802
NW Business Park,
Kilshane Avenue, Blanchardstown,
Dublin,
D15 PC97
Tel: (01) 912 32 32
E-mail: [email protected]
Web: www.dennehycommercials.com
Taken from Irish Trucker & Light Commercials magazine, July/August 2019, Vol 22 No 4