D Walsh & Sons access all areas with its latest Volvo FH tag axle tractor unit
24/09/2019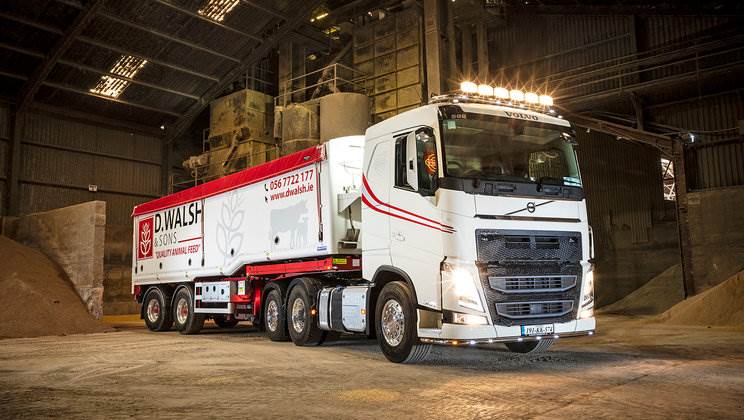 Kilkenny based, D Walsh & Sons Manufacturing Ltd has specified its latest Volvo FH 6x2 tractor unit with a lifting tag axle. This combined with a Muldoon tandem rear steer trailer is giving unparalleled manoeuvrability for restricted space deliveries of animal feed and agricultural supply products.
Supplied by Joe Baker, Truck Sales Executive at McCarthy Commercials Ltd, the new 3.2m wheelbase FH is powered by a D13K engine producing 500hp. Behind this is Volvo's unique I-Shift Dual Clutch gearbox, which is already delivering both improved fuel economy levels and journey times operating across challenging terrain in South East Ireland.

"The tag axle and rear steer Muldoon trailer combination can go places where a three or four axle rigid would never reach," notes William Baker, the FH's Driver at D Walsh & Sons. "The combination is essential for farm deliveries; many of these premises were built for a horse and cart, not articulated bulk feed trucks," he adds.

Alcoa Dura-Bright alloy wheels boost the vehicle's high presentation standards and help contribute towards the truck's 25 tonne payload figure. "The FH runs at 42 tonnes GVW and works in the countryside on twisty roads. However, the I-Shift Dual Clutch gearbox is contributing towards a fuel consumption average of 8mpg," William explains.

Currently the all-Volvo fleet at D Walsh & Sons consists of four Volvo FH tractor units and one FL rigid. The company retains vehicles for around five years and uses Volvo Service Contracts with McCarthy Commercials Ltd.

Employed with D Walsh & Sons for ten years, William has always driven Volvo trucks here. "I really like the driving experience with I-Shift Dual Clutch and the FH's specification includes Hi-Power Hydraulics plus Bragan light bars, top and bottom. The truck has been in service since January and I'm really pleased with its performance standards," he concludes.

D Walsh & Sons Manufacturing Ltd. is headquartered in Kilkenny, Ireland. The company's line of business includes the manufacturing of high quality prepared feeds and feed ingredients for animals and fowls. A dedicated staff team works closely with farmers to increase farm profitability and efficiency.