New additions to Lyons European Limited fleet
23/09/2019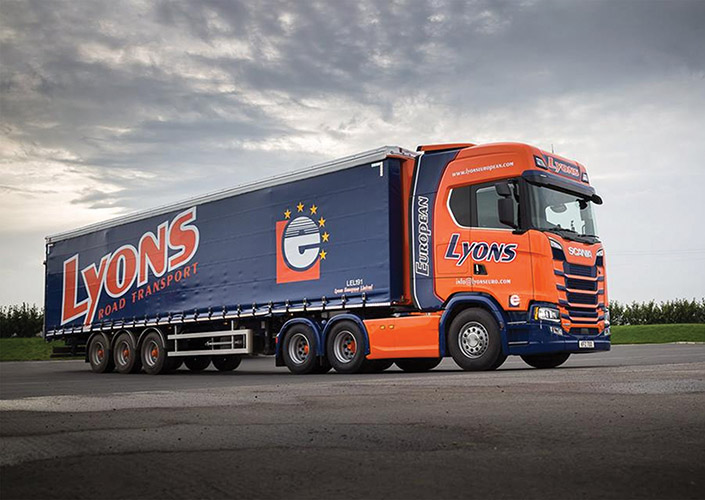 Gary Lyons of Lyons European Limited is adding four new Scania S580s to his impressive fleet this year, having already taken delivery of a magnificent S580A6X2NA from Road Trucks in Larne.
This will soon be joined by three new mid-lifts, which are also being supplied by Harry McQuillan of Road Trucks. The new trucks represent a significant capital investment by the Moira, Co. Armagh-based company which specialises in the transportation of goods to and from mainland Europe.
"Scania are the best truck on the road," Gary says matter-of-factly.
"They won't be beaten in terms of reliability, fuel efficiency and comfort. When you're delivering and collecting goods between Ireland, Britain and Europe, you need a truck you can rely on and that's why we choose Scania. The new truck (S580A6X2NA) is our seventh S-cab and joins our already strong Scania V8 fleet. We bought three other S-cabs last year and I can't say a bad word about them."
Not surprisingly, Scania dominates Gary's 25-strong fleet of artics. He also runs five Volvo and two MAN along with 55 trailers which are a mix of Euroliners, flatbeds, extendable flats and fridge trailers. The Euroliners, which make up the bulk of his trailers, have side loading clearance of 2.7m (2.75m through rear doors), while the flats are equipped with twist locks and vertical goalposts for added security. The refrigerated trailers are 26/33 pallet in size with dual temperature compartments. Furthermore, every truck is fitted with satellite tracking which enables up-to-the-minute position information for added security and peace of mind as well as accurate times of departure / arrival.
With such a wide and varied fleet of trailers, Lyons European Limited transports everything from aircraft parts and forklifts to foodstuffs and groupage consignments. Regardless of how big or small your transport requirements are, the company is committed to providing a solution to meet your needs. Whatever your needs, it aims to satsify your deadlines and achieve optimum results every time.
"We offer full and part load driver accompanied services to and from any European country for temperature-controlled produce and dry freight goods," Gary explains.
"We are a well-established business that prides ourselves on providing our customers with a first-class and cost-effective service. We have many years' experience transporting goods within Europe and have worked hard to build up a large and loyal customer-base in that time. Fortunately, we aren't reliant on just one of two customers for work.
"Our aim is to deliver our customers' goods on time and in perfect condition by operating a modern fleet which is constantly maintained by our inhouse technicians and is upgraded on a regular basis."
Lyons European Limited employs 35 staff, including 25 drivers who have a wealth of experience travelling across Europe and have an excellent knowledge of the rules and regulations that govern each country.
"We have a very low turnover of staff, many of whom have been with us for years. About 80% of our workforce are long-term. For example, Nelson Rodger has been driving for us for 21 years, and his brother Iain has been with us for 20 years. Our drivers, mechanics and office staff deliver the high level of service that our customers have come to expect of us," the affable managing director adds.
The goods are shipped from Belfast with Stena Line to Britain and on to the Continent. Most of the goods are destined for France, Belgium, Holland, Germany, Italy and Spain, but some go much further. "We cover as far away as Israel," says Gary, who doesn't expect Brexit to have an adverse effect on his business.
"If the UK leaves Europe, we would have deal with customs checks, but our business won't be affected because 99% of it is done in Europe. Despite the uncertainly surrounding Brexit, business is buoyant and we have plenty of work to be getting on with."
Gary set up Lyons European Limited in October 1997, having inherited his passion from his uncles who ran Jameson Transport. The company was originally based in Lisburn where it was mainly involved in freight forwarding. Within a year, Gary purchased his first Scania truck and moved to a larger premises in Lisburn in 1999. After a steady period of growth, Lyons European Limited relocated to its current base on the Derrynahone Road outside Moira – which is just off the M1 Motorway – in 2003. The purpose-built premises offers modern office accommodation with full workshop facilities as well as a spacious yard for transhipping and storage.
As a family-run concern, Lyons European Ltd always goes the extra mile for its customers. Clients have witnessed first-hand the dedication and commitment that the Lyons' team have to get the job done. No job is too big or too small for this exceptional haulage firm which continues to go from strength to strength.
Lyons European Limited
9 Derrynahone Road,
Moira,
Co. Armagh BT69 OHR
Telephone: (+44) 028 92 622959
Mobile: (+44) 077 67393255
Email: [email protected]
Taken from Irish Trucker & Light Commercials magazine, July/August 2019, Vol 22 No 4