The voice of Ballinlough
13/09/2019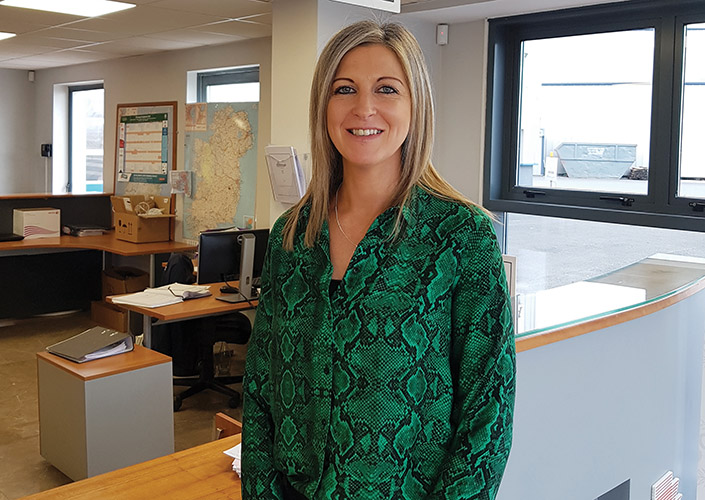 It is fair to say that the haulage industry is a male dominated sector, but the trend of women becoming involved in this area has certainly being growing in recent years.
However, there are women that have been involved in the transport sector for many years now and for this month's edition of Irish Trucker we profile one such lady.
Christina Dockery has been working for Ballinlough Refrigeration for the past 23 years dating back to a time when it was uncommon to see women working in this industry.
A multi-franchise nationwide service and repair company specialising in Thermo King transport refrigeration and Dhollandia hydraulic tail lifts, Ballinlough Refrigeration has come a long way since Joe Jordan set up the business in Ballinlough, Co. Roscommon in 1986. The company was appointed sole Thermo King dealer for Ireland in 1992 and acquired the Dhollandia Tail Lift dealership for Ireland three years later.
Ballinlough Refrigeration's Dublin head office is complemented by further outlets in Cork (Annacarton Bridge) and indeed the original site in Ballinlough, Co. Roscommon. In addition, the company has service affiliates in all areas of the country who are fully trained and supplied with genuine Thermo King and Dhollandia replacement parts.
The business boasts a considerable portfolio of products and services from food safety, pharmaceutical compliance and temperature mapping, specialist tail lift applications and bespoke total management solutions with individual teams looking after each segment. Ballinlough's after-hours service is second to none with service engineers available 24 hours a day, 365 days a year.
Ballinlough Refrigeration's customer-base includes Tesco Distribution, Tesco.com, SuperValu, Dunnes Stores, Kerry Foods and the Irish Blood Transfusion Service Board as well as almost every main local and international haulier in Ireland. All of these, and many more customers continue to engage Ballinlough Refrigeration due to its experience, range of products and after sales' offerings.
Ballinlough is proud to fly the flag for Thermo King and Dhollandia in Ireland. Thermo King offers a comprehensive range of product solutions specifically designed for the transport temperature control industry. The company prides itself in the research and development of market-leading innovative solutions to ensure it continues to offer customers the most reliable and dynamic products.
Through hard work and endeavour, Christina is now the company's Service & Warranty Controller. Christina revealed to us that she got into this line of work by chance really, but soon developed a love for her role and that passion shines through during the course of this interview.
"I successfully completed a computerised secretarial course after my leaving as I was unsure what I wanted to do. Ballinlough were looking for someone to cover a six-week period in their Roscommon office, so I took that on and after this period ended a position become available in their Dublin Office, I am here ever since!" stated Christina.
"I will be 23 years here in September and when I first started I had no idea that I would be here that long. I have thoroughly enjoyed my time here; the time has honestly just flown by. I feel I can now proudly say I played a significant part in the growth of the Service Department".
Christina admits that when she first started, it was a case of earning the customers trust as being a woman was almost frowned upon in the industry.
"I never really had any problems with that but customers at first were hesitant to speak to me about their issues. When they realised the knowledge and technical expertise I had gained from working in the service office I started to earn their respect and soon it was me they were looking for on the phone."
"It is important to have a good relationship with our valued customers and I do feel I have successfully achieved that over the years. Supporting our customers 24/7, 365 days a year from regular service in our Dublin depot to a trailer stranded in the most remote area of Europe has been a central part of my role. I have relished the opportunity to grow within my role, my team and train those who work alongside me, I am the first point of contact and support to our Dublin Fridge Service Manager Simon Kealy for all operational activities and our aim is to keep the customer happy."
Christina states that the industry has changed in so many ways over the years and moving with the times is essential for any business to thrive.
"There have been huge changes in the industry over the years and at Ballinlough, we have strived to foresee these changes, be it new regulations around refrigerant gases or the growth in the pharmaceutical sector."
The Mayo native added that her role never gets boring as no two days are the same in the job, which she feels keep her focused on the task in hand.
"Over the years, I have been involved in many different areas of the business and I have learned something new from each experience. After 23 years I am confident that I will be able to answer any query."
Christina's success in the business was recognised at the Fleet Transport Awards when she was nominated in the Women in Transport category.
"The company asked me to go forward for the award and I was interviewed last September before being shortlisted for the final, which I was delighted with as it is nice to receive some recognition from the industry".
Ballinlough has recently been awarded ISO: 9001, 14001 & 45001 accreditation and Christina stressed that Ballinlough take health and safety very seriously.
"A lot of work went into obtaining the ISO: 9001. Health and safety is a huge issue for us and the management are keen to ensure the welfare of everyone in the company comes first and foremost."
"I have taken ownership of the warranty claims process along with Andrew Reilly. I have found this to be both challenging and fulfilling as it is testing my technical knowledge. I have also been integral to the development of the in-house Thermo King Foundation Training course. It was rolled out in April 2019 with our own Terry O'Hanlon presenting the inaugural course which was a huge success.
There is no doubt that Christina is a driving force within the Ballinlough team and she feels that she got her work ethic from a very special person.
"I definitely get my work ethic from my mother Marian who has worked hard all her life and I have taken a lot of inspiration from her over the years."
Ballinlough Refrigeration Limited
Kingswood, Naas Road, Dublin 22.
D22 WP49
+353 1 4600 322
Taken from Irish Trucker & Light Commercials magazine, July/August 2019, Vol 22 No 4