No.1 for seafood groupage between Ireland and Scotland
04/09/2019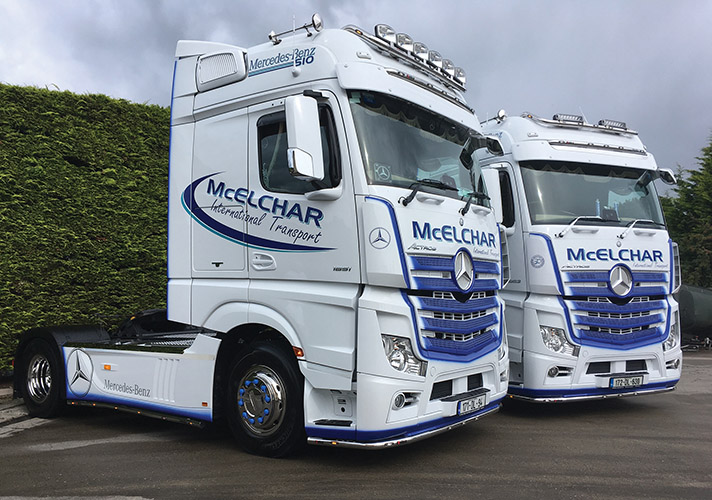 Since its genesis in 1988, McElchar International Transport Ltd. has earned an unrivalled reputation as leaders in seafood groupage between Ireland and Scotland. As the progressive County Donegal based family-run operation welcomed two stunning new Mercedes Actros trucks into their immaculate fleet, we touched base with general manager Barry McElchar to gain an insight.
For more than 30 years, McElchar International Transport Ltd. have provided professional logistics solutions throughout Ireland and the UK, their commitment to high standards of performance, reliability and flexibility earning them a stellar reputation as leaders in seafood groupage between Ireland and Scotland.
As a family-owned and operated business, McElchar International Transport provide exceptional communication and customer service, coupled with continued investment in a modern fleet and the latest fleet management technologies, ensuring that the specific needs of individual customers are always met.
Son of founder and MD Philip McElchar, Barry McElchar serves as general manager and also oversees the ultra-modern and efficient IT side of the long-serving family business. "Everything here is computerised, from the daily checks to driver and vehicle performance," he notes. "Each driver has a smartphone and we have invested heavily in technology''.
"My father has embraced all of these new technologies and he is very hungry to learn and keen to move with the times. In keeping with this, the spec of all the lorries is very high, with televisions, microwaves and fridges all included to make sure that the welfare of our drivers is looked after, while CCTV cameras have been added from a safety perspective and all the tachographs are downloaded and analysed so that the drivers' hours are kept right."
McElchar International Transport Ltd. specialises in refrigerated transport, proudly serving both the Irish and Scottish seafood industries. Although fresh fish haulage is their proven specialty, they are more than happy to provide haulage services to other high-value, time-critical sectors where their exceptional focus on customer service is a valued attribute.
An experienced and dedicated team, with access to modern and immaculate trucks and trailers, provides a wide range of professional services to customers, including full loads and part-load / groupage solutions, with bespoke service depending on client's needs.
"Dad started out with a livestock trailer first, then a curtainsider, and he went into fridges soon after," Barry reflects. "We now have seven trucks on the road and eight refrigerated trailers, providing a daily seafood groupage service between Ireland and Scotland."
Unlike traditional haulage, the work is neither consistent nor regular, with everything depending on what is caught and where it's landed, so McElchar International Transport have to be flexible and ready to move into action at the drop of the proverbial hat, be that to Clogherhead, Omeath, Dublin, Howth, Wexford, Kilmore Quay, Dunmore East, Limerick, Cork, Castletown Bere, Galway, Killybegs or Portavogie.
As Ireland's premier fish haulage contractor, they offer a comprehensive range of transport services, tailored to meet the requirements of customers, with on-time and secure delivery a given.
With demand strong for the distribution of part-load and small consignments loads, McElchar International Transport offer specific packages for this type of distribution, consolidating a number of smaller consignments to make up a full vehicle load, at a competitive price. They offer a routine service between Scotland and Ireland, with a next-day delivery guarantee for consignments of fresh fish, salmon, prawns, scallops, shellfish, nets, fishing vessel parts, processing equipment, packaging, empty fish boxes, etc.
Meanwhile, they also offer a wide range of options for traditional full load haulage throughout Ireland, the UK and Scotland on a bespoke basis, including seafood, bait, dry goods and perishable goods.
"We work for 50+ customers delivering anything from a full load to a single box," Barry continues. "We consolidate their loads and do distribution on their behalf, either to a central hub or directly to processors, co-ops, supermarkets, etc."
The magnificent fleet is at the heart of the operation. "All the trailers are dual-temperature and the oldest we have at the moment is five years old. They're fitted with BlueTree tracking and remote monitors with alarms so that we know when the doors are opened or closed. We added a Schmitz Cargobull to the fleet in November and we also have six Chereaus and one SOR. We're extremely happy with the Schmitz so far and we might stick with them going forward as they are a good, reliable trailer."
The seven-strong truck fleet comprises all Mercedes and one Renault Magnum. In January, two new Actros 2453 Big Space Style line tractor units were purchased from Somers Commercials. "We're very happy with them. We traded in a 2014 model for one of them and we never had a single breakdown with that truck in four years. The fuel economy is excellent. They average between 8.6 and 9.4 miles per gallon, which is exceptional for multi-drop work. They would be a very comfortable mile per gallon ahead of anything else we've had. The drivers really like them and the service we've received from Somers has been top drawer. Their service manager Mano Quigley couldn't do enough for you."
Barry is quick to point out that the McElchar International Transport team is also excellent. "We have a great team. Bill Dugeid is our longest-serving driver and is an integral part of the team. Michael McDaid is another long-serving member of staff, while Simon Toland, Edmund McDaid, Gary Gibb and Dermot McElchar – my youngest brother – also drive for us. They are all great lads and our customers regularly comment on their professionalism and how helpful they are."
In terms of fleet maintenance, Philip, Barry and Dermot carry out all the checks, safety inspections and small repairs – tyres, brakes, lights, etc. - in house, while the main dealer looks after servicing and major repairs.
McElchar International Transport have invested in the best fleet management and tracking technologies available on the market, offering real-time monitoring of their fleet and ensuring a service that is consistently efficient and professional. Embracing the latest GPS Satellite Tracking, Transport Management and Computerised Maintenance Management Systems as well as Driver PDAs, IT plays a big part in the day to day running of the business. "We use Fleetio fleet management software," Barry points out. "Fleetio is an American company and we were one of their earliest customers. It's very user-friendly."
In conjunction with Eureka Software in Wexford, Barry has also helped develop a paperless transport management system that is specifically suited to the needs of McElchar International Transport. Having previously worked with the ESB, he joined the family business full time in 2016 as steady growth of 20% per annum was being recorded.
"We're still growing year on year," he concludes. "It's not dramatic growth, but organic, based on references and word of mouth. But we're very focussed on what we are doing and we don't want to expand much more. We want to keep the business so that we can manage it and do all the important jobs ourselves because customer service is our number one priority and we don't want to ever compromise on that."
McElchar International Transport,
Drumdoit,
Castlefinn,
County Donegal.
Tel / Fax: 074 9146894
Mobile: 087 2546760
Email: [email protected]
Web: www.mcelchartransport.com
Taken from Irish Trucker & Light Commercials magazine, July/August 2019, Vol 22 No 4