No.1 in Munster for truck and trailer diagnostics, repairs and maintenance
27/08/2019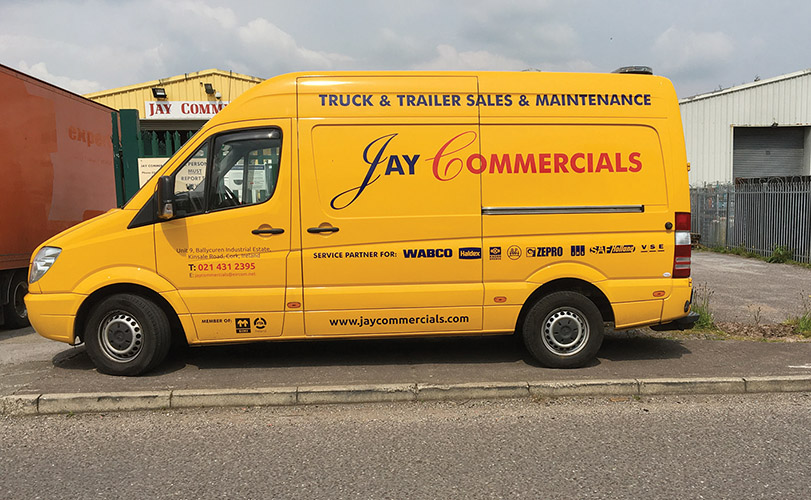 From their Cork base, Jay Commercials Ltd. – renowned far and wide as braking systems specialists – provide commercial vehicle owners and operators throughout Munster with unrivalled fleet maintenance and repair services, including diagnostics, chassis repair and modification, CVRT preparation and breakdown recovery. Irish Trucker had a chat with director John McCarthy to find out more.
A regular visitor to Full of the Pipe, John McCarthy, who runs Jay Commercials in conjunction with his business partner Dominic McCarthy (formerly of DMC Commercials Ltd.), could accurately be described as a true trucker, having worked with commercial vehicles all of his working life.
The Cork man was only 16 when he began serving his apprenticeship and, almost 40 years later, now oversees one of Munster's busiest commercial vehicle diagnostics, maintenance and repair centres.
"I started out on my own doing maintenance and repair work in 1992 and then formed Jay Commercials Ltd. in the early 'noughties," he reflects.
John and Dominic joined forces in 2003. Since then, from their state-of-the-art secure facility at Ballycurreen, they have forged a stellar reputation for providing customers with a comprehensive range of first-class services at the best-possible price.
At present, full-time employment is generated for a team of ten and business is extremely brisk. "We're very busy here at the moment," John confirms. "Our core business is commercial vehicle maintenance and repairs and we also sell some trucks as well as doing a bit of contract hire and spot hire.
Recognised as one of Cork's leading braking system specialists, Jay Commercials has been an authorised service partner for WABCO, Haldex and KNORR-BREMSE for the best part of two decades. From their well-appointed workshop at Ballycurreen Industrial Estate on the Kinsale Road – which is stocked with the latest diagnostic equipment and tools, manned by an experienced team of highly-trained technicians – they are also service partners for BPW axles and suspensions as well as an approved repair agent for SDC Trailers and Zepro Tail Lifts.
Jay Commercials have also recently taken on a new service partnership with IMS – the sole distributor in Ireland of VSE steering systems for trailers. "VSE is a Dutch company that has developed an intelligent electro-hydraulic steering system for milk tankers and bulk feed trailers; our technicians are trained and authorised to provide specialist repairs on their steering systems," John notes.
Enjoying partnerships with so many major players in the industry, Jay Commercials is clearly held in the highest regard by vehicle and equipment manufacturers. "The service partnerships and repair agencies that we have secured are not just something we picked up last week," John continues. "We've built strong working relationships with these companies over the years and we are fully committed to upskilling to ensure that our service levels are maintained at the highest possible level.
"As a business, we have a good few strings to our bow. It's not just one thing that keeps the doors open but a combination of many things."
To consistently deliver industry-leading commercial vehicle diagnostic, repair and maintenance solutions to truck, trailer and van owners across Cork and Munster, significant investment in tools, equipment, software and personnel is a prerequisite…
"We're continually investing in diagnostic equipment and the facility itself. The equipment and software are updated regularly and you simply have to invest to stay in the game. If you are not prepared to invest, then you will not be able to keep up with the technology that's being used in new vehicles.
"We've installed a full test lane facility for brake roller testing so that we can carry out twelve-week periodic inspections as laid out by the RSA and we also do quite a bit of preparatory work for the CVRT tests."
Indeed, over the years, nay decades, Jay Commercials have developed an enviable reputation as truck and trailer braking systems specialists, although they can of course provide a full range of servicing and repair solutions. Their versatility and attention to detail has seen them build up a steady flow of repeat business.
"We have a core customer base of fleet owners who we work for on a regular basis, one of whom I've been dealing with for 25 years now. We pride ourselves on our ability to establish longstanding relationships with people, which comes on the back of providing a good service," John states.
"Service is our main priority and if somebody is in trouble then we will strive to look after them as quickly as possible, especially in a breakdown situation. We have two breakdown vehicles and three service vans which we make available to our customers around the clock.
"We cover all of Munster and, if a customer is stuck anywhere in Ireland, we will respond accordingly. For example, we've gone out at night to Dublin and Galway to assist our customers.
"People want service and we know our customers well at this stage, so we look after them to the best of our ability."
John confirms that things have changed dramatically from when he started working with commercial vehicles as a teenager. Is it difficult to keep abreast of the ever-evolving technology going into vehicles? "It's challenging but you have to constantly upskill yourself in all the new systems, purchase the latest diagnostic equipment and maintain your standards at the level expected from your service partners and customers.
"We are poles apart from where we started off. There were no laptops or mobile phones back then … a laptop is now an integral part of any toolkit. I started off with a cantilever tool box and you could more or less do any work on a truck from that when I was serving my apprenticeship.
"It's a completely unrecognisable landscape now and the strides that have been made are amazing. The road stability systems found in trailers now and the safety systems in trucks and trailers are unbelievable. EBS breaking systems are just phenomenal today."
As a truck enthusiast, John makes the annual pilgrimage to Full of the Pipe every year and 2019 was no different. The Cork man took in the 10th anniversary edition of Ireland's biggest truck show, travelling to Punchestown along with his three sons. "The three lads are all into trucks and we decided to go up for the weekend," he concludes. "It's nice to take some time out, meet some like-minded people and socialise a bit."
Jay Commercials Ltd.,
Unit 9,
Ballycurreen Industrial Estate,
Kinsale Road,
Cork.
Tel: 021 4312395
Email: [email protected]
Web: jaycommercials.com
Taken from Irish Trucker & Light Commercials magazine, July/August 2019, Vol 22 No 4