2019 Tipperary Truck Show will be the biggest and best yet
23/08/2019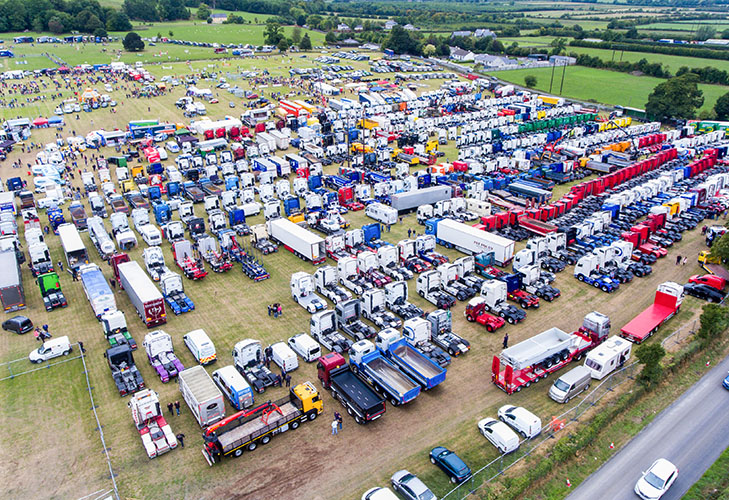 An integral part of the Dualla Show, this year's Tipperary Truck Show promises to bigger and better than ever before.
Featuring custom, vintage and working trucks, the show will once again have TRP Truck & Trailer Parts as its main sponsor. Entry free is €30 per truck (including driver) and €15 for the general public. The show field opens at 10am on Saturday, August 24 for truck show entrants only (it is open to the general public from 11am the following day).
Dualla Show is five minutes from Junction 7 on the M8 (Cashel exit). To avoid congestion, trucks are advised to enter the grounds on the evening before the show. All entrants are given a wristband, while trailer parking facilities are also available. In a change from previous years, there will be limited entry available to the public on the Saturday evening from 6pm for the spectacular Light Show, which includes BBQ, live band and DJs. Entry to this and the main show on the Sunday is just €15 per adult, with U16s going free.
All proceeds from the event go to charity and local organisations.
Daire Maher, who organises the show along with Paddy Graham and Philly Ryan, is expecting over 10,000 people to attend this year's event. "It's getting bigger and bigger," he enthuses.
"When Paddy Graham and I pitched the idea of a truck show to the Dualla Show organising committee back in 2014, we would never have envisaged it growing to the extent it has. We've gone from having 150 trucks at our first show to 540 last year. We hope to go close to 600 this year and beat last year's attendance.
"There is a lot of interest from the UK and we're expecting to see a good few entrants from there this year. The emphasis here is on taking part rather than winning. The site is bigger than before too which means there will be more room for everyone."
Noting how preparation for each show begins immediately after the last one ends, Daire feels it wouldn't have become the huge event it is without the support of the local community.
"Planning for this year's show began as soon as last year's ended," the affable owner-driver explains.
"The real preparation begins after the Dualla Show AGM is held in February. Things move up a notch after that. We're constantly trying to improve the show by listening to feedback from truck owners and the general public. Paddy, Philly and I are the main organisers, but the show simply wouldn't happen without the people of Dualla who rally to the cause every year without fail. It's a real community effort."
As part of the Dualla Show, the Tipperary Truck Show offers the sort of variety other truck shows can't compete with. There are a host of events for all the family, including a livestock show, show-jumping, tractor pulling, dog show, craft and food village, a Big Top Circus and a new Country 'n' Western event which is being organised by locally-based singer Trudi Lalor.
"There is not a show in Ireland like it," Daire points out.
"The Dualla Show has become a massive family event and I would go as far as to say that's our biggest selling point. The Big Top Circus and the kids' entertainment is all free. There is something for everyone and people are now travelling from near and far to make a weekend out of it. You don't have to be a truck enthusiast to enjoy yourself."
Last year, there were 18 truck classes / categories, namely Best Scania, Best Volvo, Best Mercedes, Best MAN, Best Renault, Best Iveco, Best DAF, Best Hino, Best New Truck, Best Small Fleet, Best Large Fleet, Best Livery, Best Combination, Best Pre-2008, Best Pre-1998, Best Custom, Best Lighting, Best Bullnose, Best Light Commercial, Best Pre-1988, Truck of the Show, Best Rigid, Best Overseas Reg and Best Semi-Custom.
Each class / category has its own sponsor and Daire is grateful for their support as well as that of main sponsor TRP Truck & Trailer Parts which, in addition to genuine DAF parts, stocks a huge selection of TRP branded all makes parts, providing you with a one-stop shop to meet all your parts needs. This extensive range of products includes consumables and trailer parts.
Last year's list of sponsors included Delaney Commercials, McCarthy Commercials, Surehaul (IRL) Ltd, Walker Commercial Vehicles, Setanta Trucks, Longhaul Commercials, Bridgestone Ireland (Pat Lyons), P2 Stainless, Crowley Chemicals, Emerald Truck & Van, Moran Signs & Graphics, Ashbourne Trailers, Autochem, Truckbreak, Reflect Auto Care, Grassmen, Tipperary Town Plaza, McCarthy Recovery, Midland Tyres, Hendrick European, Darren Ward, Cahir, Sean O'Donoghue Auto Factors, Clonmel, Andrew Fanning Auto Factors, Cahir, Coolmoyne Transport and, of course, TRP Truck & Trailer Parts.
The Dualla Show is proud to have contributed over €100,000 to local charities and organisations over the past number of years. These include Wee Peter Heart Fund, Order of Malta, CARE Cancer Support Centre, Friends of St Patrick's Hospital, Suir Haven Cancer Support, Bothar, St Vincent de Paul, Cashel Day Care, Hope Foundation, Irish Cancer Society, Scoil Chormaic, Dualla National School, Cashel Community School, Boherlahan-Dualla Senior Citizens; Boherlahan-Dualla GAA and St Patrick's Brass Brand, Cashel.
Located just two hours from Dublin and one hour from Cork, the Tipperary Truck Show caters for everyone. It's the place to be on Sunday, August 25!
For further details, contact:
Paddy Graham 086 6862609
Daire Maher 086 2574631
Philly Ryan 086 8334377