Catering for all your advertising needs
16/08/2019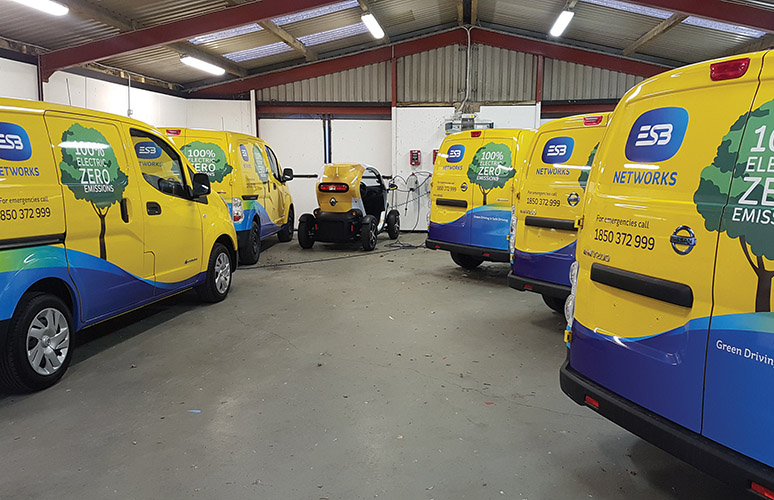 Based in Co Leitrim, Sign Warehouse has enjoyed a steady rise since becoming a limited company some 13 years ago with clients all around the country. Irish Trucker found out more about this thriving business from its Office Manager Catherine Kelly.
2019 has marked a busy year so far for Sign Warehouse Ltd and the plan in Drumshanbo is to keep the good times rolling as business continues to grow for the company.
Set-up by business partners Cormac Rogers and Frank Mulvey, the firm has since enjoyed a successful rise which has seen it gain notable clients such as ESB, Heatmerchants Group, O'Haras and Só Hotels along the way.
Now the company employs five full-time staff from its base at Drumshanbo Business Park, where Catherine Kelly is the Office Manager for the business.
Catherine recently took time from what has become an increasingly hectic schedule in recent months to tell Irish Trucker what the business is all about.
"We were first established in 2004 and became a limited company in 2006," explained Catherine. "I've been with the company since 2007. Cormac Rogers and Frank Mulvey are the directors and have worked extensively in the industry for many years now."
Both founders began working in the industry after finishing college and in 2004 they saw an opportunity to form their own business in what was a growing market.
Today, Sign Warehouse uses the latest technology in its production facility and has been innovative in how it goes about business ensuring that the company offers the customer a wide choice of design and signage options.
The reputation of the business has grown on a daily basis because of the quality of its product which has helped to gain the confidence of clients.
The creative work of Sign Warehouse combined with an honest and genuine work ethic and attention to detail has seen the business flourish nationwide, and the list clientele now includes some of the largest retailers in the country.
"The ESB and O'Haras and Heatmerchants Group became our clients in 2006/2007," Catherine outlined.
"We're also doing work for McMorrow Haulage, National Automation Ltd, Archway Products in Carrick-on-Shannon and Cawley Commercials. We sign write all of Lock Up Alarms fleet of vehicles in Manorhamilton as well.
"On average, we could be doing up to five vehicles a week on top of the fleets we're always working on, so things are very busy for us at the moment as we are also starting the signwriting of 65 number of the ESB Electric vehicles."
It's a far cry from when the company first started out in '04 with both Cormac and Frank looking to get things off the ground.
Back then, Sign Warehouse was based in the Drumshanbo Enterprise Centre and, as its trade blossomed year on year, 2008 saw the company acquiring its own business premise.
The new business unit was designed to facilitate the latest technology for the company's expert design team and the manufacturing end of the business – which has allowed Sign Warehouse to expand into other areas of the market.
"Retailers, Schools, Factory outlets and the Hospitality business are other aspect of our business," said the Office Manager.
"McDonagh Hotels (SO Hotels) are a newly acquired client of ours, we are also the main contractor for the Hidden Hearing outlets throughout Ireland along with the Esquires Coffee Houses in the country.
Heat Merchants and Tubs & Tiles are also on the list of Sign Warehouse's nationwide clients and the hope is to continue to grow. We see the business at the moment in as good a state as it's ever been.
"It's looking really good," Catherine stated. "We had a great year in 2018 and in the first six months of 2019 our percentage of growth has gone up.
"Unlike a lot of business in our market we did not go through a recession in 2009, we were very lucky in that aspect. A lot of the success we've had with our clients is down to the personal relationship and the trust they have in us to delivery all their requirements. As an example the ESB contract which we acquired in 2011 if they contact us looking for work to be carried out urgently we'd never let them down."
That dedication to clientele has clearly stemmed from the company's leadership as Cormac and Frank have always possessed the drive and energy together with a creative staff that are dedicated to supply a cost effective product to suit the needs of the client.
The range of design and product covers a wide fiscal area, catering for all from simple inexpensive solutions to high-end technically advanced products. In short, no brief is too complex or too simple for the company to cater for.
Sign Warehouse can offer you the following: Attractive Logo design for your business; a team that will work with you to produce a design to your specification and satisfaction; Vehicle Graphics and signage including full wraps designed to make your vehicle stand out from the crowd; Signage for all retail and business outlets are our speciality the Sign Warehouse team will work with you to produce a sign that reflects your needs, and the product/service you desire.
Sign Warehouse also provides all types of custom made banners including pop-up banners for exhibition and conferences and any other special occasion.
They design and produce all types of club stickers and can cater for all your advertising needs no job is too big or too small.
Signwarehouse Ltd
Unit 1,
Drumshanbo Business Park,
Carrick Road,
Drumbshanbo,
Co Leitrim
E-mail: [email protected]
Phone: 071 964 0028
Fax: 071 964 0695