Premier air freight haulage solutions
12/08/2019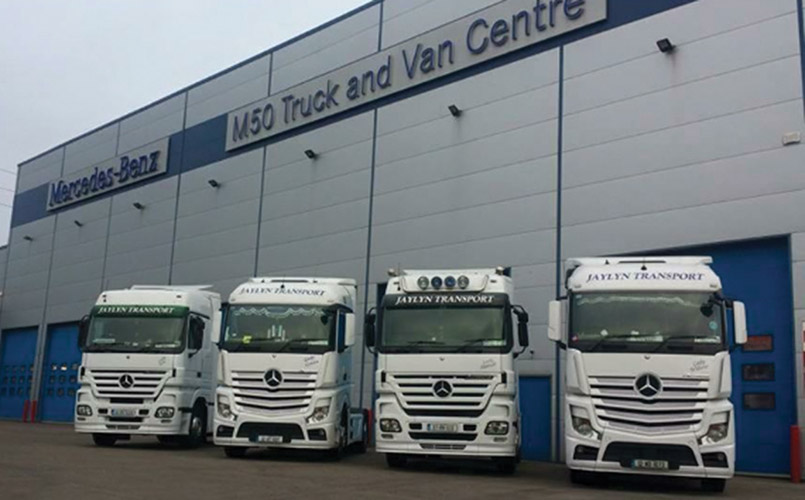 Specialising in air freight haulage, Jaylyn Transport is an exceptional family-run business that has been going strong since 2006. Irish Trucker touched base with co-founder James Macken to get an insight into the services provided by this outstanding operation.
Jaylyn Transport was established in August, 2006 by husband-and-wife team James and Lynda Macken. During the intervening twelve-and-a-half years, the industry-leading family-operated business has established itself as one of Ireland's premier air freight haulage specialists.
Complemented by professional, dedicated personnel boasting decades of practical experience of national and international transportation, a fresh and immaculately-maintained fleet of trucks lies at the very heart of the Jaylyn Transport success story – one in which there are a few more chapters yet to be written.
The fleet at present comprises six Mercedes-Benz lorries plus a couple of Renaults, the most recent additions being 151- and 161-reg demos purchased from main dealer Joe Curran Commercials in Oldcastle, County Meath.
"We started out with one Mercedes truck and are now up to eight," notes James, reflecting on the genesis of the business. "We've more or less stuck with Mercedes and they make up three-quarters of the fleet today.
"Prior to setting up the company, I'd been driving since 1998. I worked nationwide first and then went out doing air freight and international work. In '06, we decided to go out on our own and we haven't looked back."
Mercedes has been a mainstay of the business since Day One…
"Mercedes trucks are very reliable. There are some AdBlue problems – and I think every owner knows about those – and you have to get them back into the dealer to make sure that everything is 100% in working order.
"I've changed dealer from M50 Truck & Van Centre to Joe Curran because he offered me a better deal. I look after some of the smaller jobs myself but everything else goes straight back to the dealer because you can't mess around with safety."
Indeed, the oldest truck in the fleet is an '06-reg Mercedes which is still going brilliantly, even with 1.7 million kilometres on the clock. A true trucker at heart, James has a real soft spot for this particular unit: "It just got a touch-up at Joe Curran and it came out looking very fresh," he says. "For a 13-year-old truck, she looks very well. It's worth its weight in gold to me and nothing to somebody else, so it will never go anywhere. I'll definitely be holding on to that one."
For the past decade, Jaylyn Transport has been headquartered in Strokestown, County Roscommon, while a second yard in the capital enables them to provide the best-possible air freight service.
"All our work is air freight," the co-owner confirms. "We work exclusively for the large Dutch company Jan de Rijk Logistics. We load in Dublin and go to the UK and the continent for them and back again.
"We are permanently with them because we're so busy that we don't need to go looking for other work. It's nice that we don't have to go around chasing work."
On the other hand, sourcing and keeping high-quality drivers can present difficulties, although James is very happy with the ones he has on his team at present. "Drivers can be an issue and they're getting harder to find," the Dublin native states. "We have seven drivers at the moment, plus myself. I still drive part time but I tend to spend most of my time in the yard looking after the trucks, checking and maintaining them and making sure they are fully ready to go back out on the road."
James places a major emphasis on both the aesthetics and roadworthiness of the vehicles, which not only perform at an optimal level but also look fantastic. "Yeah, they do look well and we're very proud of that. It's important that your trucks create the right impression. They are cleaned on a regular basis and a lot of work goes into keeping them presentable at this time of year. You'll always pick up a couple of scratches here and there but these can be touched up."
James and Lynda have grown the business gradually and steadily over the years in direct response to demand. "As they ask for more trucks, we decide whether or not it's worth adding another one to the fleet," James reveals. "We're at a good size at the moment and I don't think we'll we get much bigger, to be honest. It's a small family business and I want to keep it that way. We don't want things to get out of hand or to lose the personal touch we provide.
"We are on call 24/7 and I always make myself available to deal with any issues that might arise, be that on a Sunday afternoon, late at night or on a Bank Holiday. Of course, if you go for a meal or something at the weekend, that's when the phone will start ringing and it'll probably be one of the lads on the continent who can't get the diesel card or credit card to work.
"That all comes with the territory. We're hands-on and we keep on top of things. You put in the hours – there are nights where you could be working until 10 or 11pm – but I'm passionate about haulage and this is what I signed up for.
"Lynda looks after the financial side of things and all the invoicing, etc. I'm lucky to have her around because if it was left to me I'd have nothing in my pocket. I'd spend every penny I have on the trucks – but that's obviously no way to run a business."
When asked about the key to the company's success over the years, James concludes: "Consistency. We are consistent and we are reliable. The trucks are reliable and well-maintained and they are available to go out working. We also rely on the garage to keep the trucks going and the drivers to drive them professionally.
"As I said, good drivers are hard to come by but I have good drivers here and I'm hoping to hold onto them. That's why I try to keep it family-orientated. Sometimes we might have heated discussions but those can be constructive once we listen to one another and we'll always shake hands afterwards."
Jaylyn Transport,
Clooncullane,
Strokestown,
County Roscommon.
Tel:086-2129999
Email: [email protected]