Diversity is key to Fingal Transport Services Ltd success
07/08/2019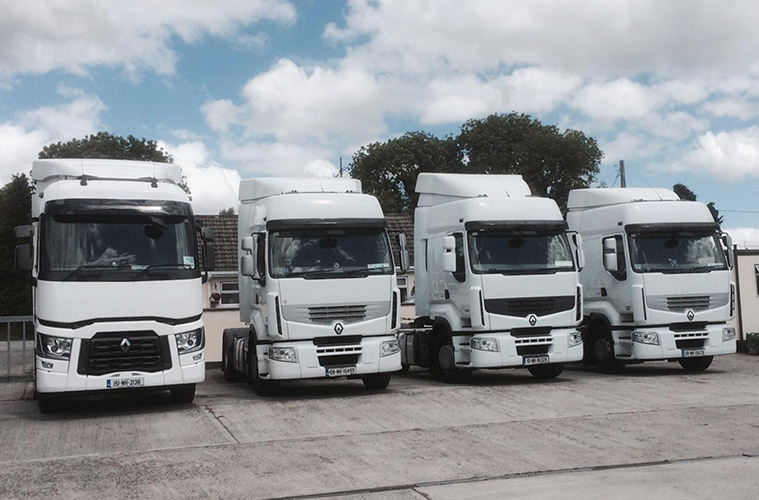 The ability to provide a wide range of services within your chosen industry can certainly play a major part in the success of any business.
In transport, there are many sectors that make up the haulage industry, with many hauliers focusing on one area or another, but there are those who focus on providing a wider range of services.
And for this month's edition of Irish Trucker, we profile one such haulage company which concentrates on more than one service within the industry.
Fingal Transport Services Ltd was established by Sean Andrews in 1996. Based in Cloghertown, Conalvy, Co Meath, the company specialises in logistics work and arguably more surprising farm work.
Since being set up 23 years ago, Fingal Transport Services Ltd has been the main haulier contracted to deliver products for Ireland's leading manufacturer of plastic pipes for plumbing, waste and sewer systems, roof drainage, stormwater management and underfloor heating, Wavin.
Sean revealed that it is an ongoing contract that has worked well for both parties down through the years.
"Our main contract is with Wavin and has been since I started the business. We distribute their products to wholesalers and retailers throughout the 32 counties," said Sean.
"We have 15 curtainsider trailers in with them the whole time and there is a good working relationship there between us and them. We provide a good service and they appreciate that. We are not far off 25 years working together and hopefully that it will continue for some time to come. Wavin are the leader in their field of expertise and there is always a demand for their products."
Another service that Fingal Transport Services Ltd provides and completely unrelated to their work with Wavin is hauling slurry for farmers!
"There are five 6,000 gallon tankers that we use to haul slurry for farmers. This is seasonal work, but it suits us in that it ties in nicely with our other work."
Using the slurry transport services has major advantages for farmers including lower cost slurry transport and less wear and tear on farm machinery. This service is offered all over Ireland including, Louth, Meath, Westmeath, Northern Ireland, Tipperary, Longford, Clare, Galway and surrounding areas.
"By using us, farmers will eliminate wear and tear on their machinery, eliminate slurry spillages on public roads; have clean slurry transport; it's also cost effective. We use the most efficient slurry injection method."
Fingal Transport Services Ltd will transport bulk pig and cattle slurry to fertilize lands for grass, reseeding, tillage farming, ploughing land and fertilizing crops.
Fingal transport services also obtained a waste collection permit in 2016 and use it to collect waste cardboard and plastic from recycling centres throughout the country.
Sean operates a fleet of fourteen trucks comprising of ten artics and four rigids, all of which are Renaults.
"I've been using Renault for a few years now and find them very reliable and durable, especially for the farm work when we can be travelling on roads that are hard on trucks."
The company MD revealed that they do their own maintenance work and place a great emphasis on ensuring that the fleet is kept in pristine condition.
"We have our own mechanic here and we do the majority of the work ourselves, unless a vehicle is under warranty, it then goes back to the main dealer.
"We keep the fleet as fresh as possible. You have to these days to ensure they are always roadworthy and we would carry out regular checks on them."
Sean paid tribute to his hard-working staff many of who are there years and their experience makes life all the more easier for their boss.
"There is a good team here in fairness. There are 14 employed and a good few of them are here many years. They know their job inside out and that takes a lot of the burden off to be honest."
Sean stated that there are many rules and regulations to adhere too, especially in the hauling of slurry, and although it means a lot more paperwork, he stressed that it is better for the industry.
"There is plenty of paperwork to be looked after, but thankfully I have my wife Rebecca in the office and she looks after all that. But to be fair, once you keep on top of it then it is not too bad. All the regulations help keep the rogue operators off the road and that can only benefit the industry."
Sean admitted that he was hoping to expand the business, but the not so small issue of Brexit has put his plans on hold for the moment.
"I am concerned with Brexit because I'm not sure how it will affect us. I've actually put two projects on hold because of it. At the moment, it is just a case of waiting to see what happens and then hopefully we can move forward.
"Our biggest overhead is insurance and that is an issue that needs to be dealt with, year on year it is increasing and to be honest it is a crippling bill to have to deal with."
Despite this, Sean is happy with the direction of the business as long as he can keep his customers happy, he is confident that they can move forward.
"I'd be happy with the workload that we have, but as I said I'd like to expand, the opportunity to do so is there, so that is the direction we will be heading hopefully."
Fingal Transport Services Ltd
Cloghertown,
Clonalvy,
Co Meath
Tel: (01) 8354777 / 086 2436096
Taken from Irish Trucker & Light Commercials magazine, May/June 2019, Vol 22 No 3