Encirc still a glass act
30/07/2019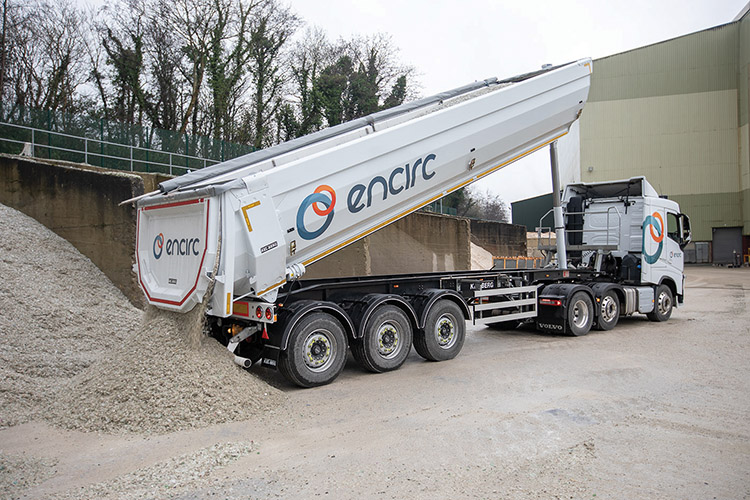 Now operating with 34 trucks from its base in Derrylin, Co Fermanagh, Encirc Glass continues to be the only company to offer a full service throughout the supply chain, saving time, money and effort. Irish Trucker heard more recent from its Transport Manager, Martin McGoldrick.
Encirc Glass, formerly Quinn Glass, is one company operating from three separate bases with three services.
Between its locations in Tonymore, Derrylin, Co Fermanagh, Elton, Cheshire, and Milan, Italy, Encirc Glass employs in excess of 1,400 staff and has been producing high-quality container glass for the past 20 years. The company was purchased by the Vidrala group in 2015.
Martin McGoldrick is Transport Manager at the Encirc Glass Derrylin base and told Irish Trucker all about the year they had in 2018, along with the investment the company continues to make in its state of the art fleet.
"Right now we have 34 trucks here and we bought four brand new Volvos this year, along with nine tippers and three tanks," Martin outlined.
2018 also saw Kel-Berg Trailers & Trucks Ltd delivering nine brand new Kel-Berg T100 alloy tipping trailers to Encirc Glass.
All nine trailers were built, customised, painted and delivered by the team at Kel-Berg within four weeks of their order.
After their delivery, Encirc's Transport Manager stated: "Encirc decided to go with the Kelberg T100 tippers as their Half Pipe tippers have been operating with hauliers for many years and are tried and tested product.
"After looking at many manufacturers we went with the T100 Alloy Tipper as it was light weight and helped increase our Payload by an average of 1 tonne per trailer which in turn will reduce our carbon impact by almost 18,000 kgs per year. Kelberg were also able to deliver all trailers in a short lead time to meet our delivery schedule."
There are over 100 artic movements from Derrylin daily between the Encirc Glass fleet and third party logistics. Over in Elton, there are 200-plus movements daily between their own trucks and third party haulage.
Encirc employs a team of reliable and highly-skilled drivers who carry out their duties in a professional and courteous manner.
All of the drivers have completed Driver CPC training, while there is a big emphasis on health and safety within the company. All vehicles are fitted with GPS tracking, ensuring instant notification, increased security and proof of delivery.
Encirc provides warehousing and logistics to leading beverage brands from around the world.
From its bonded warehouse in Cheshire the largest in Europe it offers a modern, automated storage facility and the opportunity for customers' products to be stored without the payment of duty. And once ready for delivery, Encirc can also handle all distribution needs.
As well as warehousing and logistics, Encirc is the only company to offer complete supply-chain solutions in one place. Before storing and distributing your product, the company can make your glass container and take care of filling too.
Encirc Glass manufactures containers for some of the world's most recognised brands. On-going investment in its production facilities and operations in Ireland and the UK allows Encirc to produce consistently high-quality products for its customers. The flexibility of its 21 production lines enables the company to do this quickly, competitively and efficiently resulting in a world-class service.
Encirc's original plant in the border village of Derrylin opened its doors in 1998. This purpose-built facility was the first new-build in Ireland and UK in over 30 years and quickly became a bed-rock of the local community.
On-going customer support and resulting growth led to the opening of a second plant in England in 2005. Constructed on a 200-acre site, the plant was the largest of its kind in Europe at that time. Then in 2018, the Vidrala plant in Milan, came under the Encirc umbrella.
Trust is the reason why the world's leading brands choose Encirc. With this trust comes a reassurance and a security. With state-of-the-art technology and unrivalled customer support, your container will be in safe hands every step of the way.
When it comes to glass, Encirc does everything to ensure the brand values of its customers shine through.
"I suppose for us, we'd be a big player in the market," Martin stated. "We offer a 360 degree service in that we make the bottles, We fill the product, store the product and then we supply the transport to the final destination, this makes Encirc very unique in the glass industry."
On-going investment in Encirc's production facilities and operations allows the company to produce consistently high quality products for customers.
The flexibility of 25 production lines enables Encirc to do this quickly, competitively and efficiently - resulting in a world-class service for all of their customers.
This Spring will see a new furnace build taking place at the company's base in Derrylin which is set to give them "another 12 to 15 years with a new furnace", according to Martin.
The willingness to keep on investing at Encirc Glass is as clear as day, with business currently booming.
The purchase of nine new Kel-Berg T100 alloy tipping trailers at the end of 2018 perhaps encapsulates the company's enthusiasm to keep their fleet top of the range and their Transport Manager is clearly delighted to be working with such fantastic ingredients day in, day out.
"They came in December 2018 and it was an investment that we had to make," said Martin. "We're able to carry a tonne per load more now, so it's set to pay off over time.
"Kel-Berg has a good name. With our focus on sustainability, the Kel-Berg trailers, a change for us from our normal trailer supplier, helps support these environmental goals.
Encirc (Ireland)
11 Gortahurk Road,
Tonymore,
Derrylin,
Co. Fermanagh, BT92 9DD
Telephone: +44 (0)28 6774 8888
Fax: +44 (0)28 6774 2965
E-mail: [email protected]
Encirc (UK)
Ash Road,
Elton,
Cheshire CH2 4LF
Telephone: +44 (0)1928 725 300
Fax: +44 (0)1926 726 235
E-mail: [email protected]
Taken from Irish Trucker & Light Commercials magazine, May/June 2019, Vol 22 No 3