Oldcastle's brightest Star
24/07/2019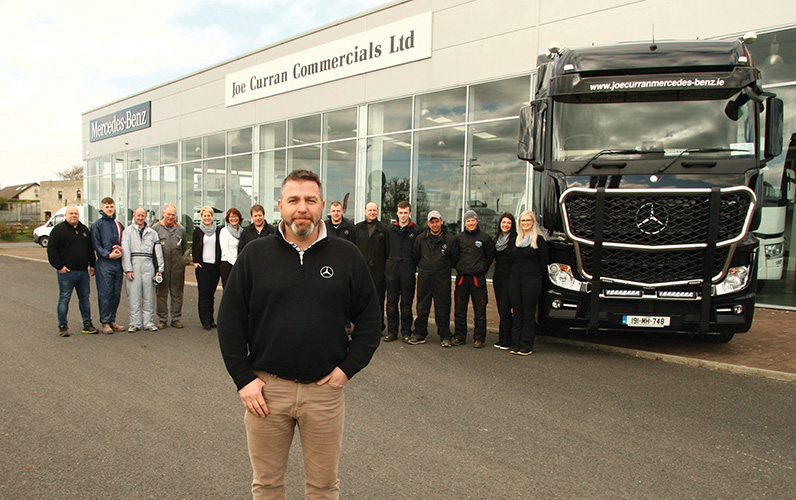 The Mercedes-Benz symbol is one of the most recognisable logos ever produced and now it has become a common sight in Co Meath.
In October 2018, Joe Curran Commercials Ltd became the main Mercedes Benz Truck Dealer for the North Eastern region.
Based in Oldcastle, Co Meath, this family run business provides
- truck & van sales
- service of the highest standard at the modern technology- filled state of the art workshop
- Stoneridge tachograph calibration centre
- spray booth and body shop.
- Throw in the fact that there is also a CVRT centre with 3 test lanes now also set up to test tractors and you really have a "One Stop Shop" facility providing a complete range of transport solutions for all their customers.
Their location is ideal: only 15 from the M3, while the likes of Navan, Cavan and Mullingar are all within 25 minutes of the premises.
These are busy times for Joe Curran Commercials Ltd as the change over from their previous dealership to Mercedes has come following a major investment. As the general manager Joe explains: "The decision to change dealership was not taken lightly. I had been thinking about changing for some time mainly because I felt like our previous product was losing to the market competition and our supplier didn't have the best interest of the brand in mind which reflected on our customers and I couldn't accept this. Our primary focus has always been on quality, attention to detail and personal service which had been ingrained in me since I was a young lad training to become a mechanic. I started working with my father and building our business in the same town you live in puts that extra bit of pressure to do things right on you. "
Doing his job right was proven in 2015 when Joe won the 2015 Sales Dealer of the Year title.
"The simple fact is that I knew what we could do and wanted a better and more reliable product for my customers. With Mercedes-Benz they will get that. Daimler (Mercedes parent company) is the number one manufacturer in the world and Motor Distributors Ltd. (MDL) have been importing Mercedes-Benz trucks and light commercials into Ireland for the past 70 years. Dealing with partners of such calibre is a great bonus for us and our customers."
Just a few months into the change of dealership and Joe admits that it has been one of the best decisions he has ever made.
"Mercedes standards are of the highest order and regular Daimler quality audits take to ensure we meet the level Mercedes name brings with it. Looking after our customers has always been my priority, this I learnt from my father who became the first Bedford dealer years ago and even dealt with MDL in his time so we have now come a full circle.
We have a great team of approximately 20 colleagues, mechanics, technicians and testers, some of them have been with me for as long as 20 years! Without them none of this would be possible. They are happy to learn and develop. We are constantly introducing new technologies and innovations as well as new ways of marketing and after sales. Everybody plays a vital part in our business and our customers know they can always rely on that" explains Joe and it is not hard to understand why the company has been so successful over the years.
"These are exciting times for the business. The Mercedes-Benz brand speaks for itself when it comes to trucks and light commercials, they have produced top quality vehicles that have been multiple award winners and we are looking forward to the future."
Joe Curran Commercials Ltd open six days a week, from Monday to Friday, 8am to 6pm and Saturday 8am to 4pm.
Joe Curran Commercials Ltd
Knockmacoony,
Oldcastle,
Co. Meath
Tel: (049) 854 1114
email: [email protected]
Taken from Irish Trucker & Light Commercials magazine, May/June 2019, Vol 22 No 3