Setting the tempo for specialist haulage
19/07/2019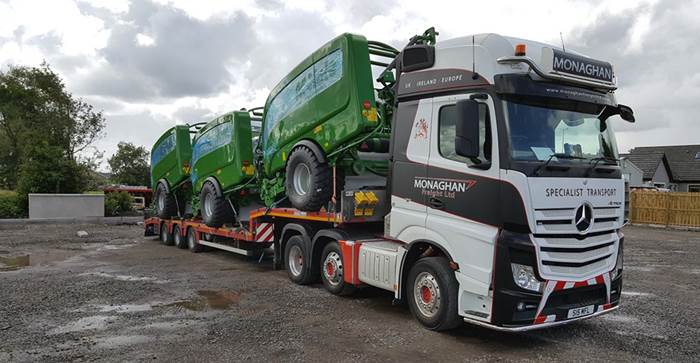 Specialists in the transportation of abnormal loads, machinery, oversized / overweight cargo and long, wide, high and / or heavy loads across Ireland, the UK and mainland Europe, Monaghan Freight Ltd. have bolstered their stunning fleet with the addition of two head-turning new Volvo FH540 trucks. We popped into their Tempo, County Fermanagh HQ and touched base with founder / proprietor Stephen Monaghan to find out more.
The 2019 calendar year got off to a purposeful start for specialist transport operator Monaghan Freight Ltd. when they took possession of a pair of magnificent new high-spec Volvo FH540s from Dennison Commercials in Ballyclare.
Both models, looking superb in the company's stunning black, white and red livery, are plated to 65 tonne. The S17 MFL is a twin wheel tag, kitted out with Volvo's 25th anniversary interior, while the S18 MFL is a 65-tonne mid lift with steer axle - one of a very few made in this way.
"We're moving everything up and the oldest truck in the fleet is now three years old," notes proprietor Stephen Monaghan. "We've installed new MANTIS CCTV camera systems from the Simplicity Group in all the lorries to cover 360 degrees.
"I find that when you run new trucks there are lower maintenance costs and you benefit from increased reliability and fuel efficiency. It makes more sense in the long run to replenish the fleet regularly and keep the trucks as fresh as possible."
The Monaghan Freight fleet currently comprises four trucks – the aforementioned two new units, a 2017 Volvo and a 2016 Mercedes Benz. The latter will soon be replaced by another Volvo. "We're moving it over to having all the same fleet as its easier to deal with one dealer," says Stephen.
Synonymous with specialist transportation solutions, Monaghan Freight also provide keen pilot car / escort services, running two beautiful escort vans, offering these services to other heavy hauliers as well as putting them to use on their own jobs. "We can look after permits and pilot cars for third parties and that is still a big part of the business," Stephen confirms.
A family-owned and –operated business that provides a friendly, professional and cost-effective service, Monaghan Freight Ltd. offers specialist transport solutions in and out of mainland Europe, including Holland, Belgium, Germany and France, carrying a wide range of abnormal and oversized loads including generators, machinery, renewable energy / wind farm components, boats and barges, cranes, silos, tanks and vessels, quarry and recycling plant and any other kind of industrial and agricultural machinery. Their specialist trucks and trailers are available in Ireland, the UK and Europe on a daily basis.
They have the equipment to accommodate any job, with access to every kind of trailer, from multi-axle semi-trailers and low beds to extendable flat trailers and even curtain-sided Euroliners if required, "We own ten trailers in total, including three flats, two of which are extendable, two four-axle extendable low loaders and four three-axle extendable low loaders, one of which is a low bed and has props for boat transportation. We keep them to a maximum of four-five years old and then trade them in for new models."
The modern fleet is very much at the heart of the operation, with all trucks and trailers preserved in immaculate condition at all times. "All of the maintenance and servicing is done through Volvo and MK Trucks Repairs, Tempo. We also have and we have a one-and-a-half-acre yard here for storage," Stephen notes.
Demand for specialist haulage is steady, although you never know quite where or when the next job is coming from, or what it's going to be. Thus, Stephen and his team have to be organised and flexible as well as versatile, and ready to spring into action at a moment's notice.
"The work is ad hoc and it could be literally anything, any time," he continues. "We have almost 500 customers on our books and any of them could call us at any time. We can transport literally anything and we're always ready for any job, be it in Ireland, the UK or on the continent.
"We also provide a global shipping service to the USA, Africa, Australia, the Middle East, etc. through our dedicated shipping office in Bristol, where we have two members of staff, who help customers export containers, plant, machinery and equipment all around the globe." To this end, Monaghan Freight offer all sea-freight options from container shipments, through to high & heavy Ro/Ro movements and full/part chartering of specialist vessels for large project shipments.
Having previously worked as a Transport Manager with another company, Stephen Monaghan has been providing industry-leading specialist transport services for five years, generating direct employment at present for a team of twelve.
As his company continues to go from strength to strength, the acquisition of two state-of-the-art new trucks representing a definite step forward, he's well placed to identify the key to running a viable haulage company:
"It all comes down to reliability and doing what you say you are going to do - when you said you'd do it," he concludes. "If you do that, then price will be a secondary consideration. Customers want the job done professionally, swiftly and safely so that's what we concentrate on."
With the equipment, personnel and expertise to offer unrivalled specialist transportation services, Monaghan Freight Ltd. have firmly established themselves as leaders in their field and are fully committed to maintaining and exceeding, the high standards for which they're renowned far and wide.
Monaghan Freight Ltd.,
19 Creagh Road,
Tattykeeran, Tempo,
County Fermanagh,
Northern Ireland, BT94 3FW.
Tel: +44 (0) 28 895 41918
Fax: +44 (0) 28 895 41344
Mob: +44 (0) 774 66 33103
Email: [email protected]
Taken from Irish Trucker & Light Commercials magazine, May/June 2019, Vol 22 No 3