Kevin Egan Cars strike gold again at SIMI Awards
19/07/2019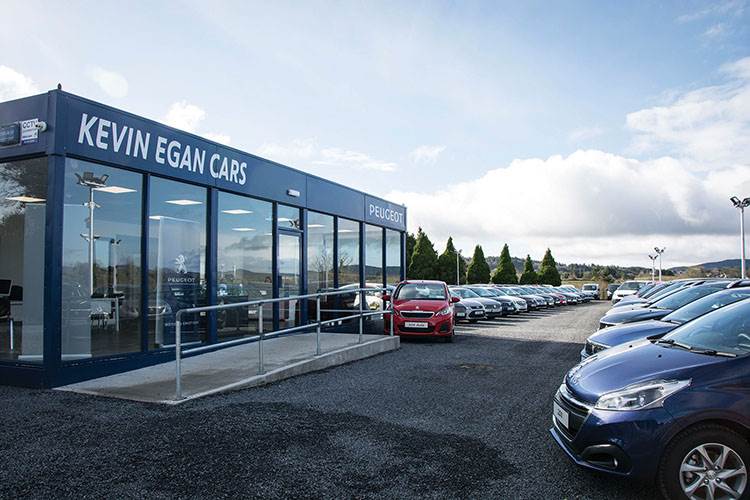 No strangers to success at the annual Society of the Irish Motor Industry Awards, Kevin Egan Car Sales were in the spotlight again in February, 2019 when the exceptional Sligo based Peugeot dealership scooped the prestigious Franchised Aftersales Operation of the Year Award. We touched base with aftersales manager Kyle Kane to find out more.
Main Peugeot dealer for the North West for little over a year, Kevin Egan Cars have hit the ground running with the new franchise, achieving remarkable results and – to coincide with their tenth-anniversary celebrations - claiming the Franchised Aftersales Operation of the Year title at the tenth annual SIMI Awards showcase at the Clayton Hotel, Dublin 4 on Thursday, February 21st.
With over 700 senior motor industry figures and guests in attendance, the award was presented to dealer principal Kevin Egan and aftersales manager Kyle Kane. The SIMI Awards celebrate best practice in the Irish motor industry, acknowledging the hard work and successful achievements of SIMI members, celebrating everything that is good about the Irish automotive trade.
Established in 2009, Kevin Egan Cars have garnered many prestigious awards throughout their decade in operation, including the SIMI Independent Car Dealer of the Year gong in both 2013 and 2016, but this year's represents a first for their busy and progressive aftersales department.
Following on from being named Peugeot Accessory Dealer of the Year just a month previously, Kevin Egan Cars' aftersales department is wholly committed to offering value for money, top quality customer service and success in the face of rising competition from across the aftersales sector.
Upon accepting the Franchised Aftersales Operation of the Year Award, Kyle Kane commented: "Having only been appointed the main Peugeot Dealers for the North West just over a year ago, we faced tough competition from long-established franchised dealers. These awards are the pinnacle annual event within the motor industry and for our name to be called out over established franchised dealers came as a shock. The award pays tribute to the hard work of all our team and gives affirmation to the application of forward thinking and innovativeness within the business. Customers are at the heart of every decision we make and we were delighted to be acknowledged for this."
Stocking all Peugeot parts and providing unrivalled aftersales service, Kevin Egan Cars more than doubled their Peugeot parts target for the year in addition to doubling their parts targets in each quarter, resulting in them successfully receiving a parts rebate in all four quarters.
In terms of parts turnover, they ended the year ahead of 9 dealers in a dealer network of 33 - a great achievement in their first year – with Peugeot describing their feat of finishing the year in first place (with an average of €217 per vehicle) as the Aftersales Accessory Dealer of the Year within the Peugeot dealer network as "a remarkable feat given this is their first year in existence as a main Peugeot dealer".
The Carraroe, Sligo based dealer invests heavily in workshop training and has taken on two extra technicians since the genesis of the Peugeot dealership. There exists a great sense of morale within the service department team and winning the SIMI award has delivered much-deserved recognition to each and every staff member.
As a relatively new Peugeot dealer, they have proven through the targets set and met that you don't need years of experience within the dealer network to succeed.
Seamlessly embraced into the main dealer network, they are fully committed to the Peugeot brand and having customers' cars serviced to the highest standard using genuine Peugeot parts.
Runners-up the previous year, Kevin Egan Cars were crowned 2013 Independent Car Dealer of the Year at the SIMI Awards in the Burlington Hotel, where they were recognised for their "entrepreneurial instinct, stubborn optimism and diversity of skills, from customer service to financial management."
Three years later they collected their second national car dealer award – the SIMI Independent Sales Operation of the Year Award. While putting complete focus and energy into making the business run well all year, they were also expanding. At the same time, they were excelling in customer service scores.
As well as holding the Peugeot dealership, Kevin Egan Cars are the premier used car dealer for Sligo and surrounding counties, renowned near and far for providing assured, top quality pre-owned vehicles. Their aim since inception has been to bring guaranteed quality used cars to the Irish market with unrivalled standards in car preparation, presentation and - most importantly – price.
Their reputation for outstanding customer service, honesty and integrity is clearly demonstrated by the high volume of repeat business from loyal customers and their friends and family, with secure and confidential car finance services also provided to complete the full package of customer service.
"We had been nominated for a SIMI aftersales award previously in 2016, but this is our first time to win one," Kyle continues. "We were delighted to win it. I was confident that our submission was strong but we were up against stiff competition so it was great to come out on top.
"We have a team of nine working in aftersales, including six technicians. We took on the Peugeot dealership towards the end of 2017 and the way we look at it is that we are not just looking after our own customers now but also Peugeot's. Since taking on the dealership, we've taken on ten new staff members and have modernised the office as well as installing new lifts in the workshop. Everything is moving forward."
The key to operating an award-winning aftersales department? "Customer service is the most important thing. To maintain their attention, you have to instil very high levels of customer service. For us, that extends to every make and model. Even though we're now a franchised dealer, we also do a lot of independent work as well.
"We already had a very busy base before the franchise and we aim to hold onto all of those customers by looking after them and providing them with an excellent customer experience."
Although Kevin Egan Cars have been up and running for ten years, the aftersales department was only opened in 2014 – so the progress made in a relatively short timeframe has been phenomenal. Voted Independent Workshop of the Year for Connacht / Ulster at the 2017 Irish Auto Trade Awards, Kevin Egan Cars are an example to all other dealers.
"There is no limit to how far we are prepared to go to accommodate people with parts or servicing or in the body shop. We have invested heavily in the latest air-conditioning machinery and diagnostic equipment and we are here to look after every need of the customer, be that car sales or aftersales."
Kevin Egan Cars,
Carrickhenry,
Carraroe,
Sligo.
Tel: 071 9154442
Email: [email protected]
Web: kevinegancars.ie
Taken from Irish Trucker & Light Commercials magazine, May/June 2019, Vol 22 No 3