Customer satisfaction guaranteed at C Clarke Graphics
11/07/2019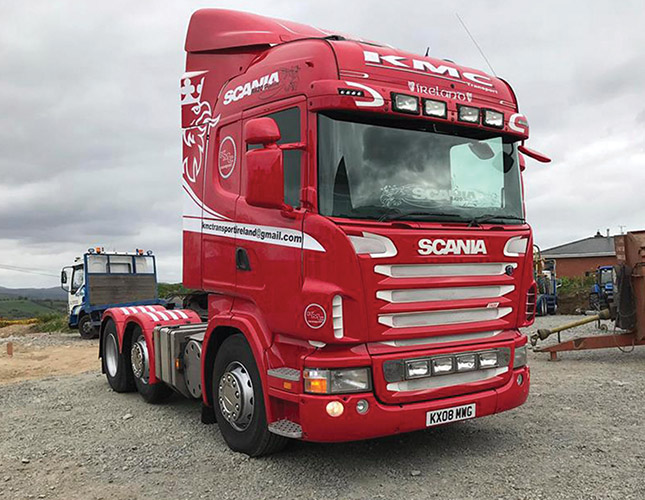 When it comes to customer satisfaction, C Clarke Graphics Ltd of Newry boasts a 100% strike rate. They offer companies that run a fleet of vehicles an effective way to create brand awareness for their businesses. Managing Director Conor Clarke is working hard to grow the company and build on its excellent reputation for quality work.
Vehicle graphics is an effective and cost-saving way to advertise your business.
It's no exaggeration to say that a good looking and well-maintained fleet travelling the roads is your company's shop window and the exposure opens your business to a vast audience of potential new customers.
That's why companies choose to advertise their brand, contact details and highlight their services with an eye-catching professional design.
Make a lasting impression on your target audience by displaying your graphics 24/7, 365 days a year.
Although just three years in operation, C Clarke Graphics Ltd of Newry has quickly established a name for itself as a company that can be relied on to get across the right message for your business
To help their clients increase the visibility of their business, they offer signage and logo design services from their Newry base.
"I set up the business three years ago, in November 2015," Conor Clarke explained. "I've been working in graphics since I was 17 and I'm 27 now. I took it up myself initially. My father Kevin owns a hire company (KC Hire) and we bought a machine to do our own stuff. As time went on, people asked me to do work for them and it grew from there. Things got busy. I started out with three employees and now we have seven working with us."
With their state-of-the-art machinery, the services that C Clarke Graphics Ltd provide their fleet operating clients includes vehicle wrapping, graphics, logo design and graphic design.
"We offer our clients a 'start to finish' service on whole fleet branding," Conor added. "We also do signage and Health & Safety signs."
Depending on your requirements, budget and preferences, there are various options and roads to take with respect to vehicle graphics and advertising.
Valued clients such Warde Groupage, KMC Transport, Re-Gen Waste and Cole Groundworks have been impressed with the fledging Newry based company's end product and competitive pricing.
"We pride ourselves on our unique designs and the quality of our work," Conor revealed. "Everything has to be perfect because, as far as we are concerned, there is nothing worse that someone saying: 'would you look at the state of that truck'. We stand by our work and that's why a lot of customers come to us. They know we are very particular in what we do and our track record speaks for itself.
"For example, Ward Groupage would drop in a job for us to do and they don't need to see a proof. They know it will come out perfect."
Open Monday to Friday (9-5pm) and Saturday (9-3pm), C Clarke Graphics Ltd also supply the following products and services: brochure design, banners, advertising agencies, commercial artists, corporate identity, design consultants, drawing office equipment and supplies, flyer design, folder design, menu design, newsletter design, packaging design, point of sale displays, poster design, business stationary design, computer aided design services and exhibition displays.
"We're very busy at the moment despite January not usually being a good month," replied Conor when asked: what the current workload looks like?
From vehicle graphics to business cards, you can go to C Clarke Graphics Ltd for all of your printing needs. At C Clarke Graphics Ltd, they understand the importance of time and money for your business and offer excellent design and printing services. All of their work in completed as quickly as possible to minimise downtime for your operations.
With the ability to manage both small and large scale fleet branding projects, Conor and his team are committed to supplying and installing effective vehicle wrapping, to the highest level of quality and service possible.
They help their clients create bespoke designs which make the best use of the whole space of the vehicle, no matter how big it is, and, most importantly, they can help get your brand noticed.
C Clarke Graphics Ltd
35 Flagstaff Rd
Cloughoge
Newry
County Down
BT35 8NR
Tel: 07760164321
Taken from Irish Trucker & Light Commercials magazine, March/April 2019, Vol 22 No 2