Simply the best
27/06/2019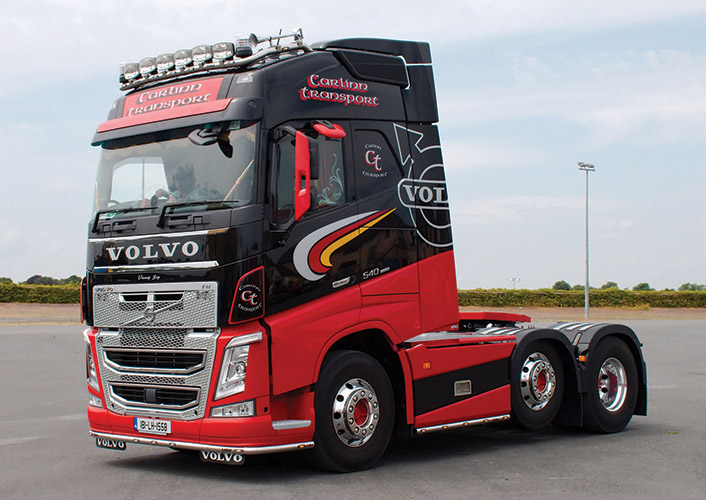 Truck drivers take great pride in their trucks with some going that extra mile to ensure that they have the most eye catching vehicle on the road.
For many truckers, their lorries are a home from home and they feel that the vehicles should be treated accordingly. This can come at great expense as not only does the trucker ensure that the inside of their truck is in pristine condition, but the outside as well.
Truck Shows are a great source for truckers to showcase their vehicles and in Ireland these events are growing by the year as the number of entries increase.
It takes a special type of haulier to have such a bond with their truck and for this month's edition of Irish Trucker, we profile Seamus Rooney of Carlinn Transport who has been devoted to truck shows for well over a decade now.
Seamus has worked for the company owned by Michael McGuinness and located in Carlingford, Co Louth, for the past eleven years and his love of truck shows has been evident ever since.
"I would be attending truck shows for the past 15 or 16 years. I just went for the craic for the first few, but then I started to have some success with the trucks I was bringing and it has grown from there," said Seamus.
The experienced haulier has picked up numerous awards at truck shows throughout Ireland and he is a well known personality on the truck show circuit these days.
"I would have got to know a good few people through going to the shows and you develop a relationship with them, one which you never would have had without the shows."
As stated, Seamus has attended numerous truck shows across Ireland including the Full of the Pipe show in Punchestown, the Mondello Truck Show, the Big T Truck Show/Run in Lurgan and the Mid-Ulster Truck Festival to name just a few, while his appetite for shows has brought him across the Irish Sea to Scotland on a few occasions.
"I would attend as many as I could during the year and I've been over to Scotland where on three occasions, my truck has been highly commended which is a nice recognition to get from over there.
"The truck shows are all very well ran. The Full of the Pipe is getting bigger by the year. I would know the organisers Kevin (Mulqueen) and Colin (Hegarty) well and they have put a great show together, while the venue in Punchestown is ideal for what they need."
Of course, for Seamus to compete in these truck shows, he needs a truck that sets him apart from the rest and he is currently driving a 181 Volvo FH 4, which he alone drives.
"I have the Volvo and I would spend a lot of time cleaning it and making sure it is in pristine condition. It would be washed three times a week during the summer and I have a washer at my house where I would spend up to two hours each time washing the truck.
"I suppose I have to admit that it is something I am passionate about. I've always looked after whatever truck I've been driving and going to the truck shows was a natural progression from there."
Seamus has the support of his boss and more importantly his family when it comes to truck shows as he revealed that his daughter Patrina is showing a huge interest in trucks.
"I get on well with Michael and he has no problem with me bringing the trucks to a show as he knows they will be well looked after. My wife Patrice and daughter usually come to the shows. Patrina loves going to the shows and she has a great interest in the moment. I've always loved Volvo trucks and she will tell you that 'Scania is scrap'," laughed Seamus.
The company colours of red, black and yellow help make the fleet of Carlinn Transport stand out and Seamus revealed that Michael is all for having the trucks turn heads.
"These days appearance is very important and you can't arrive at a customers premises with a dirty truck, they won't accept that so it is essential to keep the fleet in pristine condition both inside and out."
The business was established by Michael 41 year ago and their ethos of providing an excellent service has stood them in good stead over the years.
Their main customer is Barrett Steel in Newry for who the draw steel all across the country, while another valuable customer is Armagh Logistics.
The family run business has seen many changes in the industry down through the years, but regardless of how tough times have been, they have always continued to place an emphasis on ensuring customer satisfaction, which looks set to keep them going for many years to come.
"The business would be going well. Barrett Steel and Armagh Logistics would be the two main customers and they are good firms to be working for. The aim is to make sure that the work is done in an efficient manner and once that is the case there should be no problems."
Carlinn Transport
Rooskey,
Carlingford,
Co. Louth
Mob: 0876213164
Taken from Irish Trucker & Light Commercials magazine, March/April 2019, Vol 22 No 2