New additions to Mallow Contracts fleet
24/06/2019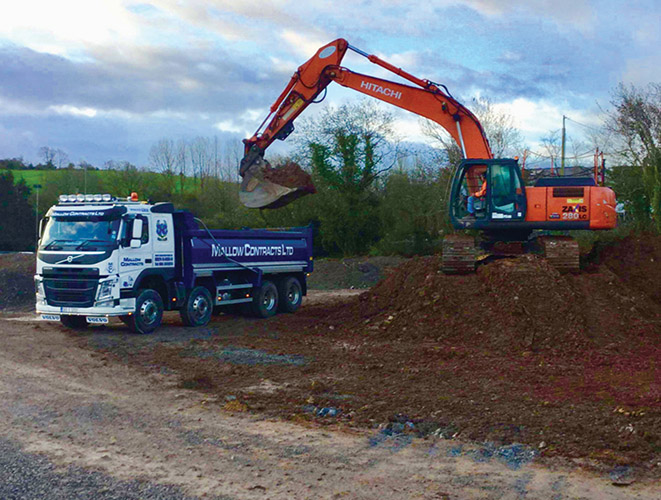 Mallow Contracts Ltd has taken delivery of two new tipper trucks from McCarthy Commercials Ltd for 2019, bringing its all-Volvo fleet size to 11.
The leading site clearance and waste management specialist, which is one of the most trusted names in the industry, purchased a Volvo FXM13 420 8x4 with a N3G Fitzgerald tipper body in early January before welcoming the arrival of a slightly bigger Volvo FXM 460, also with Fitzgerald tipper body, in February. The new vehicles represent a significant investment by Mallow Contracts which has gone from strength to strength over the past 16 years and is committed to upgrading its fleet on a regular basis.
"We're very happy with them," owner Paudie Sheahan enthuses.
"When I set up this company in 2003, having run Paudie Sheahan Plant Hire before that, I started with three Volvo FL12s. I then went with Scania for a while before going back to Volvo. We're running 11 tippers at the moment which are all Volvo.
"Not only are they a good truck, McCarthy Commercials are only down the road from us in Watergrasshill and provide us an excellent after-service. Having that back-up service is so important when you're running a fleet like ours. We can't afford to have any downtime. Another reason why we buy Volvo is down to the fact that our fitter Paul McCarthy served his time in Volvo and knows their vehicles inside-out."
This latest investment comes after Mallow Contracts purchased two new Volvo FMs, which are also fitted with Fitzgerald tipper bodies, last year. In keeping with the Volvo theme, Paudie also operates four Volvo excavators and two Volvo 825 dump trucks along with two Komatsu bulldozers. This plant is mainly based at four landfill sites which are strategically located throughout Co. Cork.
Registered with the National Waste Collections Permit Office, Mallow Contracts is authorised to remove construction and demolition wastes from sites and dispose of them promptly and efficiently at its landfill sites in Carrigtwohill, Waterfall, Newcastle (Blarney) and Grenagh. Some of the construction and demolition waste goes to another registered landfill site in Dungarvan, Co. Waterford.
"Most of our work is in and around Cork city," Paudie explains.
"Our biggest job at the moment is for Vision Contracting in Ringaskiddy where BioMarin are spending €40 million on extending their pharmaceutical facility. By time we're finished, we'll have drawn about 4,000 loads of C&D waste from the site. The waste is being divided between our four landfill sites."
With its growing fleet, Mallow Contracts has the capacity to carryout site clearance, muck shifting and waste management projects of any size. All of the vehicles are regularly maintained and serviced to ensure reliability, while all drivers are fully trained in every aspect of the job.
"We have 14 drivers who are highly-skilled, dependable, professional and enjoy a great rapport with our customers," continues Paudie, whose brother John is a full-time driver with the company. Paudie's son Patrick also mixes his foreman duties with driving, while the affable managing director's wife Ber looks after the bookkeeping.
Mallow Contracts is renowned for its quality services, exceptional efficiency and high level of professionalism. No matter what service you're looking for, they guarantee to not only meet, but to exceed your expectations and ensure total satisfaction. The Mallow Contracts teams is equipped for every job, managing projects with the skill, expertise and experience their clients have come to expect.
"We're committed to getting the job done, especially when it comes to disposing waste effectively. You can count on us to be professional, flexible, timely, efficient and to make sure you're satisfied every step of the way. Our goal is to provide the best services to Cork and surrounding areas, fair prices, superior quality and exceptional customer service. For us, the customer is king and we're always at the end of the phone to answer any queries they may have."
As a company with many years' experience in site clearance and waste management, Mallow Contracts are happy to provide you with information and technical advice with regard to your project and the options that are available to you.
Mallow Contracts boasts an impressive client-list that includes such reputable names as BAM, SIAC, Summerhill Construction, KPH (Kenmare Plant Hire) and the aforementioned Vision Contracting.
Paudie would like to take this opportunity to thank his customers and suppliers for their continued support.
Mallow Contracts Ltd
Island,
Burnfort,
Mallow,
Co. Cork.
Telephone: 086 3030915
Email: [email protected]
Web: www.mallowcontractsltd.com
Taken from Irish Trucker & Light Commercials magazine, March/April 2019, Vol 22 No 2