Three generations of trucking excellence
19/06/2019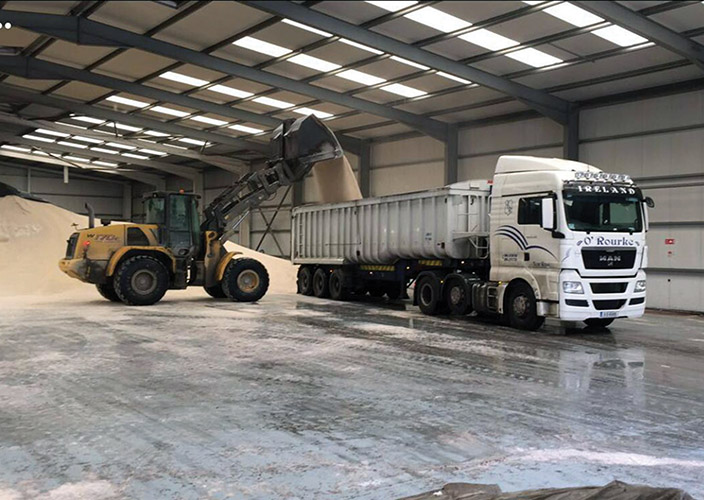 O'Rourke Transport in New Ross is a superb third-generation family business that provides unrivalled bulk haulage solutions across the south east and beyond. We caught up with Conor O'Rourke to find out more about this outstanding, long-serving TASCC-approved operation, which runs a magnificent fleet of MAN trucks.
It would be fair to say that trucking is in Conor O'Rourke's blood. The Wexford man comes from a long line of truckers and currently runs the respected family business, O'Rourke Transport, alongside his grandfather Jerry, father John and uncle James – all well-known members of the local trucking fraternity!
Drawing on decades of experience and know-how to deliver prompt and dependable bulk haulage solutions that cannot be beaten, the New Ross, County Wexford based family-run operation is renowned near and far for the consistently high-quality service provided and their reputation for excellence culminates in a steady flow of repeat business from a strong core of satisfied customers, including South East Port Services, NitroFert, O'Brien Transport Newbawn Ltd and Stafford Fuels.
Alongside the aforementioned four family members, gainful employment is also generated for three other drivers full-time in addition to some part-time work when things get particularly busy.
At the heart of the business is a stunning fleet of vehicles. Specialising in the rapid and reliable transportation of animal feeds, corn, fertiliser and coal, O'Rourke Transport (a descendant of Jerry O'Rourke & Sons) currently runs a striking fleet of seven trucks, all MAN, with a new model due to be added this year as part of a fleet replenishment programme which ensures that the best possible service levels are maintained at all times.
Pride of place goes to the MAN TGX 480 purchased three years ago from MAN Truck & Bus Ireland and used mainly to deliver corn and coal.
A quick perusal of the photos accompanying this editorial will confirm that the trucks not only perform superbly but also look brilliant. A true trucker at heart, Conor is the man charged with keeping the fleet looking well and it's a challenge he relishes…
"We keep them in very good condition," he states. "They are washed on a regular basis and there's never a mark on them. They're all in good nick. We check and inspect them and if there's anything wrong with any of them, we fix it immediately. I'm big time into trucks and I'd do a lot of the maintenance work in the shed myself."
The result is that every time an O'Rourke Transport truck takes to the road, it is at the very top of its game, both mechanically and aesthetically, creating the right impression and, more importantly, meeting, nay exceeding customer expectations.
The O'Rourkes are big fans of a certain German truck manufacturer, to the extent that the fleet comprises MAN models exclusively. Conor reveals what it is about MAN trucks that has made such a big impression on three generations of his family:
"We've always found them to be an excellent truck. Since we first bought them, we've always liked them and we've never had any hassle with them whatsoever. The fact that the garage [main dealer MS Commercials Ltd.] is located just across the road also makes it handy.
"It just suits us to stick with MAN. The lorries are dependable and efficient and it works out best for us to run all MAN trucks.
"B & R TranSpares Ltd. are located right beside us here in our yard and they would have a lot of the parts we'd need, which again is very convenient. You can't beat getting the parts locally.
"Another benefit of sticking with the same make all the time is that you get to know them. You learn as you go and 99 times out of 100 we'd know ourselves what's wrong with them, so you don't have any unnecessary headaches trying to work out what might be wrong with a truck that you don't know yourself inside-out."
Trailer-wise, O'Rourke Transport own seven tippers, seven flats and a curtainsider … again, all fresh and preserved in immaculate condition. These are predominantly sourced from SDC Trailers and Dennison Trailers.
The O'Rourkes been providing exceptional services since Jerry got the keys to his first truck more than half a century ago and the signs are encouraging that they will continue to do so into the foreseeable future.
"The goal is to keep providing an excellent service and to keep her going forward," Conor concludes. "Once you have a good fleet on the road, with good drivers and you make your deliveries on time every time, then you won't go too far wrong."
O'Rourke Transport,
The Ring Road,
New Ross,
County Wexford.
Tel: 086 2438168 (John) / 086 2541726 (James)
Taken from Irish Trucker & Light Commercials magazine, March/April 2019, Vol 22 No 2