Versatile and dependable haulage solutions
31/05/2019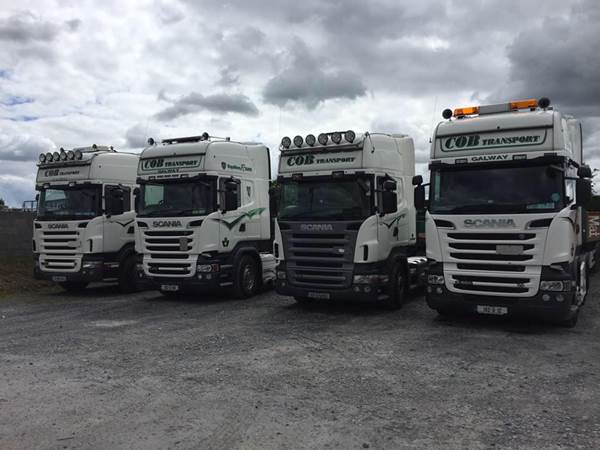 Established by Christy O'Brien in 1997, COB Transport Ltd. have earned a stellar reputation from their County Galway HQ.
COB Transport Ltd. provide a varied haulage service with a keen emphasis on meeting customer expectations in a prompt, professional and safe manner. We visited their well-appointed Corofin depot and touched base with Pat O'Brien to get an update on this exceptional family-run business, which has been delivering the goods for more than two decades and providing a wide range of outstanding haulage solutions not just in Ireland but also across the UK and continent.
Christy started out with one truck and an oil tanker distributing in the West of Ireland for a major oil company. After his son, Pat, came on board, COB began to diversify, adding a variety of trailers to the fleet in order to facilitate a more comprehensive choice of services, including general haulage and refrigerated work.
The move has paid off as, having come through the economic downturn relatively unscathed, COB Transport Ltd. are now in a position to take on all kinds of haulage jobs, either at home or abroad, moving seamlessly from one job type to another and consistently giving customers service levels that are simply second to none.
Going into the new year, the fleet comprises five Scanias – two R500s complemented by an R560, R620 and R450. The latter is the most recent addition, a striking 161-reg unit purchased brand new from Westward Scania. As well as running their own trucks, COB Transport also generate regular work for a selection of local owner drivers on a subcontract basis.
Trailer-wise, the O'Briens are running step frames, flatbeds and curtainsiders, also taking on some seasonal tanker work. "We also do traction work for bigger heavy haulage outfits, pulling their trailers," operations manager Pat notes.
With Health & Safety a constant consideration, one of the cornerstones upon which the business has been built, painstaking attention to even the smallest details ensures that the fleet is operating in prime condition at all times, both mechanically and aesthetically.
"We try to keep the trucks and trailers well-maintained and in good condition, both running-wise and appearance-wise," Pat confirms. "It's very important when you present your vehicle to a customer that everything looks fresh and clean and can perform accordingly."
Any plans to add a new model to the fleet in 2019? "We'll be talking to the dealers in the new year. We have a few ideas of what we might do but haven't reached any decision yet. We might upgrade one of the '07s. That's going to be on the table for discussion."
The ability to efficiently provide excellent services on a broad scale represents one of COB Transport's key strengths. This enabled them to come through the recent recession and the unpredictability that entailed.
"We're weathering the storm," says Pat. "You can never become complacent because there are weeks where it's challenging to get the work and then other weeks where it's almost a bigger challenge to get the work covered.
"We have a good bit of steady, continuous work whereas some of the other jobs are seasonal and can come in bursts and lulls. So you have to have a plan that's flexible and able to deal with these fluctuations.
"One of our sales pitches is customer satisfaction and you have to get the job done. You have to look after your regular work and then, when a big job comes along, you have to be ready to supply the trucks and get it done within the specified time frame.
"Flexibility is definitely our greatest attribute. We can handle an awful lot of work with very short notice. As well as domestic work, we still have regular loads in and out of the UK and over to the continent. We cover a wide variety, although it's mostly specialised work going to Europe – machinery, parts, electrical components for wind farms, etc."
To remain so flexible is almost an art in itself…
"We are there for our customers whenever they need us and we can transport anything. You have to keep fully focussed on what's happening today whilst also casting your mind forward to what's happening next week and into the future. You need to think ahead and make sure next week is organised and set your head to keep the wheels moving. Basically, you have to be 100% committed to the job you are on but also concentrate 100% on the following week's work to balance things."
Pat joined Christy in the family business in 1999. Both men are hands-on, driving themselves and also keeping a close eye on the upkeep of the trucks and customer service. Meanwhile. Christy's wife and fellow director, Julie, looks after the paperwork and administration. As with any family business, it's a full-time job and there can be no switching off if the best-possible service is to be provided with a keen personal touch.
"We'd be bouncing ideas off each other all the time and discussing ideas to make the service more efficient and better," Pat confirms. "Even on Christmas day, there'd always be some sort of chat about a truck or trailer over the turkey."
Full-time employment is generated for a crew of five in addition to part-time employees and a number of subcontractors.
Huge GAA fans, Christy and Pat provided Corofin with one of their trailers when they brought the Andy Merrigan Cup back to Galway on March 18th, 2018, after beating Nemo Rangers in the All-Ireland Club Football Championship final on St Patrick's Day.
"I was born and reared in the village of Castlegar, which is hurling territory and hurling would have been our sport. But Christy secured land in Corofin in 2004 and we relocated our yard here. We've become big supporters of Corofin GAA. We also supplied them with a trailer for their homecoming celebrations when they won their previous two All-Irelands in 1998 and 2015. We're delighted to help out because the club brings an awful lot to the local community. When they are celebrating a major success, we will supply a decorated truck and trailer without question."
Regarding the reasons for COB Transport's enduring success and popularity down through the years, nay decades, Pat concludes: "The job simply has to be done when you are asked to do it. You have to set yourself up to complete the job as professionally, efficiently and safely as possible, even with minimal notice.
"There's no point having the vehicles and equipment and personnel if you are going to behave in an unsafe way. Safety is paramount, from the vehicles and gear down to the actions of your drivers. You have to act responsibly and give your customers the best service they could possibly get. We're very lucky to have great drivers here and we are indebted to all of our staff for the manner in which they represent the company and give us such a good reputation.
"In haulage, your reputation is everything. The more you can make the customer happy, the more inclined they will be to come back and work with you again."
COB Transport Ltd.,
Ardskeabeg,
Ballyglunin
County Galway.
Tel: 093 41155
Mobile: 086 8393041
Email: [email protected]
Taken from Irish Trucker & Light Commercials magazine, March/April 2019, Vol 22 No 2