A one stop shop for delivering materials
29/05/2019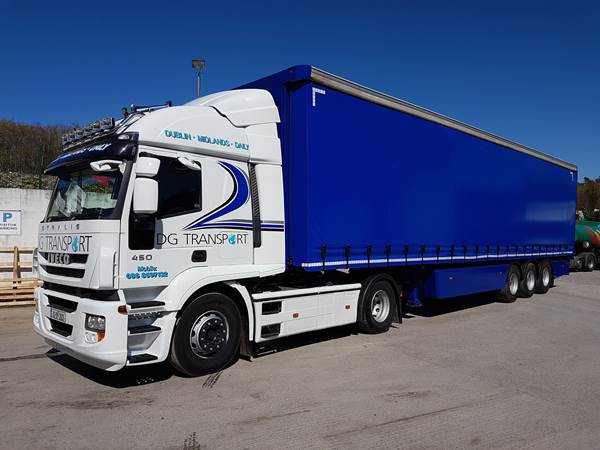 DG Transport in Tullamore, Co Offaly has over 20 years' experience in the transport industry (between them) and has become a 'one stop shop' for getting customers their materials delivered on time. Irish Trucker heard more from Ger Collins, who is one half of the company's directorship.
It wasn't easy at the start but DG Transport has managed to maintain a steady growth over the past year-and-a-half to the point now where they're now as busy as ever down in Tullamore.
Founded by experienced couriers Ger Collins and David Flanagan in 2017, the company is very much a 'one stop shop' for getting your materials delivered on time and can deliver everything from parcels and pallets to full loads with vehicles ranging in size from a transit van to an arctic truck.
The two directors have over a decade's experience in the industry between them and took the decision to go out on their own and offer a first class service for their clients from the midlands.
Irish Trucker caught up with Ger Collins recently to learn all about DG Transport in the first 19 months and what he and his business partner hope to achieve with their company in the coming year.
"The business is up and running around 19 months now and we're employing six full-time staff and two part-time," Ger explained.
"We started off by buying it off Brendan Mann Couriers and in April 2017 we bought the Dublin part of the business off him.
"When we started off it was with two trucks and now we have six rigids, an arctic and a Transit Jumbo, so things have been going well."
Indeed the business has developed successfully through its commitment to providing only the highest standards of service.
At DG Transport, they work hard to develop business relationships with existing customers while also aiming to expand their customer base.
That has been the name of the game since Ger and David took the decision to set-up their company a little over a-year-and-a-half ago and, as the evidence indicates, huge strides have been made in such a relatively short space of time.
"We're now part of the JMC Network and we can offer nationwide delivery along with the normal same day service," Ger stated.
"We've had a good bit of growth in a short space of time and this is a business that's built on service. When we started it up we seen where we could get work and just built it up from there.
"Our depo is in Tullamore and there are two trucks we have that are on the road full-time for two other companies, so it keeps us busy on all fronts."
As Ger explained, the original plan had been to have the company's trucks going back and forth from headquarters to the capital.
However, customer demand soon changed things and, as a result, DG Transport's trucks can be spotted travelling all over the country for certain clientele which avail of their services.
"It's going very good. When we started off we were hoping to go from Tullamore to Dublin on a regular basis, but word spread and we just grew," said Ger.
"We went with it and we're going nationwide for a handful of our customers now. I'd also like to point out that we handle all our customer goods here, with no third parties involved."
DG Transport operates a modern fleet of vehicles from rigids to articulated trucks and also vans for express courier work.
For customers' most urgent deliveries, the company can deliver goods from A to B without any stoppages. They appreciate that customers may need their goods right away and, as a result, DG Transport ensure that delivery needs are a top priority.
"All of our trucks here are Iveco," Ger outlined. "Our smallest is a Eurocargo and the second smallest would be an 18-tonne.
"We have great faith in Iveco and we buy them all in Longhaul Commercials in Tullamore and get a great service from them. We still have one here – it's an '07 – from the previous owner and it's still earning its crust."
If you need pallets or very large boxes delivered, DG Transport has the solution with their vans and lorries capable of carrying 3.5 – 45 tonne.
Whether it's a delivery to Dublin or nationwide, the company's fleet is available for any distance that's required and is fully licensed and insured.
DG Transport's quick success and top class fleet has come down to hard work down through the years by Ger and David prior to its inception.
Finding himself presently immersed in the courier industry is a far cry from what Ger had originally set out to do with his career before changing direction when he turned 25.
"I'm actually a cabinet maker/joiner but I always did like trucks since I was a young lad," he outlined.
"When I turned 25, I went off and got my truck license and I liked the courier business so I decided to get into it.
"When we started up here, we knew the customers that we were dealing with and the advantage was that we had built up a good relationship with them already."
As for what he feels the real reason for repeat business from those customers has been, Ger commented: "I think it's down to the service that we provide. That's what people keep telling us anyway. Rome wasn't built in a day, neither was our reputation."
The year ahead could well see another Iveco being added to the fleet at DG Transport, according to Ger.
"Hopefully we will. I wouldn't rule it out anyway because we only had two trucks 19 months ago and now we have six, so the signs are good," he concluded.
"Part of our success is down to our hardworking staff. We have a great bunch of lads who can get the job done and we wouldn't have been as successful without our loyal customers who continue to support us and trust us to get the job done."
For outstanding customer service, guaranteed reliability and competitive prices, contact DG Transport for all your courier requirements.
DG Transport
Unit 10,
Beechill Grains,
Ballyduff,
Clara Road,
Tullamore
Co. Offaly
Mob: 086 8597132
E-mail: [email protected]
Web: www.dgtransport.ie
Taken from Irish Trucker & Light Commercials magazine, March/April 2019, Vol 22 No 2