Delivering the goods for 30+ years
22/05/2019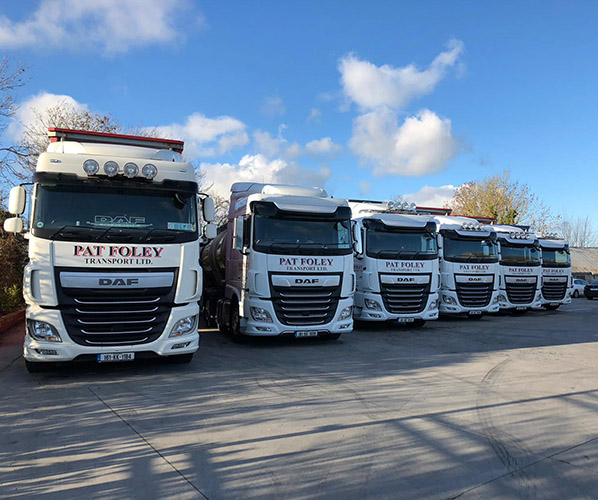 On March 1st, Pat Foley Transport took possession of two stunning new DAF trucks, bolstering their magnificent fleet to some 24 tractor units in total. Irish Trucker visited their depot in Callan, County Kilkenny and had a chat with the eponymous proprietor to find out more about this successful, outstanding and long-serving operation.
Pat Foley's 31 years' experience of road transportation are all brought to bear in the first class services provided by Pat Foley Transport Ltd., a company which continues to offer its loyal customers outstanding haulage solutions.
Quality and a Personal Bespoke Customer Service has been at the forefront of the family-run business since its inception and they continue to go from strength to strength today, regularly expanding and replenishing their striking, predominantly-DAF fleet with new additions to ensure that customers' expectations are invariably met, nay exceeded.
Pat recalls when he brought his first truck in 1988: "The first truck I purchased was a second-hand Volvo F10 and, to be honest, it didn't last too long," he reflects. "I replaced it with a DAF, which was a massive improvement. Nowadays, the fleet is 95% DAF, as they have made a very big impression on me with their level of performance and fuel efficiency. They've served me well."
The acquisition of two brand-new beauties from DAF Truck Services in Cork is part of a steady investment programme in fleet replenishment which guarantees that Pat Foley Transport can consistently roll out a prompt, professional, flexible, reliable and efficient service at all times...
"We're always adding to the fleet and updating existing vehicles," the Kilkenny man confirms. "Altogether, last year we had 60 units for testing, between trucks, trailers, tankers, vans and support vehicles for breakdown assistance and maintenance."
Trailer-wise, Pat runs close to 25 road tankers as well as curtainsiders and fridges. The tankers mainly work for Glanbia, moving liquid products inter-factory. "I have invested heavily in a fleet of new tankers over the past three years due to expansion within the dairy industry and the opportunities for growth within that," he notes. "As well as food-grade tankers, we also have some Category 3 tankers dedicated to the animal feed side of the business."
The curtainsiders, meanwhile, are used for a variety of jobs with Medite in Clonmel, for whom Pat has worked for 30 years. "That business takes us from Clonmel to Dublin daily and we then load again at Gyproc and bring their materials to locations in Kildare, Laois, Carlow, Kilkenny and South Tipperary.
"We also take up to ten tankers a week to the UK, which presents its own specific challenges at this time of year when the weather isn't particularly conducive to International Transport but it's steady business and we're glad to have it, so you just make sure that this operation is carried out as efficiently and safely as possible."
Crucially, the success of any business according to Pat, is dependent on the team and staff that make up that business and in that regard, Pat Foley has surrounded himself with excellent people. For example, day-to-day operations are overseen by Logistics Manager Michael Purcell, who has many years' experience with the company and who deals with all the planning and organisation of transport, while Pat's nephew, Sean Foley, looks after Health & Safety, compliance with all relevant legislation and TASCC accreditation. Sean worked part-time in the company before taking on full- time employment in the office after qualifying from UCD with a Degree in Food Science.
"The real boss in the business", according to Pat, is his wife, Mary Foley, who makes sure that everything is in order. "Mary is the chief administrator and financial guru, who makes sure that everything and everyone is looked after as they should be. Her contribution to the business is invaluable.
"We have an excellent team and staff numbers would be around 35-40 during peak times, when we'd have a lot of 24-hour, seven-day operations," the proprietor continues. "All my drivers are local Irish men and we'd have a very small turnover of staff. I have a number of men who have been working with us for many years and we like to look after them as best we can. We have a very good working relationship between management and staff. Obviously, there are challenges as haulage is not a 9-5 occupation, but the men are very hard working, dedicated and dependable and the excellent manner in which they represent themselves and our Company is always appreciated."
An in-house workshop, which is managed by Noel Browne, helps ensure that the fleet is maintained in optimal condition, while some of the maintenance / repair work is also outsourced to nearby Don Butler Commercials, an authorised DAF service agent who "provides a great level of service and back-up.
"The appearance of our fleet is very important, our signage is done by local company Signiatec and we like to have our fleet in pristine condition."
With a successful track record of more than three decades, Pat is well-placed to identify the key to running a viable, sustainable haulage operation... "For me, hard work and honesty have been integral to our success," he states. "When you say you are going to do something, then you have to do it irrespective of any difficulties that might present themselves. You have to pull out all the stops and do exactly as you said you would.
"To be fair, we don't have a fire-fighting scenario here. We're well organised and everything is carefully planned out in advance. The customer always gives us notice and the work is pretty routine, although the seasonality of some of it isn't ideal. We've been very lucky with the calibre of clients we have built up over the years and who have rewarded our efforts with their loyalty to continue to provide them with the service levels they deserve."
Compliance, of course, takes up a lot more time and energy these days than it did when Pat Foley embarked on his career in trucking, but he acknowledges that safety on the road is of paramount importance. "I've seen huge changes in compliance and safety over the years," he concludes. "A great deal of paperwork is involved and it does eat up a lot of time, but the bottom line is that you simply cannot compromise on this."
Pat Foley Transport Ltd.,
Ahenure,
Callan,
County Kilkenny.
Tel: 056 7706950
Mobile: 087 7775777
Email: [email protected]
Taken from Irish Trucker & Light Commercials magazine, March/April 2019, Vol 22 No 2