Always Keane to satisfy customers' requirements
15/05/2019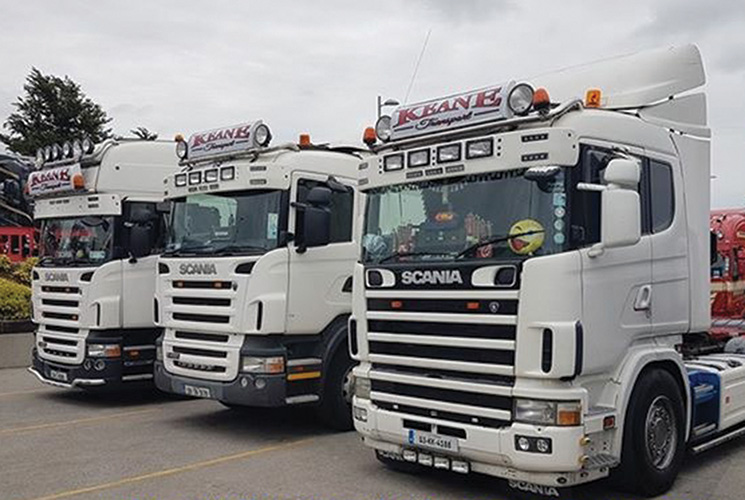 Keane Transport has developed a reputation for reliability, personal service and integrity. Proprietor Michael Keane understands the importance of delivering on time. Irish Trucker & Light Commercials sat down with him to find out more.
When you employ the services of Keane Transport of Castlecomer, Co Kilkenny, you can be sure that your goods are in safe and experienced hands. They use their knowledge to provide a service that is next to none, with the satisfaction of its customers being key
They operate an extensive modern fleet of vehicles, pulling a variety of trailers capable of transporting a wide range of products in large quantities.
It is their dedication to meeting the customer demands that has enabled them to establish strong working relationships with satisfied clients such as Bord na Mona, O'Dwyers Transport (Thurles), Baku (Wexford), Masterlink (Dublin), John Dalton & Sons (Kilkenny) and Grassland (Kilkenny).
With 10 trucks and 20 trailers, they can provide a delivery to large or small businesses giving each one the same care and professional approach.
At Keane Transport, they strive to meet your demands ensuring the product is there on time so your business can run effectively. Their drivers are both experienced and qualified and no journey is too short or too long.
Michael Keane hails from an agricultural background and he set up the business in 2016. "My grandfather (Eamon Mulhall) had his own business transporting sugar beet and fertilser and my uncle Paddy runs that now," Michael revealed in conversation with Irish Trucker & Light Commercials.
Despite being just two years in existence, Keane Transport, who incidentally provide generous sponsorship to the local GAA club St Martin's U-14s girls football team, has 11 employees on its payroll between full-time and part-time and Michael's girlfriend, Louise Stapleton, and daughter, Aoife, both play integral role in the day-to-day operations.
"The services we provide our clients includes fridge work, flat trailers, curtainsiders, full deliveries, tipper and tar deliveries. We're running 10 trucks, a mixture of Scania, Volvo and Renault, and 20 trailers between everything."
Many of their people have been involved in the haulage sector for a long time. It is their experience and knowledge which allows Keane Transport to meet their customers' needs. Practical experience comes from doing the work.
"Thankfully, business is going very well at the moment," Michael commented. "The way the economy is going, there is plenty of work out there. We're lucky in that we have a good crew of drivers working for us. Everyone is well aware of the problems that the shortage in drivers is creating in the industry but some of our lads have been with us from the start."
Michael and his team are committed to ensuring their customers are happy with their work, impressed by their people and certain to use them again. They pride themselves in offering a tailored service and are committed to understanding the individual needs of their customers.
Michael's word is his bond. "When we say we'll do something, we'll do it, we'll do the job professionally and right," he insisted. "We do international and UK work for Baku and the company has grown steadily over the last two years."
Looking ahead to the future, are there any plans in the pipeline for expansion? "We bought a new Renault this year but, overall, we're taking it one day at a time. We're not looking too far ahead because we want to ensure that we keep things tight and reliable.
"As I said, we're in a good position with our drivers but the rising costs of diesel and insurance are big challenges for everyone involved in the industry."
Keane Transport's aim is to build long term partnerships, and exceed customers' expectations, whilst retaining a flexible and responsive attitude to service. Put simply, they believe in providing an excellent service. With their extensive fleet and skilled drivers, they can cater for most types of transport.
So, if you are looking for high quality road haulage transport services, give Michael a call at the number below to find out more.
Keane Transport
Unit 31
Hebron Industrial Estate
Kilkenny
Tel: 086 1643890
Email: [email protected]
Taken from Irish Trucker & Light Commercials magazine, Jan/Feb 2019, Vol 22 No 1