Size doesn't matter
13/05/2019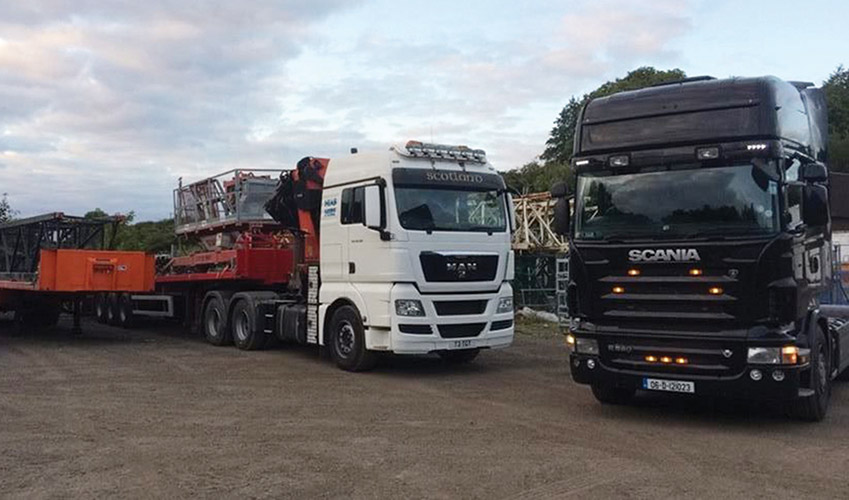 Winslow Haulage Ireland offers a competitive service for a wide range of transport applications throughout Ireland, Low loader, flat, extendable and step frame trailers available.
Specialising in the transport of construction, agricultural and engineering equipment, anything from cranes, construction equipment (scaffolding, Shuttering pans etc.) plant / farm machinery, engineering machines, cabins, containers, mobile homes, pre-cast concrete, excavator, teleporter, trucks, tractors etc, Winslow Haulage Ireland can ensure that your goods, no matter what the size will be delivered in safe and professional manner.
Operating on a national scale, this Wicklow based company has established a client list that covers some of the leading firms based in this country.
Experience is vital in the haulage industry especially in the current economic climate as every decision has to be made with the utmost precision and to this end, Winslow Haulage Ireland have that commodity in abundance.
Established three and a half years ago, this business specialises in low loader work, supplying a specialised service to their customer base.
Winslow Haulage Ireland operates a fleet of modern trucks coupled with a variety of trailers from extendable low loaders to curtain side sliding roof trailers with hydraulic ramps and they transport all types of machinery.
For this month's edition of Irish Trucker, we profile this company and speak to owner Scott Winslow about the success of the business. Located in Blessington, Co Wicklow the company is ideally located to carry out their daily duties, which sees them travel throughout Ireland.
With no background in the haulage industry, it became intriguing as to why Scott ended up in this sector and he picks up the story from here.
"I would have had a background in mobile cranes, but always had an interest in lorries. I saw an opening for this type of work as there wasn't that many low loader and extendable trailer specialists out there. I took a chance and it worked out for me."
Scott chose a Scania as his first truck and he has stuck with the Swedish make ever since as he finds them the most reliable vehicle on the road.
"I like the Scania, they are reliable and efficient and I can't complain about them. I do keep them well maintained and I have a Volvo as well. The Scania is 2006, while the Volvo is 2010."
Maintenance is key to ensure that the fleet is kept in good running order and Scott revealed that the trucks are maintained on a regular basis.
"I would do all my own maintenance and the trucks would be checked every few weeks. Downtime is something that I strive to avoid as there is no room for breakdowns in this business."
The majority of Scott's customer base operate in the construction industry and for that part he spends a lot of time moving plant and tower cranes from one site to another.
Given that the lion's share of his work is centred in and around Dublin means that he can be working in tight areas a lot of the time.
"Some of the sites would be small enough and guiding the trucks through the traffic brings about its own problems, but we are well used to it at this stage and just get on with the work. We look after our own traffic management and once we have everything in place, there is usually no problems."
Scott added that he is very busy at the moment, which has coincided with an upturn in the construction industry over the past eighteen months or so.
"There is a lot of building work going on now and I would be working with many of the same customers all the time. Dublin is a sea of tower cranes now and it's a throw back to the Celtic Tiger days. On average, I would be moving two tower cranes a week."
Scott's father Adrian also helps out on a day to day basis with Casey Cranes and Duggan Brothers two of his biggest customers with the aim of the company to grow bigger in the future.
"Hopefully, I can expand the fleet, but it is not something that I will be rushing into. There are a number of overheads in this line of work and it is expensive, like the price of insurance has become ridiculous, while the price of fuel is starting to rise again.
"Customer service is paramount and the customer is generally happy once you get the job finished on budget and inside the agreed time frame. A lot of costings go into the negotiations to agree the budget on any contract but once the customer is happy, we're happy."
To operate in the line of work that Scott has chosen to focus on, there are a number of permits needed to ensure that he complies with all the legislation and regulations in place.
"You need permits for five-axle trucks and for wide/abnormal loads. You usually can get them quickly enough and I'm able to plan ahead with them as well. There is plenty of paperwork to be looked after and fortunately for me, Laura does all that."
Winslow Haulage Ireland
Blessington,
Co. Wicklow
Mob: 0877079395
e-mail: [email protected]
Taken from Irish Trucker & Light Commercials magazine, Jan/Feb 2019, Vol 22 No 1