Warde Groupage grows bigger and better
01/05/2019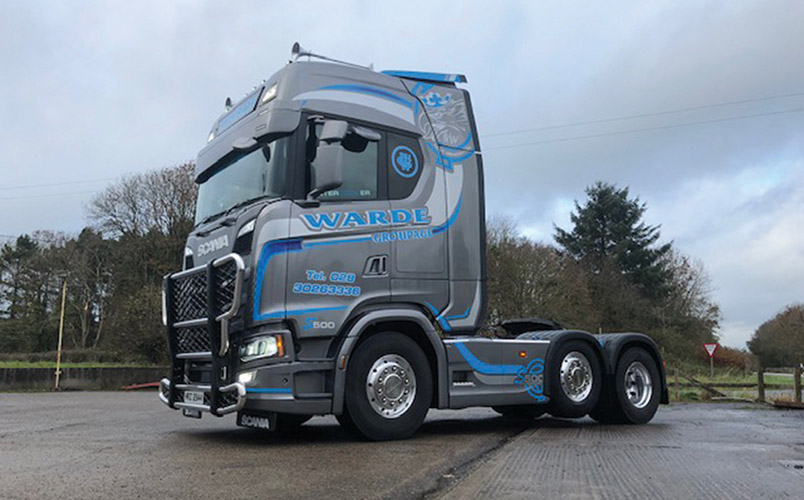 As a family run business that was established in 1970, Warde Groupage has earned a reputation for providing a reliable and efficient service.
The experience that this Newry, Co Down based firm has picked up over the years has been invaluable and has played a massive part in the success of the business.
Warde Groupage have never been afraid to invest in their business and recently purchased two new Generation Scanias to their fleet, bringing the total of vehicles on their books to an impressive 24.
As the name states, the company specialise in groupage, providing an excellent service all across the island of Ireland. Offering a delivery solution to an ever-expanding customer base, their next-day delivery is second to none.
"We have worked hard to build up the business over the years and we are happy to be where we are today," stated Gareth who runs the day to day operations alongside his sibling Kyle and Lorraine Warde.
Gareth admits that none of their success would have been achieved without the support of their customers, many of who have been with them for years.
"There is a core group of customers that we continuously work for and have been doing so for many, many years now. They are happy with the service we provide, but we also know that if we take our eye off the ball in any respect, then they will bring their business elsewhere and who can blame them, so it is up to us to ensure we maintain the level of service and improve on it in any way that we can."
Offering a wide range of transport services that include distribution, express groupage, full- and part-load haulage, storage and warehousing, the team at Warde's know the importance of getting the work done efficiently and on time.
"There are huge time constraints in the industry and that is why you need an efficient fleet of trucks and trailers on the road to ensure that there is no unnecessary downtime. A lot of the trucks are under warranty and would go back to the main dealer for service and maintenance, while Davy Lowry would look after the rest of the maintenance "
The fleet of trucks are driven by highly experienced professional drivers who are in direct contact with the office via mobile phone and trackers, thus giving customers complete peace of mind. Gareth added that the drivers take great pride in their trucks and stressed they won't drive certain makes.
"It is certainly a drivers market. We would interview guys and one of the first questions they ask is what make and model of truck would they be driving and if they didn't like, they wouldn't take the job.
"That is why we find Scania are probably the best truck on the road, they are more expensive, but drivers seem be to prefer them. They treat the trucks like their own and keep them spotless which is very important as presentation is high on the list of priorities, not only for ourselves but for our customers also. Our fleet comprises of white and blue trucks and are well known throughout the north and south. Not only the drivers, but the office staff and everyone else have play their part in the success of the business, many of them have worked with us for years and the know the business inside out and I would like to thank everyone for their efforts over the years."
As stated, one of their keys to success has been willingness to invest in any area of the business that will enhance their service and of course, the fleet is priority in that regard.
"We try to keep on top of the fleet," Gareth notes, "The key to any successful business is working hard and ensuring customer satisfaction and for us a fresh fleet certainly helps in this regard."
As a founding member of the Palletxpress, Warde Groupage has worked closely with their fellow members to help provide a nationwide service that is unrivalled.
"While we collect groupage out of Dublin and the South of Ireland for next day delivery into the North we also collect across Northern Ireland for distribution throughout the South of Ireland. This is again next day delivery serviced through the Palletxpress network."
While some transport companies would frown upon picking up a pallet or goods or something smaller, that is certainly not the case for Warde Groupage who are synonymous with the motto that no load is too big or small.
"We would regularly deliver vast variety of cargo from a full load of timber, water cylinders or wooden flooring to a single pallet, box or carton. At the end of the day, it's all about satisfying customers' needs and in order to do this flexibility is a prerequisite."
Gareth concludes by stating that an honest approach to their customers is the best way to do business.
"We are upfront and honest. We tell our customers the truth not just what they want to hear. If a problem arises it is dealt with professionally and efficiently. Customer satisfaction relies on trust and goodwill and we have found that our customers appreciate being kept in the loop in an open and frank manner and are happy with this approach.
"Our priority is to keep our existing customer base happy, while at the same time continuing to expand. This will be achieved with thoughtful forward planning and commitment.
Warde Groupage
19 Tandragee Road,
Newry,
County Down.
Tel: 028 30263336 / 30263381
Fax: 028 30266610
Email: [email protected]
Web: www.twgs.co.uk
Taken from Irish Trucker & Light Commercials magazine, Jan/Feb 2019, Vol 22 No 1