Ready, steady, go ...
25/04/2019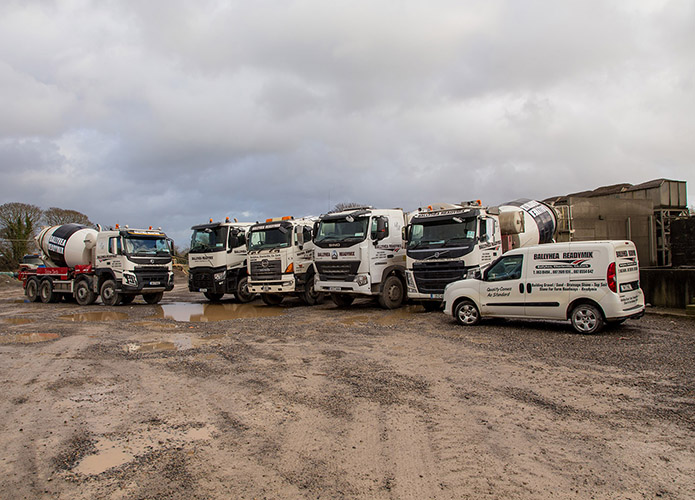 With the addition of two stunning new trucks to their fleet, Ballyhea Readymix are in a strong position to continue to serve the needs of their loyal customer base. Irish Trucker travelled to North Cork and met director Tommy McNamara to find out more about this market-leading, family-run supplier of readymix concrete and sand & gravel.
The first rule of haulage is to operate equipment that won't let you down and Ballyhea Readymix on the outskirts of Charleville, County Cork certainly won't be found wanting in this department! The addition of four new lorries inside the past two calendar years ensures that the McNamaras are running a solid, dependable fleet of trucks that not only delivers optimal performance levels but also looks fantastic.
This year, Denis and Tommy have taken possession of a brand-new 182-reg Volvo and Sino. Purchased from McCarthy Commercials Ltd. in Watergrasshill, the new Volvo FMX13 8 x 4 with type N3G construction category comes with sleeper cab, automatic I-shift, T ride parabolic 23 tonne rear bogie, reverse backup LCD monitor and audio advanced along with top living and driving packages, with an 8/9 cubic meter Liebherr mixer from Value Tech in Kanturk.
Meanwhile, an equally-stunning Sion Howo CNHTC A7 D12 8x4 mixer truck, complete with Stetter mixer – looking suitably resplendent in Ballyhea Readymix's trademark white-with-black-trim livery – was bought from D Dennehy Ltd. in Carrigtwohill. The double investment represents a real statement of intent from Ballyhea, who are clearly determined to leave no stone unturned in their bid to continue offering customers unrivalled products and services.
"We're extremely happy with the new trucks," notes Tommy McNamara. "We also bought a new Renault [from Shaw Commercials in Castlebar] and Volvo [again from McCarthys] last year."
The purchase of four new trucks inside little over twelve months is part of a policy of both replenishing and increasing the fleet size. "We've gone from four to six mixers in the last two years," Tommy confirms.
The 50% increase in the size of the Ballyhea Readymix fleet is in response to a rise in demand for their services, the company having firmly established itself over the past two decades as a leading supplier of readymix concrete and sand & gravel, serving counties Cork and Limerick with high-quality products at competitive prices, invariably delivered on time and in prime condition from their North Cork base.
"Business is picking up, thankfully, and we're expanding the fleet as a result. Most of our work is in agriculture at the moment, covering all of North Cork and South Limerick."
Ballyhea Readymix was established in 1997 by the late Tom McNamara and his brother Denis. Today, the business is overseen by Denis, alongside Tom's son Tommy.
Currently generating direct employment for a team of eight, as well as part-time workers, the McNamaras have their own gravel pit, producing aggregates for readymix concrete production. They also sell sand & gravel, 2" drainage stone and topsoil, getting the most from their six-strong fleet.
Making sure that the trucks are in prime operating condition at all times is absolutely essential. To this end, Ballyhea Readymix have service contracts for the newest additions with both McCarthy Commercials and Shaw Commercials, while they meticulously maintain and service the older vehicles themselves in their own workshop.
Of course, when dealing with construction materials, trucks are made to work hard so it's quite an arduous task to keep the vehicles looking good – but this is an area in which Ballyhea Readymix are never found wanting. "The drivers take great pride in the trucks and their passion for them is reflected in their appearance," Tommy adds. "You need trucks that perform and drivers who know what they are doing and take pride in their work.
"To be fair to them, our drivers are excellent at looking after their trucks and they take the initiative themselves. We don't have to be getting on their backs. Each of them is assigned their own truck and they take personal responsibility for looking after them. They wash them and drive them carefully and keep them in very good nick. They're all experienced drivers. Obviously, myself and Denis have been here a long time and we have another guy who's been with us for 14 years now."
Looking to the future, Tommy believes that further modest growth might be possible but stresses that he intends to focus predominantly on maintaining the stellar service levels for which Ballyhea Readymix are renowned:
"There might be room for a small bit more growth but I'd be more than happy to only add maybe one or two more over the next two to three years, then stop at that," the Cork man concludes. "I don't want to get too big and lose the personal touch we provide.
"We want to keep offering a hands-on service, where we look after the customer one-on-one. My intention is to keep things at a manageable size and make sure we continue to provide a very strong personal touch."
Ballyhea Readymix,
Ballinadrideen,
Ballyhea,
Charleville,
County Cork.
Tel: 063 81494
Mobile: 087 2619924 / 8554642
Email: [email protected]
www.facebook.com/ballyheareadymix
Taken from Irish Trucker & Light Commercials magazine, Jan/Feb 2019, Vol 22 No 1