Keep on Truckin'
24/04/2019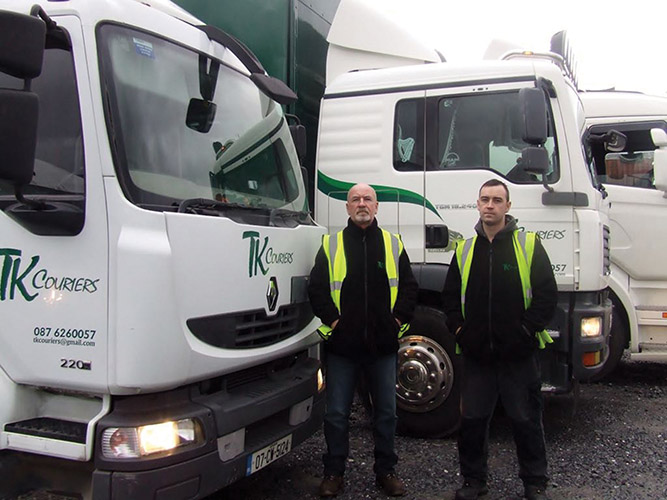 The life of a haulier is certainly not easy, being involved in such a tempestuous industry brings about its own hardship, but for many haulier, it's in the blood and it's the life they want to lead.
Most haulage firms are a family run business and for this month's edition of Irish Trucker, we profile Carlow based TK Couriers.
Established by Dublin native Tony Kenny fifteen years ago, TK Couriers operates a fleet of artics, rigids and vans providing a general haulage service in the south east of the country.
Tony runs the business along with his son Thomas and their wives Vivienne and Shelia. Servicing the needs of their customers, they work mostly in the Carlow/laois area, but they also delve into Dublin, Wicklow, Wexford, Kilkenny and Waterford also.
Tony revealed that their aim has always been to provide a reliable efficient service to the customers; a goal that they have always achieved.
"We specialise in a number of areas including express pallet and parcel delivery in our local area Carlow/laois, as well as a reliable 24 hour nationwide service and a 48 hour uk service provided through our network. We also run specials for airfreight shipments from Dublin airport to Wexford, Waterford, Wicklow and kilkenny ," said Tony.
To carry out their workload, they have an impressive fleet of vehicles on the road bearing the TK Couriers logo.
"We have two artics, which are a Renault and a Scania, while we have five rigids and three vans also. The fleet is kept very fresh and we would upgrade on a regular basis, while they are kept very well maintained."
Tony has a loyal staff of nine, many of who have been with the company a number of years now and he paid tribute to the contribution, they have made to the success of the company.
"The employees that are here are very good. We work well as a team, some of the drivers have a good few years' experience behind them and they are the ones that are out there representing the company. They are meeting our customers on a daily basis and there is a good rapport between them."
Tony stated that they are agents for JMC in Carlow and laois, while they were also part of two other of the largest pallet networks in the country, but he decided to scale back on that workload.
"I just thought we were over stretched too much. I could have expanded the fleet as there is plenty of work out there to do so, but I'd rather run a tight ship, now we just focus on the Carlow and laois area predominantly. We are partnered with JMC at newlands cross, they have been very good to us over the years. We provide them with an excellent service in Carlow and laois, and in turn they do a great job of handling our customers deliveries throughout the rest of the country.
"Another issue with expanding is that it is very difficult to find good drivers these days. I'm lucky with the lads we have, but getting good reliable lads is not easy as there is a shortage of drivers out there."
Tony added that the workload they have includes one of their trucks being with a local building company on a full-time basis.
The Kenny family have worked hard over the years to make the business a success and none more so than Tony who stressed that it is a very fickle industry to be involved in.
"There are so many overheads to contend with that every decision you make is crucial. Insurance has become a ridiculous price, while diesel is creeping up again. The rates have not gone up though and it is hard work trying to make a profit. You just have to run your business really, really tight and be constantly taking inventory and looking at ways that can save us money without cutting any corners."
With so many issues attached to the industry, what made Tony get involved in the first place?
"My father and brother have been involved in haulage all their lives working from Dublin's docklands so I grew up around it and I suppose that is where my interest came from. I moved down here from Dublin in 1993, and then 15 years ago I bought a van and started the business from there. It hasn't been easy, but we are still going today. Thomas came on board about seven years ago. He actually studied horticulture in college and got his qualifications.
He was here driving a van during the summer and that and he took to the work like a duck to water and he hasn't looked back since."
A final word from Tony as he stated why customers should use TK Couriers when they are looking around for a haulage firm.
"We pride ourselves in being very flexible and offering a personalised service to all of our customers. We are equipped to cater for a variety of loads whether it be one pallet or a full load. We treat every consignment with the same amount of care and attention and we have extremely well trained staff both in our office and on the road. This means our customers have the piece of mind that their goods will be well looked after and get to their destination on time."
TK Couriers
Office: Crettyard, Carlow,
Warehouse: Newlands Cross, Dublin
Mobile: (00353) 87 626 0057
Email: [email protected]
Web: www.tkcouriers.com
Taken from Irish Trucker & Light Commercials magazine, Jan/Feb 2019, Vol 22 No 1