Dependable distribution day in, day out
13/03/2019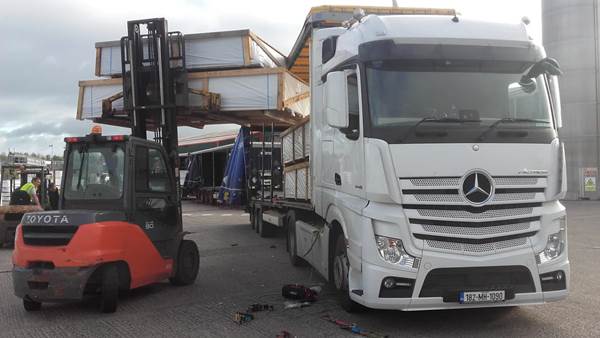 Specialising in full and part load distribution solutions across Ireland, the UK and Europe, Ward Haulage Ltd. has quickly established itself as a premier haulage and logistics services provider. Irish Trucker dropped into the company HQ in Ashbourne, County Meath and had a chat with co-founder David Ward and his right hand man Vykintas Cepliauskas to get an insight into this market-leading, family-run operation.
Established in January, 2015 by brothers David and Declan Ward – who have more than 20 years' experience of haulage – Ward Haulage Ltd. delivers unrivalled solutions to a wide range of industries nationwide and across the UK and the continent.
From its strategic base in Ashbourne, on the outskirts of the capital, Ward Haulage offers professional, prompt and cost-effective full and part load distribution services to an ever-expanding customer base. The business has expanded steadily since putting its first truck on the road almost four years ago, gradually growing into a medium-sized enterprise through repeat custom and positive referrals by providing customers with the best freight service, warehousing and customs clearance solutions.
With an in-depth knowledge and implementation of all regulations and legislation pertaining to the importation and exportation of goods, Ward Haulage's experienced, dedicated and fully-qualified team of personnel provide the highest possible standard of temperature-controlled, chilled and frozen, container and groupage transportation services.
The acquisition of a brand-new 182-reg Mercedes-Benz BigSpace Actros from MUTEC Ltd. on the Long Mile Road in August epitomises Ward Haulage's unwavering commitment to continuing to offer customers the best service.
"Our first truck was a Scania R480 Topline and we've built it up slowly from there," notes David. "We're now running the Scania, the new Mercedes and two MAN TGS rigids as well as a couple of small vans. The MANs have their work done out on the continent and the UK so we're taking them home to work in Ireland and have put the new lorry out on the international route."
Ward Haulage brings fresh produce to the UK and also delivers some internal loads whilst there (for the likes of Tesco, Sainsburys, Lidl, etc.) before travelling to France and collecting fresh fish to be brought back into Ireland. The fresh fish is collected on Mondays and brought back into the Ward Haulage yard for 6am every Tuesday morning. From here it is promptly distributed in smaller vans to customers island-wide from Cork to Galway and Donegal.
Intelligent logistics is required to ensure that fresh produce is distributed in prime condition, on time every time. "Timing is everything, co-ordinating and planning ahead," says David. "The driver parks up on a Sunday night and gets a good rest before picking up the fish in France between 12 and 1pm. Into the Eurotunnel, then Dover to Holyhead to enter the boat and home for 6am, ready to be distributed nationwide. It's a tight schedule but we've been doing it for two years now and we know how to make it work, with full compliance at home and abroad."
Direct gainful employment is generated for a crew of six full time as well as some part-time work. "It took us a while to get the right lads but we have a great crew here now and we couldn't be happier with them," David continues. "It's a small crew but we look after them and they look after us. We're happy enough to keep things tight. We don't want to get too big … we just want to be the best at what we do."
The business is managed by brothers David and Declan alongside Vykintas Cepliauskas. Regarding the key to their success, the latter states: "Hard work, dedicated drivers, making sure that everything arrives on time. It's all about giving your customers a great service."
The newest addition to the fleet will certainly facilitate this! "It's a big investment but it will be worth it as maintenance costs will come down and there should be less downtime with a new truck on the road, so it's a no-brainer really."
Doing traction work on behalf of SkanTrans Ireland Ltd. – the specialists in transport between Ireland and Scandinavia – Ward Haulage Ltd. also bring two trailers to the Port of Immingham in the Humber Estuary in Grimsby, England every weekend, which are picked up and brought to Gothenburg. Whilst in Immingham, they collect two full trailers and bring them back to Ireland for SkanTrans.
"We take fridges to Tescos in Dagenham and Kent for Monaghan Mushrooms and do our internal jobs in London before heading over to the fishing port of Boulogne, north of Calais, and loading up the fish there every Monday morning," adds David.
"The trailer comes back in here on the Tuesday and is away again every Wednesday or Thursday. We rotate the drivers and make sure everybody is well rested.
"We have two refrigerated trailers for the trucks and then two smaller ones on the vans for national distribution. Trailer-wise, we also have two curtainsiders and the use of the Euroliners we take in belonging to NTEX. There are seven of those in our yard at the moment.
"It all takes a bit of co-ordinating but we are well organised," David concludes. "We know what we are doing and things are going well at the moment. Our aim going forward is to continue to provide our customers with services they can depend on. If we look after them, then hopefully they'll stick with us."
Ward Haulage Ltd.,
Unit 4C,
The Court,
Ashbourne Industrial Estate,
Ashbourne,
County Meath.
Tel: 01 8357259
Mobile: 083 8272944 / 085 167512
Email: [email protected]
Web: www.wardhaulage.ie
Taken from Irish Trucker & Light Commercials magazine, Nov/Dec 2018, Vol 21 No 8