Excellent customer service is the lifeblood of Tipp distribution's business
11/03/2019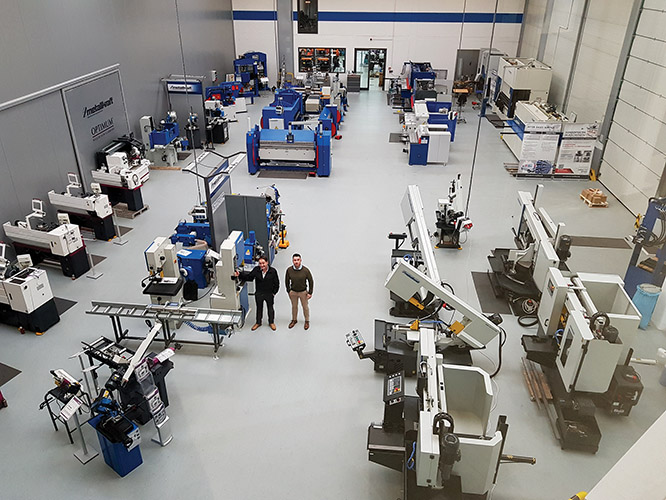 The hard-working and dedicated team at Southern Counties Transport Co Ltd t/a Tipp Distribution take great pride in providing their clients with a service they can rely on. Operations Director Charlie Fitzgerald took time out from his busy schedule to tell Irish Trucker & Light Commercials all about the Premier County based operation.
If an iconic brand like Coca Cola trusts them to deliver then Tipp Distribution must be doing something right!
A fully registered haulier for both national and international deliveries, Tipp Distribution has been on the go since June 2011 and is backboned by an experienced management team and dedicated workforce.
Providing cross-docking facilities and delivery services for counties Tipperary, Limerick, Kilkenny, Waterford, Carlow, Laois and Offaly, the company currently employs a total of 25 and operates a fleet of 18 vehicles ranging from rigids to artics to transit vans.
All of their delivery operatives are up to date on their CPC requirements and in manual handling procedures while all of their vehicles are fully road compliant and maintained to the highest standard by their own mechanic. They come equipped with tail-lifts and electric pallet trucks.
"Our biggest strength, to be fair, is our employees," Operations Director Charlie Fitzgerald revealed in conversation with Irish Trucker & Light Commercials.
"The majority of our drivers have been with us since day one, in fact, we've only lost one driver since 2011. Everyone on the team matters and it's a real team effort. Without that we wouldn't be here," he added.
Fully insured to handle your produce, Tipp Distribution traces its roots to the now defunct Kiely Distribution Ltd.
"Practically all of us worked there," Charlie – whose daughter Niamh is the company's transport manager – explained. "The management team also consists of Michael Toomey (Business Development Manager), Andrew Kiely (Secretary), Mary Kiely (Director) and Bernadette Kiely (Director).
"We started out with 11 employees and one contract with Coca Cola HBC Ireland and took it from there. We were originally located in Tipperary town but subsequently moved to Cahir and we are located five minutes from exit 10 on the M8 motorway."
Charlie continued: "When we started out seven years ago, we received great support from the likes of Hanly Tyres, Clarke Tyres, Tipp Auto Care, Mid West Oil, Pat Hickey Truck Parts and Truckbreak Ltd. We'd never have been able to keep going without the help provided by them."
From those humble beginnings, Tipp Distribution has enjoyed steady growth and, as well as Coca Cola, they also count Masterlink Logistics, Primeline Logistics and the PRL Group amongst their list of valued clients.
"We also do work for a local bakery, Coniaka Ltd," Charlie pointed out. "Thankfully, we're quite busy at the moment particularly at cross-docking. If something comes in here, it goes out the following day. A clear warehouse is everything in this game and there is never anything left over.
"We run a mixed fleet of Volvo, Mercedes, MAN and Renault vehicles while a Mitsubishi transit van is the latest addition. Our artics work double shifts – deliveries during the day and collections in Dublin during the night. We have our In-house mechanic who is also a driver and looks after the maintenance end of things. He is very important to the operation."
Reflecting on the current state of the transport sector in this country, rising insurance costs is a major cause of concern for Charlie. "Margins are very tight," he said, "and one of the big problems we have is the increase in the cost of insurance these past few years. It has gone up by 40% in a short period of time and it is absolutely killing us at this stage."
On a more positive note, Charlie and his fellow directors at Tipp Distribution have no intention of resting on their laurels. Looking ahead to the future, they have ambitious plans in the pipeline to expand the business further.
"We are continually on the lookout for ways to expand and we hope to move more into the storage end of things," he revealed.
Tipp Distribution's reliable personnel always take extra steps to ensure quality of service in order to achieve 100% satisfaction for their customers. They keep their promises and, most importantly, they listen to their customers in order to achieve a cost effective, efficient and secure service.
Tipp Distribution Ltd
Unit C2
Cahir Business Park
Cahir
Co Tipperary
Tel: 00 353 52 7442684
Email: [email protected]
Website: www.tippdistribution.com
Taken from Irish Trucker & Light Commercials magazine, Nov/Dec 2018, Vol 21 No 8