The material handling and hydraulic specialists
05/03/2019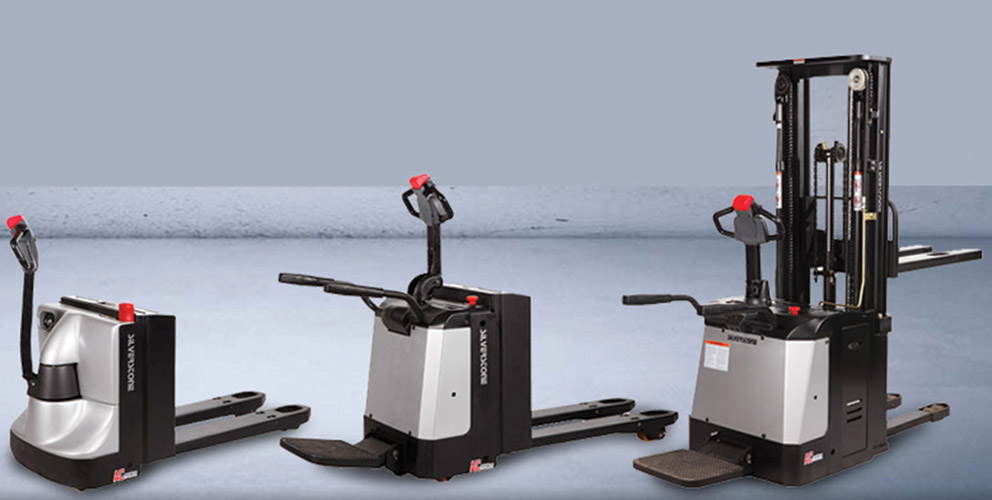 Hydraulic & Pallet Truck Services Ltd is a 100% Irish-owned company specialising in the supply and service of a vast range of material handling equipment, high pressure industrial hydraulic equipment, aviation jacks and garage equipment.
In addition to the supply and service of the above equipment, the successful Dublin-based business provides test and certification material handling and hydraulic equipment, test and calibration flow meters and pressure gauges, fully certified operator training and a nationwide service which includes a free delivery and collection service in the greater Dublin area.
The company has gone from strength to strength over the past 30 years under the management of sales director Gerry Doyle and service director Dominic Smith. The two directors along with technical sales manager Michael Behan have over 90 years' combined experience in the industry. They are joined in the business by a 20-strong team of highly-skilled and professional service engineers (who work in-house and on-site), sales and administration personnel.
Hydraulic & Pallet Truck Services Ltd originally operated from the Ballymount Road in Dublin 22 before relocating to its current location in Greenogue Business Park, Rathcoole 14 years ago. The move has proven to be highly successful as many of the company's clients and suppliers are also based in what is one of Ireland's biggest and busiest industrial campuses.
"We're in a great location as we're beside Dublin and just off the M7, while a lot of our customers and suppliers are on our doorstep".
"We have two units (N+P) at Block 409 in Greenogue Business Park. Unit N houses our showroom and offices, and Unit P houses our state-of-the-art workshop and spray-shop. Unit N carries lighter spare parts and Unit P carries heavy duty spare parts. Both units also have a mezzanine floor.
"From here, we supply and service material handling, hydraulic and garage equipment as well as aircraft GSE (Ground Support Equipment) to and for customers across Ireland. Our customers include many blue-chip companies who are provided with a top-class sales and after-sales service. We supply everything from the smallest hand pallet truck to the biggest electric stacker truck. We only deal with the leading industry brands."
At Hydraulic & Pallet Truck Services Ltd, you will find a wide range of high-quality established products at highly-competitive prices to meet your material handling, garage equipment and hydraulic requirements. Free technical assistance and advice is provided, while a timely delivery and unrivalled customer service is guaranteed. The company can also offer flexibility in the supply and manufacture of Custom Design products where off-the-shelf size will not suit. Furthermore, its on-site and in-house after-sales service care is in compliance with current Health & Safety regulations.
Among Hydraulic & Pallet Truck Services Ltd's most popular products are pallet trucks, trolley jacks, aircraft jacks, electric pallet trucks, hand trucks, pit jacks, toe jacks, aircraft jacks, stacker trucks, hydraulic presses, safety step ladders, furniture movers, scissors table lifts, warehouse trolleys, machine skates, diesel pressure washers, hydraulic presses, compressors and floor cleaners.
The company is the sole Irish distributor for Silverstone material handling equipment and Majorlift hydraulic equipment. Silverstone was established in 1995 and is today one of the biggest distributors for light material handling equipment in Europe. The UK market leader in the design and manufacture of garage lifting equipment, Majorlift strives to bring expertise, safety and quality into its lifting equipment for commercial vehicle workshops, CVRT / VTN test centres and for other specialised applications, including railway engine and aircraft engine maintenance.
The company also supplies Dublin Bus with Majorlift hydraulic equipment, which comes with a five-year warranty.
Hydraulic & Pallet Truck Services Ltd represents other leading brands such as Euro Press Pack, EPP Magnus, BV Vestergaard, Liftmate, AC, SIP and Yanmar. Established in Italy in 1919, Euro Press Pack manufactures high-pressure industrial hydraulic pumps, hydraulic cylinders, valves and accessories. BV Vestergaard is one of Europe's largest manufacturers of stainless steel pallet truck equipment which is ideally suited for pharmaceutical clean rooms and food industry applications.
In addition, Hydraulic & Pallet Truck Services Ltd supplies a range of environmental safety and protection equipment. With its modern fully-equipped workshop and highly-trained staff, the company is committed to providing both an on-site and in-house comprehensive repair and service facility.
"We have come a long way over the last 30 years and our continued growth and success would not be possible without the support of our customers and the hard work and dedication of our highly-skilled team. We look forward to working for and with our customers for many more years to come," Michael concludes.
Hydraulic & Pallet Truck Services Ltd
Block 409 N+P,
Greenogue Business Park,
Rathcoole,
Co. Dublin.
Tel: 01 4019630 / 4019631
Fax: 01 4018486
Email: [email protected]
Taken from Irish Trucker & Light Commercials magazine, Sept/Oct 2018, Vol 21 No 7