VM Dispatch: delivering quality all the time
04/03/2019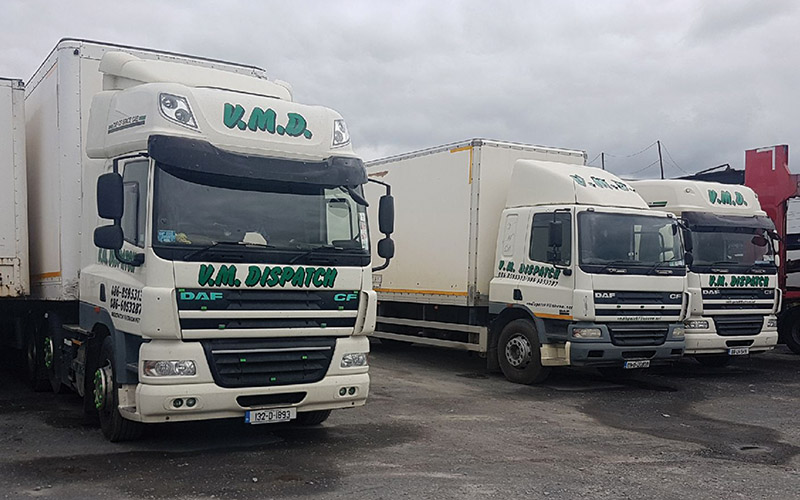 The team at Clonkalkin based VM Dispatch combines a wealth of experience with quality and reliability which adds up to an unequalled haulage service all at the most competitive rates.
They get great satisfaction in providing their customers with excellent service and they go out of their way to meet their needs.
VM Dispatch has many years experience in all types of haulage and transport services. They understand the unique requirements in today's haulage industry and ensure their services are what continues to define their success.
Since being established 17 years ago, the company has been a leading provider of road haulage and distribution services throughout Ireland and are specialists when it comes to providing their customers with a cost effective and reliable range of transport solutions.
VM Dispatch is a business which was started back in 2001 by Vincent McDermott and Michael Myers from their Clondalkin depot which is located convenient to the motorway.
The company has grown from strength to strength starting with just two three-and-a-half tonne vans providing work for Dunnes Stores to the current fleet of 13 trucks and vans.
The company and staff pride itself on its reliable service and the importance of providing a good customer service making them leaders within the road haulage industry.
They also pride themselves on the loyalty to their customers and always welcome new customers and their challenges.
"We would have a good customer base, many of who have been with us from the start and they have stuck by us, which we greatly appreciate, but we know that if our level of service drops then they will go elsewhere, so it is up to us to ensure that doesn't happen," said Vincent.
"To maintain the level of service, we are fortunate to have a loyal and hard working staff, many of who have been here over ten years. They are very experienced at what they do and they are familiar with the customers and the customers are familiar with them, which is very important."
VM Dispatch have a wide range of trailers which allows them to provide a number of services to many different industries. They can haul anything from a pram to a truck engine and can be described as a general haulier. They also do some ambient work, which sees them transport reefers up to Killybegs in Co Donegal.
"We would have two main customers and they would be CLF International and Primeline Logistics, while there are other companies that we do work for also."
With the diverse nature of the businesses of their long standing customers, it's imperative that VM Dispatch supply and utilise specialised vehicles and services suited to their customers needs. They have a can-do attitude and take pleasure in assisting and finding the best solutions that their clients deserve.
They are able to provide efficient and cost effective transport services to all of their clients. If necessary, they will operate 7 days a week, 365 days a year and, sometimes, at 24 hours notice for their clients.
DAF is mainly the preferred choice of truck in the fleet, while they also have a Renault and a Volvo operating, while they have rigids and vans on the road as well. The fleet of trailers mainly consist of curtainsiders, while they have refrigerated vehicles as well as box-vans.
Despite having a reliable and efficient work force, Vincent admitted that they are struggling to employ experienced drivers, mainly due to the high insurance costs.
"The cost of insurance is ridiculous now. Every driver requires so many years' experience before a company will ensure them, and sure how can they get experience if they are not allowed on the road.
"Our insurance costs have gone through the roof in the last few years and that is because of one bad driver who we had with us in 2014 and we are paying for it ever since.
"We had a situation last year where the insurance company refused to ensure my son Daniel who has been driving a van with us for the last few years. He's 23 years old and has had no accidents or claims on his insurance, yet they refused to insure him, so we just said we'd go elsewhere and they eventually backed down and took him on again.
"There is a monopoly there amongst the insurance companies and they don't have to answer to anyone. The government needs to step in and sort this out because something has to be done about it."
Asides from the insurance concerns, Vincent states that himself and Michael are pleased with the direction that they business is going and they look forward to the future with a great degree of optimism.
"Looking to the future, we would hope to increase the size of our fleet if things keep moving in the right direction. Business is steady enough at the minute, we're keeping the wheels turning and there's a positive outlook for the future."
VM Dispatch care about their customers and their focus is on providing a first class service for all their clients no matter how big or small. They are constantly aiming to improve their customer satisfaction and are confident in providing expert haulage services to businesses here. You can rest assured that their team of highly experienced and professional drivers have the customers' best interests at mind.
The same friendly, hard-working and customer orientated ethos that was installed from day one, applies today. With a great deal of experience, they continually enjoy repeat business from customers.
V.M. DISPATCH
Kilcronan Close,
Clondalkin
Dublin
Tel: 086-6053287
086-8595313
Taken from Irish Trucker & Light Commercials magazine, Sept/Oct 2018, Vol 21 No 7