CCRS: the motorist's saviour
28/02/2019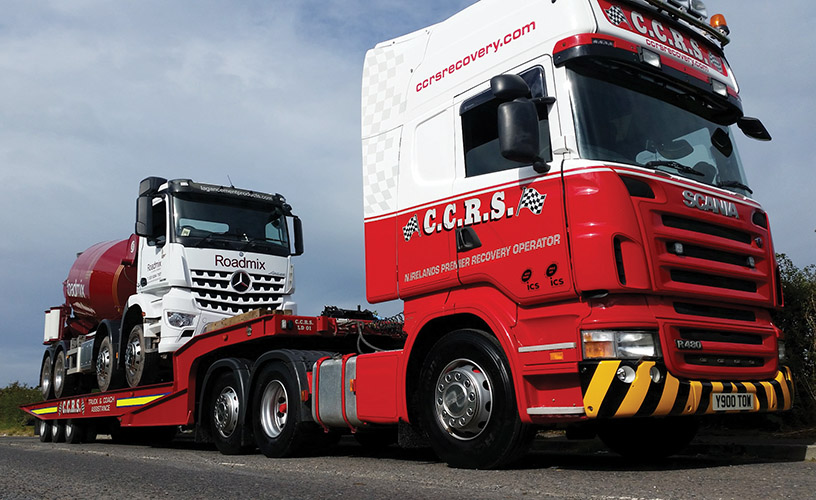 Established in 1973, C.C.R.S. Rescue & Recovery are one of the most experienced recovery operators based in Northern Ireland.
From their HQ in Bangor and another base in Belfast Docks , there is no doubt that C.C.R.S are the premier recovery operator in the North.
From cars to light commercials, HGVs, Buses and Coaches, C.C.R.S cover the lot through their extensive fleet of recovery vehicles, which are upgraded on a regular basis.
The family run business now have 23 vehicles in their fleet, while a further three trucks are in the building stage and will be on the road in the very near future.
Over the years, the company has developed into one of the most popular recovery operators on the Island, going from strength to strength by providing exceptional customer and vehicle care.
The business was established by Uel and Grace Hardy, and today the day to day running of the company is by their sons Stephen and Jason.
For this month's edition of Irish Trucker, we profile C.C.R.S and speak to Stephen about the services they provide to their large customer base, which is increasing all the time.
"Business is going well for us, our reputation for reliability, doing what we say we will do supplying a second to none service every time - and that is one of the reasons why we have been so successful," said Stephen.
CCRS Prestige Transport He added that another area of the business that has excelled in recent years is their expertise in transporting Prestige, vintage and classic cars. Vehicles that are of high value.
"We would transport high value vehicles like Ferrari, Maserati, Bentley, Porsche and Aston Martin. We have been operating covered transporters since 1999 now and are awaiting build of there 3rd specialist enclosed transporter in Janurary 2019
"On one job, we were moving two brand new Ferraris worth in the region of £5 million. We provide a weekly service over and back from the mainland U.K."
The very highest of standards are achieved through a total commitment to investment in professional staff training, state-of-the-art recovery equipment, and having a thorough understanding of the customer needs.
C.C.R.S use state of the art recovery vehicles, which are equipped with the latest 'Maxi-Reach' under-lifts to ensure that vehicles are lifted without causing any damage.
C.C.R.S have all the necessary accreditation like PAS43 and UKAS quality management to carry out their work by following all directives and regulations that are in place for recovery operators.
"We follow all legislation and regulations that are in place, we would be foolish not too. They are there to improve the industry and although there are still rogue operators out there, we feel our reputation is at stake if we cut any corners and we are not willing to do that."
The range of 24-hour services available includes roadside rescue and assistance, prestige recovery and transportation, and light and plant recovery. With a reputation in the industry for providing a prompt, reliable and professional service, CCRS is the preferred first- choice solution for all motoring organisations and leading insurance companies including car and commercial dealerships, body shops, fleet operators, government departments and private motorists.
C.C.R.S offer a complete rescue and recovery service throughout the province particularly in the greater Belfast, Lisburn, Newtownabbey and County Down areas. There's never any problem going anywhere.
"Work would take us all across the north and into the south as well, while as I said earlier, we go over to England also. If one of our customers has a problem and needs our assistance, we are there to help, no matter where they are. We would work with other operators and if we weren't in a position to recover a vehicle, we would get on to them to do it, so from that point of view, we have every angle covered."
Stephen and Jason are continuously investing in the business, both in equipment and their staff, where in-house training is carried out on a regular basis.
"There are always changes to the regulations, so the guys go on refresher courses once a year. We have 18 employed here and the majority of them have many years' experience. We have lads here 28 years and all the staff have played their part in the success of the business."
A new state of the art control room at headquarters boasting a large training room and reception is just receiving the finishing touches ready for the forthcoming winter and years ahead.
This will allow the team efficient management of all their vehicles and handling and assisting breakdown recovery requests – Many of these requests being in Ireland and mainland UK with CCRS broking these services to our Fleet customers.
Their state of the art workshop allows them to carry out any repair work if the customer wants, while they also have a car storage facility that is fully secure and monitored by CCTV.
C.C.R.S have also taken great pride in their work and continuing delivering high levels of customer care and the keenest attention to detail.
Stephen concluded: "The aim is to continue to grow the business and to do that we need to keep investing. We are happy with the direction of the business and we feel that as long as we provide the level of service that we are providing then we feel we can achieve our goals."
C.C.R.S
51 Cotton Rd.,
Bangor,
County Down,
Ireland
PHONE
048-91450200 (ROI)
028-91450200 (NI)
Taken from Irish Trucker & Light Commercials magazine, Sept/Oct 2018, Vol 21 No 7