Expertise of the highest standard
22/02/2019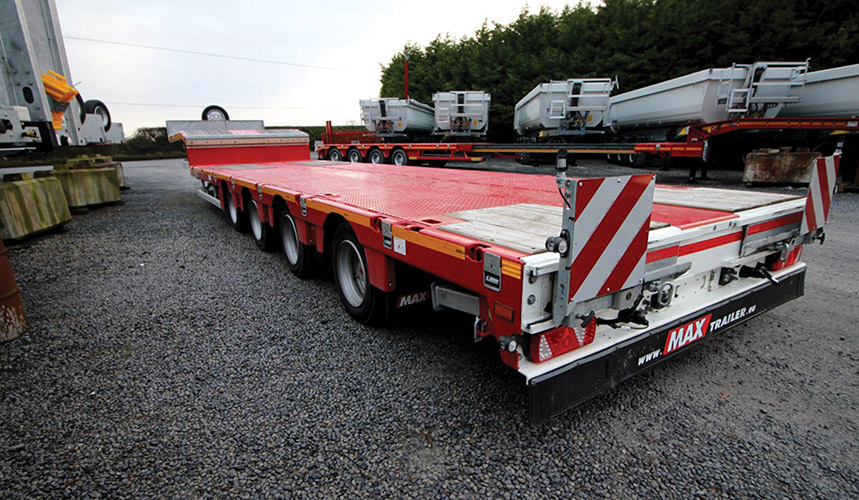 Ashbourne Truck Centre is a family run business that has been servicing a large customer base since Joe Mooney first opened the doors of the premises over 30 years ago.
These days Joe is joined by his daughter Sarah in the business, they spoke to Irish Trucker about the services that the company provides to its ever-increasing customer base.
Specialising in the sales, service and maintenance of semi trailers, Ashbourne Truck Centre is the sole sales and service partner for the renowned Faymonville Group. This includes the Faymonville Specialist Trailers, MAX Trailers and the newly added Cometto Trailers. They are also the sole sales agent for Schmitz Cargobull Tipping Trailers, also in their product range is Sara Ramps.
We also keep a wide range of second hand trailers in stock, all sold fully serviced and CVRT'd.
The service to customers also includes trailer hire, spare parts, servicing and after sales which the company places a great emphasis on as they build and work to maintain ever-lasting relationships with their customers.
Over the past 18 months Ashbourne Truck Centre has seen a big increase in the plant sales, which has coincided with the upturn in the construction industry.
Our sales of new trailers have increased considerably due to this fact. We have a lot of repeat custom here and the aim is to continue to look after them even after they have bought the product.
We have worked hard on our after sales service over the years and we feel this is a hugely important part of the business as you are ensuring customer satisfaction.
Sarah also revealed that the trailer hire department is kept very busy and the fact that Ashbourne Truck Centre are willing to hire trailers for any length of time, long or short term is a major plus for the customer. Over the last year the trailer hire has continued to increase, we specialise in the hire of semi low loaders and tipping trailers. We can hire them out for a day, a week, a month, or whatever period the customer requires. If they need a trailer for just a few hours, we can also accommodate them. This part of the business sees us with a customer base in the 32 counties.
The now 7 bay workshop has increased recently with addition of a sandblasting bay and washing facilities. The team of mechanics carry out all work to highest standards.
In the maintenance side there is also a lot of repeat custom, we would have customers whom bring in all their trailer fleet when any work needs to be done, repairs, servicing, doe prep etc. The workshop is modern and has been invested in continually over the years.
Ashbourne Truck Centre also stocks a massive range of trailer parts to try and ensure their customers will not have any waiting time for the part they need. We keep a full range of parts in stock for all Faymonville, MAX and Schmitz trailers. We offer a nationwide delivery service on all parts. We are available at all times to take calls regarding parts, dispatch or any queries you may need advice on,
We are also the sole Irish agents for Gigant axles. We have a full range of parts in stock for all types of Gigant axles, friction steered, hydraulic steering etc. We can look after all your warranty claims and repairs for Gigant axles on any make of trailer.
A big plus for the company is their location as the premise in Ashbourne Co. Meath is only ten minutes from the M50 and 15 minutes from Dublin.
The experience that the team has gathered over the years means that Ashbourne Truck Centre is the go to place when a customer needs advice, the technical know how they possess is just a phone call away and they are only too willing to help.
Our customers know that they can pick up the phone at any time and give us a call, whether it be just for some advice or an interest in purchasing something, we will do our best to guide them in the right direction.
The staff of eight are all highly trained in their areas of expertise, many of them are with the company for several years and have played their part in the success of the business.
Sarah added that they would not be resting on their laurels and more investment would be steered towards improving certain areas. For the time being we will be focusing on the trailer hire and investing in more trailers for the hire fleet. This is an area that is continuously growing, and we want to make sure we can service the needs of the customers.
Ashbourne truck centre are currently in the process of moving into new offices on their premises. There is no doubt the future is very bright for the company and they concluded by stating the product they sell was also key to the success.
We supply very good brands that are well known throughout the world, let alone the country. Our customers know that they are getting a quality product, throw in the excellent after sales service and the two complement each other.
We cannot afford to rest that is why we are continuously looking at ways to improve the business and by investing we feel we are doing just that.
Ashbourne Truck Centre
Ballymadun,
Ashbourne,
Co. Meath
A84 Y898
Tel: +353-1-8350573
Mob: +353-87-2556677
Mob: +353-86-2556677
Taken from Irish Trucker & Light Commercials magazine, Sept/Oct 2018, Vol 21 No 7