Wicklow's crane experts
21/02/2019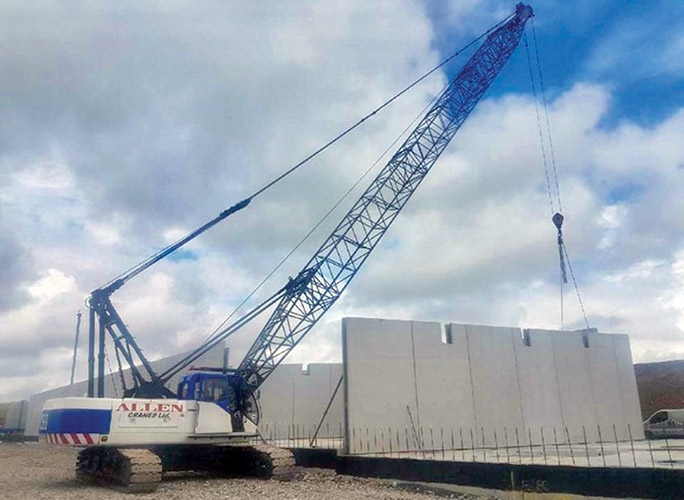 Allen Cranes Limited holds 30 years' plus experience in the Sales, Hire, Erection, Dismantle, Service, Refurbishment, and Testing of all construction cranes models. Robbie Allen holds tremendous knowledge and valuable experience in the crane industry, both nationally and internationally.
Allen Cranes and Transport began its journey many years ago with both Robbie and Alan Allen travelling the world, building their experience while following their passion for cranes.
Robbie and Alan persevered in the Crane Industry, "we always knew, if we worked hard and brought forward our knowledge and experience, we would have the opportunity to develop the Crane industry in Ireland."
Robbie clarifies: "We worked with various Crane models throughout the years, furthermore in recent years we decided to specialise in Saez Cranes and Terex Comedil. Mainly Tower Cranes, Self-Erect Cranes and Crawler Cranes.
Alan continued: "The business started with the Erection and Dismantling of a variety of construction Cranes along with Crane Maintenance and Test Certification," Robbie stated. "We then brought forward our transport fleet that includes (Artic, Hiabs, Grab, Tipper lorries, Escort Vehicles and extendable Trailers.
"The reason for our expansion was to enable us to offer our customers, a collection and delivery services all over Ireland."
Allen Cranes Limited also offers a specialised Crane consultancy service in the Buying and Selling of Cranes both nationally and internationally.
Robbie explained: "We are very lucky in relation to our highly skilled team. Over the years we have trained extremely motivated individuals and gathered experience cranes personnel's, who have worked with us throughout the years.
"Our Crane and Transport team are different, they understand the Crane Industry, the travel involved, the unsociable hours, the urgency and attention to detail needed in order to respond to our customers concerns, in relation to cranes and transport requests.
"Our team are put to the test on a daily basis an example would include, schedule crane inspection, services, repairs and so forth. Our customers include the following Bennetts Construction Limited, HML Plant Ltd, PJ Hegarty, Clancy Construction Ltd, Duggan Brothers Ltd, Gem Construction just to name a few of our well-known customers.
"In recent times, we decided to extend our business to include refurbishment of cranes, supply of paint, in that we collect, refurbish and deliver the crane to our customers chosen location."
Allen Cranes Limited is renowned for their Crane Hire, Sales, Maintenance, Repairs, Transport and Storage.
This year, they have extended their storage yard space along with additional secure storage units and containers.
If anyone would like a quote, give them a call or drop them an email. They would only be delighted to help with any queries you may have.
Allen Cranes Limited
Tinode,
Blessington,
Co. Wicklow
Eircode: W91 KH90
Mobile: 087 0522 689
Email: [email protected]
Website: www.allencranehire.ie
Taken from Irish Trucker & Light Commercials magazine, Sept/Oct 2018, Vol 21 No 7