Stellar fleet driving KC Civil Engineering
20/02/2019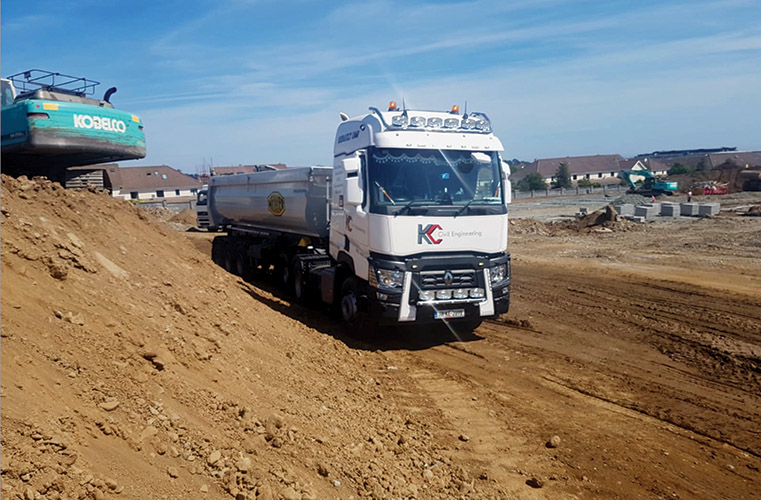 Headquartered in Naas, County Kildare, KC Civil Engineering has been delivering a range of high-quality building and civil engineering solutions since 2004. At the heart of the operation is a stunning fleet of trucks and plant. We got an insight from driver Mick O'Shea at this year's Full of the Pipe Truck Show.
Over the last 14 years, KC Civil Engineering has developed into a market-leading civil engineering contractor serving all sectors of the industry. From their County Kildare base, they operate a large, impressive and diverse fleet of plant and machinery capable of servicing numerous largescale projects at any one time.
Over the years, the company has provided unrivalled solutions to esteemed clients such as Fingal County Council, SIAC Construction, Duggan Brothers, Respond Housing Association, Bam Contractors, John Sisk, Sorenson Construction and numerous other contractors and local authorities across a range of sectors including Roads & Motorways, Education & Health, Water, Energy and Demolition as well as Residential, Industrial and Commercial Developments.
KC Civil Engineering was represented by four striking new Renault trucks at Full of the Pipe 2018 – one 172 reg and three 181s. Mick O'Shea drives the former. "All the lads look after and maintain their own vehicles and keep them in great shape," he notes. "At the moment, we have twelve artics in the fleet – eight Renaults and four Volvos – as well as nine eight-wheelers and a flatbed beaver-tail."
The fleet is incredibly fresh, which enables the trusty crew at KC Civil Engineering to get their work done quickly and efficiently with a minimum of fuss. The Renault artics are all top-of-the-range 460s from Setanta Trucks.
In accordance with founder and proprietor Chris Wholey's proactive fleet replenishment programme, the eight-wheelers include two 162s, two 172s and two 181 Renaults. Meanwhile, two new Volvos and a 182 reg Scania were due to arrive in early July.
A huge investment goes into the lorries and that's not to mention all of the Volvo plant as well, which goes from three tonne Volvo excavators up to 46 tonne. "All the plant is Volvo and it's constantly updated to make sure we can deliver our solutions as quickly and efficiently as possible," continues Mick, who co-ordinates the drivers.
Regarding some of the other plant and equipment that the team have at their disposal, Mick told me: "We have three brand-new Schmitz trailers, a new Chieftain trailer and a Nooteboom low loader. The excavators are from 3 tonne to 46 tonne and 140s as well. The smaller models give us easy access, while we also have the larger diggers as well for more open spaces. There's something here for every job and all the lorries, trailers and plant on site are kept in good nick, with an emphasis on safety as well as performance."
Specialising predominantly in site clearance, demolition, civils, groundworks and low loader services, KC Civil Engineering covers a broad catchment area incorporating all of Leinster. At the time of writing, they were busy on sites in the capital and also in Navan, County Meath.
Needless to say, when you are going in and out of building sites on a daily basis, the vehicles are exposed to a considerable amount of dirt. The fact that the fleet is kept in immaculate condition around the clock is therefore a testament to the commitment and dedication of the drivers, reflecting the company's ethos of creating the right impression. Unwavering passion and enthusiasm for trucks certainly helps, too!
"It's not the cleanest work at all but in fairness the lads keep them all clean," Mick confirms. "To an extent, they live in the lorries so they try to keep them in good nick. When it comes to winter time, it's obviously harder to keep them clean when you're driving in and out of wet and mucky sites, but the lads put a lot of time and effort into it all year around and it creates a good impression."
The satisfaction a trucker gets from having his lorry gleaming, from nods of approval, is immeasurable. "At the end of the day, it's your lorry and you are in it five or six days a week. Clean lorries on the road look well and are definitely good for the image of the company."
Fleet upkeep and maintenance is enhanced by the fact that KC Civil Engineering have their own workshop, with three fitters / technicians employed full time, using the latest tools and diagnostic equipment.
Mick agrees that the superb fleet and dependable personnel are key to the ongoing success of the business. "We have 21 lorry drivers here and they are on the road five days a week, so it's great to be so busy," he states. "The drivers are all experienced and fully-qualified. The fitters and girls in the office also play a big role in keeping things going."
Mick loves making the annual pilgrimage to Full of the Pipe and enjoyed the 2018 show immensely. He's looking forward to the tenth-anniversary edition next year and will take in a few other shows in the meantime.
"It's nice going to the truck shows and meeting guys you know as well as getting to know a few others," he concludes.
If you see them at a show you'll get an opportunity to see just how resplendent the hard-working KC Civil Engineering trucks are and why they have created such a lasting impression on us here at Irish Trucker!
KC Civil Engineering Ltd.,
Unit 3 Road M,
Toughers Business Park,
Newhall, Naas, County Kildare.
Tel: 045 440144
Email: [email protected]
Web: www.kccivileng.ie
Taken from Irish Trucker & Light Commercials magazine, Sept/Oct 2018, Vol 21 No 7